The National Endowment for the Arts is committed to providing assistance to artist communities for projects that encourage and nurture the development of individual artists and foster and inspire their creative processes. For the Arts Endowment's purposes, an artist community is defined as an organization, whether focused on a single discipline or multidisciplinary, whose primary mission is to provide artist residencies.
Staff
Artist Communities, Presenting & Multidisciplinary Works Director, International Activities Coordinator
An online grant search is available to find information on NEA grants from 2000 to the present.
Lifetime Honors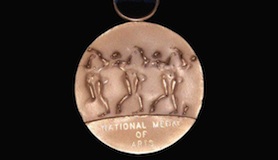 The National Medal of Arts is the highest award given to artists and arts patrons by the United States government and is awarded by the President of the United States.