Staff
Arts Education Director
Staff
Denise Brandenburg

Nancy Daugherty

Lakita Edwards

Everett Harley
An online grant search is available to find information on NEA grants from 2000 to the present.
National Initiatives
Arts Education Partnership
Dedicated to advancing the arts in education through research, policy and practice.


Poetry Out Loud
High school students memorize and perform great poems.


Shakespeare in American Communities
Professional theater companies perform Shakespeare's plays and conduct educational activities at middle and high schools throughout the country.
Lifetime Honors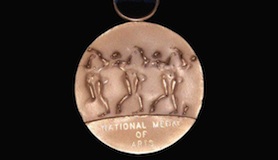 The National Medal of Arts is the highest award given to artists and arts patrons by the United States government and is awarded by the President of the United States.