American dance is encyclopedic in scope and international in its aesthetic traditions. The National Endowment for the Arts is committed to advancing the nation's full range of dance artistry.
Staff
Dance Director, Acting Director Artist Communities
Staff
An online grant search is available to find information on NEA grants from 2000 to the present.
Lifetime Honors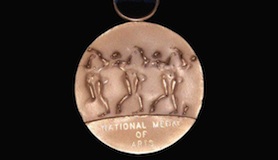 The National Medal of Arts is the highest award given to artists and arts patrons by the United States government and is awarded by the President of the United States.