Through cooperative initiatives with other funders, the National Endowment for the Arts brings the benefit of international exchange to arts organizations, artists, and audiences nationwide. NEA's international activities increase recognition of the excellence of U.S. arts around the world and broaden the scope of experience of American artists, thereby enriching the art they create. Through partnerships with other government agencies and the private sector, the NEA fosters international creative collaboration by strengthening residency programs of foreign artists in communities across the country.
Staff
Director of State, Regional & Local Partnerships, and International Activities
Staff
An online grant search is available to find information on NEA grants from 2000 to the present.
Lifetime Honors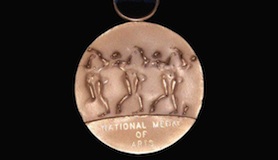 The National Medal of Arts is the highest award given to artists and arts patrons by the United States government and is awarded by the President of the United States.