Rahway, NJ: RAHWAY ARTsPART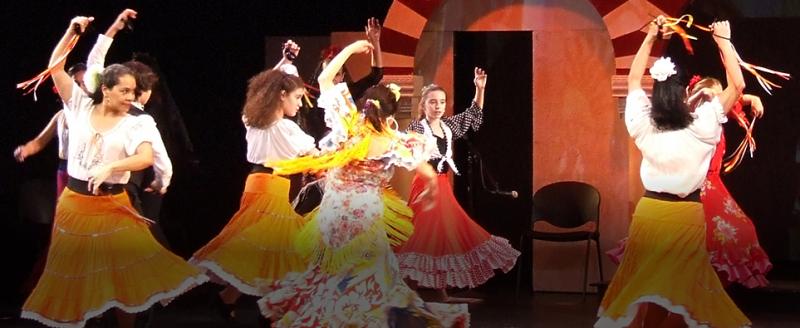 How can arts programming help a community establish itself as a hub for innovation and arts education?
Rahway, New Jersey, in Union County just south of the Meadowlands and Newark, is a city long defined by its industrial and manufacturing capacities. When some large industries left the city, residents and municipal leaders began to re-define their city as a site for art and artists. The Union County Performing Arts Center (UCPAC), a key Rahway-based arts organization, was set to open a new venue—the Hamilton Stage. Building on the energy for this new space for art, the organization developed an 18-month series of creative performances and community engagement activities—RAHWAY ARTsPART—with the goal of bringing art programming out into the city, and energizing the community for the newly coming Hamilton Stage.
PLACE:
Situated in the southern part of New Jersey's Union County, Rahway is directly due west of Staten Island, across the Arthur Kill waterway. With a population of approximately 27,000, the city is closely linked with the New York metropolitan region. Located along a major transit rail line and New Jersey's Garden State Parkway, Rahway is 30 minutes by train (and 20 miles) from New York Penn Station and connected by both train and car to the network of towns along the Jersey Shore and the New York/New Jersey region. Close to major shipping infrastructure and the industrial stretch of north New Jersey, including the Meadowlands and the Port of Elizabeth, Rahway has a legacy of industry and manufacturing, much of which is now closed. Within town area of just less than four square miles, the Union County Performing Arts Center (UCPAC) is a hub of Rahway's cultural activities. Founded in 1985, it has operated out of a historic vaudeville theater built in 1928. In 2012, UCPAC built a new 199-seat space, the Hamilton Stage, to foster additional offerings of arts education and experimental arts performance.
COMMUNITY:
A diverse city, Rahway is 45% Caucasian, 28% African American, and 21% Hispanic. Like many cities built on early 20th century industry, Rahway has had to confront a significant change in its economy and land use due to the decline of manufacturing. In response, the City of Rahway has made one of the primary thrusts of its economic redevelopment activities, "the creation of an arts district and the further development of artistic infrastructure and policy that are conducive to providing arts spaces," said Lawrence E. McCullough, Executive Director of UCPAC. "Our goal, as a city, is to attract artists and companies to work and live in Rahway and establish Rahway as an artistic destination and innovation hub for the surrounding region."
LOCAL NEEDS:
With the city in the process of working to develop a new identity, project managers saw a need to link the opening of the new Hamilton Stage, to the other arts- related activities that Rahway was working to attract, and to help a broader audience understand the cultural resources available in the downtown area. Also, the hope was cultural institutions would connect to local social service non-profits to become more involved with the arts, and create opportunities for mutually beneficial effects.
VISION:
To create a way to address these multiple needs, UCPAC devised RAHWAY ARTsPART, a public art program that it would inaugurate in conjunction with the opening of the new Hamilton Stage. The 18-month initiative carried out performances and cultural activities throughout Rahway's public spaces and in its schools, making art fully accessible to a broad audience. The energy of the performances would help to publicize the Hamilton Stage to a larger audience, and it would also bring new vitality to the pedestrian experience. Project managers knew that the performances would provide venues for a larger number of local artists to be directly engaged as well. "With the opening of our new Hamilton Stage just two months away," said McCullough at the beginning of the project, "the timing could not be better. Not only will project help us to continue to build a more vibrant community and engage more artists, it will also help us provide high-quality artistic programs in every Rahway Public School."
PARTNERSHIPS:
To help carry out the vision of RAHWAY ARTsPART, UCPAC partnered with Rahway Redevelopment Agency, a commission of the local government created to facilitate city economic development. This partnership was complimentary, as the Agency is the owner and caretaker of Hamilton Stage, yet does not get involved in programming events. The Agency had the capacity to assist in the implementation of community projects for and around the Hamilton Stage for the 18-month series and wanted to ensure the new stage became fully physically integrated into the larger downtown Arts District and linked to the Rahway Arts Riverwalk, which is currently also being developed by the Agency. In terms of programming planning and support, UCPAC worked closely with Rahway Arts District, the general Arts promotion agency for Rahway and is operated by funds from the City of Rahway's Downtown Special Improvement District.
LOGISTICS:
The Rahway Redevelopment Agency built out the Hamilton Stage at a cost of $9 million, figuring it would become a critical addition to the city's cultural landscape and a catalyst for other economic and real estate development. The agency then offered a 30-year lease to UCPAC with a rent of only $100 per year, in order to help support the non-profit organization to implement innovative programs in the space. In order to attract as broad an audience as possible, UCPAC came up with diverse programming, which included dance, beatbox, Afro Latin and mainstream jazz, flamenco, Caribbean, Irish, African, South Asian, Americana and bluegrass music and theater. Venues included not only the new Hamilton Stage and UCPAC Mainstage and Loft spaces, but also outdoor spaces along Rahway's new Arts Riverwalk, public plazas, rooftops, and train stations. They also used community spaces like restaurants and civic buildings. With a focus on educational opportunities, too, RAHWAY ARTsPART also was able to convene conferences on subjects like Asian American dance, and held workshops and residencies for art teachers.
ANTICIPATED IMPACTS:
The public and ongoing programs of RAHWAY ARTsPART not only coincided with the opening of UCPAC new venue, it also activated another one of the city's major public initiatives, the Arts Riverwalk, with sculpture and performances during the October 2013 Rahway Culture Crawl. Now that the arts center is complete, UCPAC plans to keep detailed records of attendance and budget and to solicit feedback from audience members, collaborators, administrators and performers through online surveys co-administered by Rahway Arts District in order to track how the creation of space is impacting the larger arts community. "More Artists have moved to Rahway over the last year, and more Arts groups have started up," says McCullough. "More community groups and local businesses have come to the Rahway Arts District, Union County Performing Arts Center, Arts Guild New Jersey and asked to be included in programs."
UNEXPECTED IMPACTS:
To their surprise, because of the education objectives identified by RAHWAY ARTsPART—and because of the enthusiasm with which the city's younger residents received the initiative—UCPAC also developed a program that could reach a younger demographic with more targeted focus. They are now in the midst of launching the Rahway Digital Arts Academy, a program that uses the Arts to teach young people and adults the 21st-century digital media production skills needed to examine topics of critical social interest that affect the community and the world.
RSI Bank
Geraldine R. Dodge Foundation
E.J. Grassmann Trust
Ralph Cestone Foundation
Ben Snow Memorial Trust
Hyde & Watson Foundation
Covanta Energy
New Jersey State Council on the Arts
Creative Rahway Community Meeting (Jan. 2013)
Arts Guild New Jersey art classes at Senior Center Annex (Jan.-Feb. 2013)
4 Artist Buzz social networking events (Feb.-Mar., 2013)
Charles Sabba gallery reception at Rahway Arts District (Feb. 2013)
Arts Guild New Jersey art classes for district Pre-K program (Mar.-Apr. 2013)
Community salsa lessons (May-June 2013)
Ballets With A Twist concert with Rahway High School dance corps (May 2013)
Preemptive Strike gallery reception with Asbury Park artists (Apr. 2013)
Rahway Arts Summer Party at Rahway Arts District (July 2013)
Arts Guild New Jersey art classes for children (ages 7-11) and teens (ages 11-16) (July-Aug. 2013)
Community Sculpture Installations (Aug. 2013)
Rahway Is Arts Video Channel (Sept.-Dec., 2013)
Rahway Culture Crawl citywide Arts evening (Oct. 2013)
American Repertory Ballet student dance shows (Oct. 2013)
War of the Worlds Community Radio Broadcast (Nov. 2013)
Middle School Living Music History Class (Nov. 2013)
Middle School/High School Jazz Band Clinics (Nov. 2013-Feb. 2014)
Rahway Artists Meetup (Jan. 2014)