Creative Forces: Frequently Asked Questions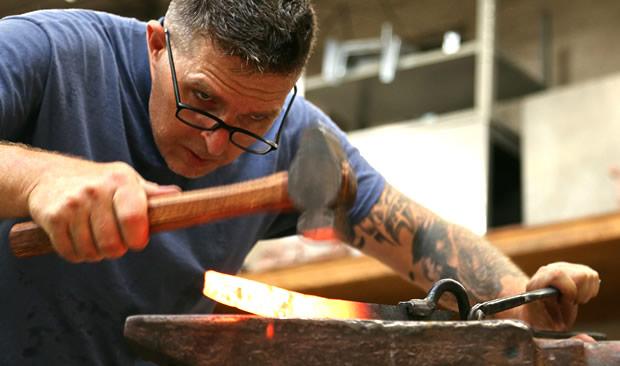 What is Creative Forces?
Creative Forces: NEA Military Healing Arts Network is an initiative of the National Endowment for the Arts in partnership with the U.S. Departments of Defense and Veterans Affairs and the state and local arts agencies. The initiative seeks to improve the health, wellness, and quality of life for military and veteran populations exposed to trauma, as well as their families and caregivers. Administrative support for the initiative is provided by Americans for the Arts.
Read more about the three components of Creative Forces—clinical, community, and capacity—in the About section.
Who does Creative Forces reach?
In clinical settings, clinical creative arts therapists work with military patients and veterans exposed to trauma, including those with traumatic brain injury and psychological health conditions. Creative Forces creative arts therapists deliver an estimated 1,000 treatment sessions per year, reaching about 200 new patients every year. Typically, a patient treated by a Creative Forces creative arts therapist has multiple sessions to ensure therapeutic goals are met.
Around the Creative Forces clinical sites, the Arts Endowment is creating a community-based arts network to promote wellness and quality of life for military and veteran families through the arts.
Why the focus on creative arts therapies?
There is a growing need in our country to address TBI and PTSD. More than 500,000 men and women of our armed services are living with TBI or post-traumatic stress disorder (PTSD), including 10-20% of all service members deployed in Iraq and Afghanistan. TBI and PTSD are known to contribute to depression, and to the estimated 20 suicides committed by veterans each day.
Participation in creative arts therapies or in community arts programs can help reduce stress, decrease anxiety, and increase positive emotions. In clinical and community settings, credentialed professionals, artists-in-residence, and other artists can help people improve their emotional, psychological, and physical well-being.
What is the feedback from patients and doctors on whether Creative Forces is beneficial?
Creative arts therapies increase patient engagement across all health interventions and are seen as critical by all members of the interdisciplinary care team because they help patients and their providers gain a clearer understanding of the conditions they are struggling to address—making these "invisible wounds" more visible. Patients also acknowledge improvement in sleep, memory, pain, cognitive function, and the ability to confront emotional challenges. Family members who engage in creative arts therapies express similar benefits as well. Creative arts therapies are non-invasive and cost-effective medical treatments.
In a survey at the National Intrepid Center of Excellence (NICoE) Walter Reed Bethesda:
85 percent of military patients said art therapy was helpful to their healing
military patients consistently rated art therapy among the top four treatments out of more than 40 health interventions offered
Program evaluation of the music therapy program at the National Intrepid Center of Excellence (NICoE) Walter Reed Bethesda showed:
79 percent of military patients who attended one music therapy group requested follow-up music therapy sessions (group/family/spousal)
Military patients endorsed that participation in music therapy sessions assisted with learning how to use instrument-playing as a positive alternative coping skill, understanding the ability of active music-making as a means to connect with others 
For first person accounts from service members who have participated in creative arts therapies, read the Veterans' Voices found here.
What is telehealth?
Telehealth programs use many forms of remote communication within a healthcare setting, including videoconferencing, secure text messaging, streaming media, and digital correspondence. Benefits of offering telehealth services include reduction in health disparities by improving access to comprehensive care independent of local resources, cost savings related to elimination of transportation expenses and improved military readiness through reduction in time lost from work and occupational training.
Read more about Creative Forces' telehealth program on the Clinical Therapy page.
What is the role of Creative Forces outside of the clinical settings?
Around the Creative Forces clinical sites, the Arts Endowment is creating a community-based arts network to provide increased arts opportunities for military service members, veterans and their families and caregivers. These networks will extend support for current and former creative arts therapies patients and their families as they transition from treatment in a clinical setting to arts programming in their community. Read more in the community network section of the website.
Why is it important for there to be arts engagement opportunities outside of the clinical setting?
Community-based arts programs can help current and former patients continue to benefit from the arts beyond the clinical setting, so that arts practice can continue to be incorporated into daily life after patients finish clinical treatment. These programs are also a way of engaging family members of active duty military and veterans who are being treated in a clinical program, as well as other military and veteran populations living in the community who would like to participate.
Community-based arts programming, usually led by an artist-in-residence or another type of arts provider, is intended to be recreational, with therapeutic benefits. But it is not therapy. Creative arts therapies can only be provided by nationally credentialed and/or Board Certified creative arts therapists (art therapists, dance/movement therapists, drama therapists, music therapists, poetry therapists, psychodramatists)—clinicians who possess the training and qualifications required to practice their respective profession. For further information about the creative arts therapies, please visit the website for the National Coalition of Creative Arts Therapies Associations.  
What is the Arts Endowment's contribution to Creative Forces?
The National Endowment for the Arts' support of Creative Forces includes funding and support for creative arts therapists at partner DoD and VA clinics as well as equipment and supplies at each of the clinical sites, telehealth services, research, program analytics, an online National Resource Center, and Community Connections projects associated with Creative Forces clinical sites.
The Departments of Defense and Veteran Affairs provide the treatment space, patient referrals, collaboration on clinical care, and support for additional creative arts therapists coordinating consistent delivery of care across the Creative Forces Network, and are partners on research associated with Creative Forces.
What is the National Endowment for the Arts' partnership history with the Department of Defense?
The National Endowment for the Arts' partnership with the Department of Defense dates back to 2004 when Operation Homecoming: Writing the Wartime Experience was created by the Arts Endowment to help U.S. troops and their families write about their wartime experiences in Afghanistan, Iraq, and stateside. From 2004-2006, Operation Homecoming provided more than 60 writing workshops to troops and their families at more than 30 military installations in the U.S. and overseas, from Camp Pendleton in California to Bagram Air Field in Afghanistan. Workshop leaders included distinguished authors, such as Tom Clancy, and Bobbie Ann Mason. A later phase brought writing workshops to veterans and active duty troops at Department of Veterans Affairs (VA) medical centers, military hospitals, and affiliated centers in communities around the country. More than 6,000 people participated in Operation Homecoming workshops and related activities
In 2011, the NEA Military Healing Arts Partnership was launched when the National Intrepid Center of Excellence (NICoE) Walter Reed Bethesda invited the NEA to help build out its creative arts therapy program. In 2012, the Operation Homecoming writing workshops became part of the formal medical protocol at NICoE. After successfully piloting the NEA Military Healing Arts Partnership there, the NICoE Intrepid Spirit-1 at Fort Belvoir in Virginia invited the National Endowment for the Arts to replicate the program in their new integrative care facility. The NICoE's groundbreaking, interdisciplinary approach to working with patients and their families became the model for the expanded healing arts partnership, which ranges from physical and neurological exams, to family evaluation, nutrition, alternative medicine, and creative arts therapies. The partnership involved support for multiple creative arts therapies (therapeutic writing, art therapy, and music therapy) at Walter Reed and Fort Belvoir.
In 2016, the Arts Endowment expanded the NEA Military Healing Arts Partnership and launched Creative Forces.
Other National Endowment for the Arts programs for military have included Blue Star Museums, Great American Voices Military Base Tour, and Shakespeare in American Communities Military Base Tour.