National Endowment for the Arts Chairman Rocco Landesman and Poetry Foundation President John Barr Announce Youssef Biaz as the 2011 National Winner of Poetry Out Loud: National Recitation Contest
Auburn, Alabama high school student receives $20,000 award in national poetry competition
Washington, DC -- From a competitive field of more than 365,000 students nationwide, 16-year-old Youssef Biaz of Auburn, Alabama, received the title of 2011 Poetry Out Loud National Champion at the National Finals held in Washington, DC on Friday, April 29, 2011. With his achievement, he also receives a $20,000 award and his high school, Auburn High School, will receive a $500 stipend for the purchase of poetry books. The Poetry Out Loud National Finals were held last night at the historic Lincoln Theatre in Washington, DC. Biaz was among nine finalists and 53 state champions from around the country who participated in the sixth national poetry recitation contest, sponsored by the National Arts Endowment and the Poetry Foundation.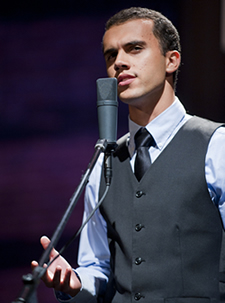 "I feel incredible, it hasn't really hit me yet," said Biaz, minutes after he was announced as winner. Biaz's final recitation for the evening was "Filling Station" by Elizabeth Bishop, a traveler's view of a rather grubby gas station. When asked why he selected this poem, "It's a feminine voice talking about masculine things ... I thought it would be interesting to try a different voice."
The second-place winner was Victoria DiMartile of Beechwood High School in Fort Mitchell, Kentucky, who received a $10,000 award. The Pennsylvania State Champion, DeVonna Daisy Smith of Reading High School in Reading, Pennsylvania, received the third place prize and a $5,000 award. Each of the nine finalists received at least a $1,000 award, and their schools received $500 each for the purchase of poetry books.
The other six finalists were: Colorado State Champion Samuel Opoku (Northglenn, CO); Illinois State Champion Morgan Joyce Williams (Springfield, IL); Maryland State Champion Kari Barclay (Bethesda, MD); Massachusetts State Champion Michaela DeAndra Murray (Dorchester, MA); Nevada State Champion Emily Orellana (Reno, NV); and South Dakota State Champion Melissa Johnston (Brandon, SD).
All of the Poetry Out Loud State Champions were accompanied by their State Arts Agency coordinators. All State Arts Agencies played a pivotal role in implementing Poetry Out Loud at more than 2,200 schools nationwide.
Guest judges presided over the competition, including poets Valerie Martínez, Thomas Sayers Ellis, and Brian Turner, actress and author Amber Tamblyn, playwright/actress/director Aditi Brennan Kapil, and Shakespeare Theatre Company Artistic Director Michael Kahn.
On April 28, 53 high school students -- Poetry Out Loud champions from every state, the District of Columbia, Puerto Rico, and the U.S. Virgin Islands -- competed in three semifinal rounds based on geographic region. Nine students advanced to compete in the National Finals on April 29. Judges evaluated student performances on criteria including physical presence, articulation, evidence of understanding, level of difficulty, and accuracy. Students performed poems from the Poetry Out Loud print and online anthologies (www.poetryoutloud.org). The event was the culmination of a pyramid-structure competition that began last September among schools across the country.
The National Finals are the culmination of efforts by many partners. As national partners, the NEA and the Poetry Foundation have contributed support for administration of the program, educational materials, and awards for both the state and national finals. State arts agencies have implemented the program in high schools nationwide and organized state competitions, often in collaboration with local arts organizations. Poetry Out Loud National Finals are administered by Mid Atlantic Arts Foundation.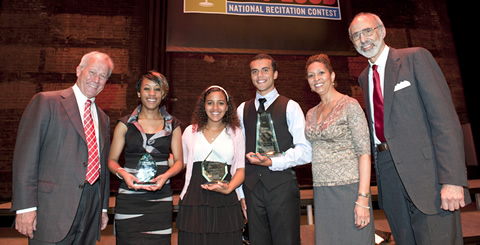 Poetry Out Loud seeks to foster the next generation of literary readers by building on the resurgence of poetry as an oral art form, as seen in the slam poetry movement and the popularity of rap music among youth. Through Poetry Out Loud, students can master public speaking skills, build self-confidence, and learn about their literary heritage. Now in its sixth year of national competition, Poetry Out Loud has inspired thousands of high school students to discover classic and contemporary poetry.
Schools that are interested in registering for next year's Poetry Out Loud should contact their state arts agency. More information is available at www.poetryoutloud.org.
About Mid Atlantic Arts Foundation Mid Atlantic Arts Foundation supports the richness and diversity of the region's arts resources and promotes wider access to the art and artists of the region, nation, and world. To learn more about MAAF and its programs and services, visit www.midatlanticarts.org.
About the National Endowment for the Arts The National Endowment for the Arts was established by Congress in 1965 as an independent agency of the federal government. To date, the NEA has awarded more than $4 billion to support artistic excellence, creativity, and innovation for the benefit of individuals and communities. The NEA extends its work through partnerships with state arts agencies, local leaders, other federal agencies, and the philanthropic sector. To join the discussion on how art works, visit the NEA at www.arts.gov.
About the Poetry Foundation The Poetry Foundation, publisher of Poetry magazine, is an independent literary organization committed to a vigorous presence for poetry in our culture. It exists to discover and celebrate the best poetry and to place it before the largest possible audience. The Poetry Foundation seeks to be a leader in shaping a receptive climate for poetry by developing new audiences, creating new avenues for delivery, and encouraging new kinds of poetry through innovative literary prizes and programs. For more information, please visit www.poetryfoundation.org.