Mississippi's Kristen Dupard Wins 2012 Poetry Out Loud: National Recitation Contest
Ridgeland, Mississippi, high school student receives $20,000 award in national poetry competition
Washington, DC -- Out of a field of 365,000 students, Kristen Dupard, a high school senior from Ridgeland, Mississippi, has won the 2012 Poetry Out Loud: National Recitation Contest. National Endowment for the Arts Chairman Rocco Landesman and Poetry Foundation President John Barr announced the award at the Poetry Out Loud National Finals in Washington, DC, last night, May 15, 2012. Dupard was among nine finalists and 53 state champions who competed in the seventh annual national poetry recitation contest for high school students at the Harman Center for the Arts. With this achievement, Dupard receives a $20,000 award and her high school, Ridgeland High School, will receive a $500 stipend for the purchase of poetry books. The nation's State Arts Agencies played a pivotal role in implementing Poetry Out Loud at more than 2,000 high schools nationwide.
Poetry Out Loud is sponsored by the National Arts Endowment and the Poetry Foundation.
"My favorite poem is 'What Work Is' by Philip Levine," said Kristen Dupard. "It is especially relevant since so many people have worked hard to get here to the National Finals. I love this program and all the people involved; this is such a blessing."NEA Public Affairs
202-682-5570
"I was thrilled to be there in person to hear all those great recitations," said NEA Chairman Rocco Landesman. "It was an exciting evening and I want to congratulate Kristen Dupard on her wonderful performance."
The two-day national finals event started on Monday, May 14, when 53 Poetry Out Loud champions from every state, the District of Columbia, Puerto Rico, and the U.S. Virgin Islands competed in three semifinal rounds based on geographic region. Nine students advanced to compete in the National Finals on May 15. Judges evaluated student performances on criteria including physical presence, articulation, evidence of understanding, level of difficulty, and accuracy. Students recited poems from the Poetry Out Loud print and online anthologies. The event was the culmination of a pyramid-structure competition that began last September in schools across the country.
The second-place winner was Claude Mumbere of Burlington High School in Burlington, Vermont, who received a $10,000 award. The Utah State Champion, MarKaye Hassan of Logan High School in Logan, Utah, received the third-place prize and a $5,000 award. Each of the nine finalists received at least a $1,000 award, and their schools received $500 each for the purchase of poetry books.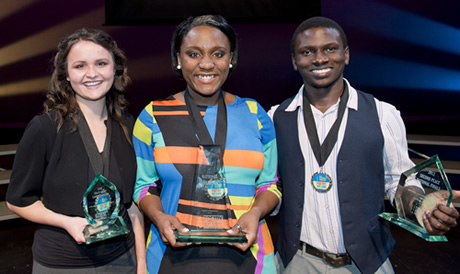 The other six finalists were: Samuel Opoku (Northglenn, CO), Gwen Morrison (Marshalltown, IA), Russell Heitmann (Hebron, NE), Jessica Kariisa (Raleigh, NC), Daphnee R. McMaster (Reading, PA),and Langston Ward (Spokane, WA). For a full list of all 53 champions, visit poetryoutloud.org.
Guest judges for the National Finals included host of A Prairie Home Companion andThe Writer's Almanac Garrison Keillor, poets Marilyn Chin and Major Jackson, senior correspondent and regular co-anchor of PBS NewsHour Jeffrey Brown, and Executive Director of the Poetry Society of America Alice Quinn.
Poetry Out Loud Partnerships
The National Finals are the culmination of efforts by many partners. As national partners, the NEA and the Poetry Foundation have contributed support for administration of the program, educational materials, and awards for both the state and national finals. State arts agencies have implemented the program in high schools nationwide and organized state competitions, often in collaboration with local arts organizations. The Poetry Out Loud National Finals are administered by Mid Atlantic Arts Foundation.
Schools that are interested in registering for the 2012-2013 Poetry Out Loud contest should contact their state arts agency. More information is available on the Poetry Out Loud website.
Educational Materials
The NEA and the Poetry Foundation provide free, standards-based curriculum materials for Poetry Out Loud, which include poetry anthologies containing more than 650 classic and contemporary poems, a teacher's guide, video footage of performances from the National Finals, and audio tracks about the art of recitation. Schools are welcome to download these resources.
Contests and Awards
Using a pyramid structure, this year's Poetry Out Loud started with classroom and schoolwide activities and contests between September 2011 and February 2012. State contests were held by mid-March; the 53 champions of contests in every state, Puerto Rico, the U.S. Virgin Islands, and Washington, DC competed at the National Finals. The Poetry Out Loud National Finals will present a total of $50,000 in awards and school stipends for the purchase of poetry books. Awards include $20,000 for the Poetry Out Loud National Champion, and $10,000 and $5,000 for the second- and third-place finalists. Each state-level final has awarded $1,000 in cash awards to the champion, runner up, and their schools. In total, Poetry Out Loud will award more than $100,000 to state- and national-level winners.
About Mid Atlantic Arts Foundation
Mid Atlantic Arts Foundation develops partnerships and programs that reinforce artists' capacity to create and present work, advance access to and participation in the arts, and promote a more sustainable arts ecology.
About the National Endowment for the Arts
The National Endowment for the Arts was established by Congress in 1965 as an independent agency of the federal government. To date, the NEA has awarded more than $4 billion to support artistic excellence, creativity, and innovation for the benefit of individuals and communities. The NEA extends its work through partnerships with state arts agencies, local leaders, other federal agencies, and the philanthropic sector. To join the discussion on how art works, visit the NEA at www.arts.gov.
About the Poetry Foundation
The Poetry Foundation, publisher of Poetry magazine, is an independent literary organization committed to a vigorous presence for poetry in our culture. It exists to discover and celebrate the best poetry and to place it before the largest possible audience. The Poetry Foundation seeks to be a leader in shaping a receptive climate for poetry by developing new audiences, creating new avenues for delivery, and encouraging new kinds of poetry through innovative partnerships, prizes, and programs.
High-resolution photos of all 53 Poetry Out Loud state champions are available for media use on request. Contact NEA Public Affairs at 202-682-5570.