Q & A on Disability and Equity with the NEA's Beth Bienvenu and Darrell Bogan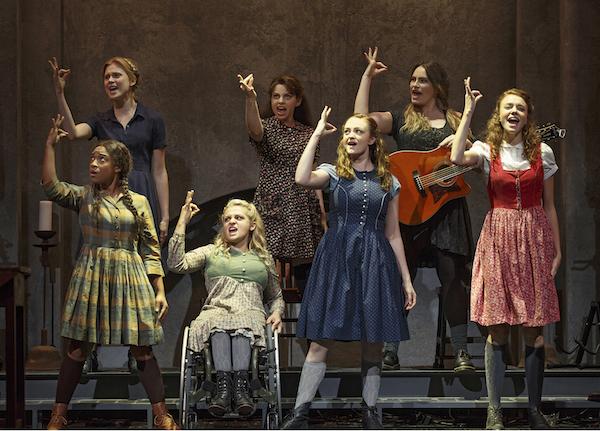 The National Endowment for the Arts has played a key role in educating and investing in accessibility in the cultural sector and the work of disabled artists since the late 1970s. We continue this work today through technical assistance and grantmaking to arts organizations to expand capacity for accessibility, arts learning, and arts programming for people with disabilities and support for disabled artists. According to the CDC, people with disabilities comprise 25 percent of the population, and 30 percent of families have a person with a disability. The disability experience is part of the human experience.
The NEA is also looking inward at its own policies and practices for equity in response to White House executive orders that call on agencies to "pursue a comprehensive approach to advancing equity for all, including people of color and others who have been historically underserved, marginalized, and adversely affected by persistent poverty and inequality," and to "strengthen the federal workforce by promoting diversity, equity, inclusion, and accessibility." We are therefore centering disability and accessibility as a key part of this equity work.
The NEA is looking at equity in our grantmaking systemically. We are tracking ways to expand disability inclusion across our agency, with ongoing, continuous engagement. Internally we are seeking work beyond merely meeting hiring goals but building it into our culture and who we are as an organization.
As part of National Disability Employment Awareness Month, Beth Bienvenu, director of the NEA's Office of Accessibility, and Darrell Bogan, director of the NEA's Office of Civil Rights and Equal Opportunity, took a deeper dive into the NEA's work around disability equity.
Q: How do disability and accessibility fit into the diversity and equity agenda at the NEA?
DARRELL BOGAN: When the current administration implemented the Executive Orders on racial equity, we knew that disability needed to have a seat at the table. We included Accessibility Director Beth Bienvenu in our working groups to ensure that disability was part of our response to the orders and of our strategic planning. We see the disability community as a vital part of diversity and equity.
BETH BIENVENU: We have always placed a priority on accessibility and support for disabled artists. We are the only cultural granting agency in the federal government that has an office specifically designed to provide technical assistance to the field around accessibility and address issues specific to disability in the arts. Internally, we conduct training for staff throughout the year and are continually evaluating how we can improve our grantmaking to be both equitable and responsive. Externally, we not only provide technical assistance to applicants and grantees, we also engage with the arts community through convenings, presentations, and training to service organizations and to local, state, and regional arts agencies. By joining with the agency's greater equity work, we can elevate the attention to disability and accessibility both internally and externally, and align it with our overall equity agenda.
BOGAN: We're also focusing on improving our disability hiring, using the Schedule A Hiring Authority to recruit persons with disabilities. We plan to expand our recruitment efforts by partnering with the Workforce Recruitment Program and Wounded Warriors. This is part of a long-term strategy to continually support hiring and retention of workers with disabilities.
Q: What approaches has the NEA taken in the cultural sector to advance disability equity?
BIENVENU: Since its earliest days, the NEA has served a key role in both educating the arts field on federal accessibility requirements and advancing disability equity through grantmaking. Starting in the 1970s, when the Rehabilitation Act of 1973 was implemented, we worked with the state arts agencies and regional arts organizations to train and educate arts organizations on their requirements. When the Americans with Disabilities Act was passed in 1990, many cultural organizations were ahead of the curve. We continue to educate the field because we recognize that there is still work to be done.
We also have supported many organizations that provide arts experiences and arts learning for people with disabilities, as well as professional opportunities for disabled artists, from arts companies such as Heidi Latsky Dance and Phamaly Theatre Company to artist residencies such as the Anderson Center's Deaf Artist Residency and the 3Arts residency for disabled artists to arts education organizations like ArtMix Indiana and Arts For All Florida.
Q: What can arts organizations do to promote equity and be fully inclusive of people with disabilities?
BIENVENU: There are many things that arts organizations can do to make their programs inclusive and equitable for people with disabilities; some that can be easily implemented and some requiring more investment. The following are a few steps to take, though this is just the start of a full equity process:
Assess your physical space for accessibility, using a checklist such as the ADA Standards for Accessible Design.
Ensure that you are providing effective communication for your programs and exhibits, including captions, ASL interpretation, and audio description for videos and live or virtual events; Braille and large print materials; tactile experiences for people with vision disabilities; sensory friendly experiences and quiet spaces; and accessible websites.
Ensure that people with disabilities can participate in your programming and not be relegated to segregated programs. Extra activities such as quiet hours or touch tours can provide access, but visitors should be able to attend regular programming at any time and receive accommodations for those events.
 Engage in targeted hiring to include people with disabilities in all levels of your staff and ensure they are part of your board and volunteers.
Look for disabled talent in your casting, curating, exhibiting, and presenting.
Consult with your local disability community when assessing your physical space and developing programming. Hire advisors and people with disabilities who can assess your facilities for physical accessibility and test your website.
Q: What is on the horizon for the NEA regarding disability equity?
BOGAN: Our goal is to ensure that disability is an integral part of our organization. We plan to be deliberate and intentional in our recruiting and retention efforts. Those retention efforts are centered on equipping our employees with the tools necessary to be successful in their jobs. In addition, we're monitoring our progress in ensuring people with disabilities are represented in all levels of the organization, creating pathways to leadership positions.
From an external perspective, our long-term strategy in performing compliance reviews on organizations that have receive federal funds from the NEA is to ensure they comply with federal laws and regulations that govern accessibility in the arts. We're going to be checking for that as part of our compliance reviews.
BIENVENU: And while compliance work is important, true equity goes above and beyond merely following the law. Arts organizations need to think deeply and broadly about their disability equity work, including employing people with disabilities as staff and as artists. That is the message we want arts organizations to take away from National Disability Employment Awareness Month.
Beth Bienvenu is the director of the Office of Accessibility at the National Endowment for the Arts, where she manages the NEA's technical assistance and advocacy work devoted to making the arts accessible for people with disabilities, older adults, veterans, and people in institutional settings.
Darrell Bogan is the director of the Office of Civil Rights and Equal Opportunity Employment at the National Endowment for the Arts.