National Endowment for the Arts Again Named One of the Best Places to Work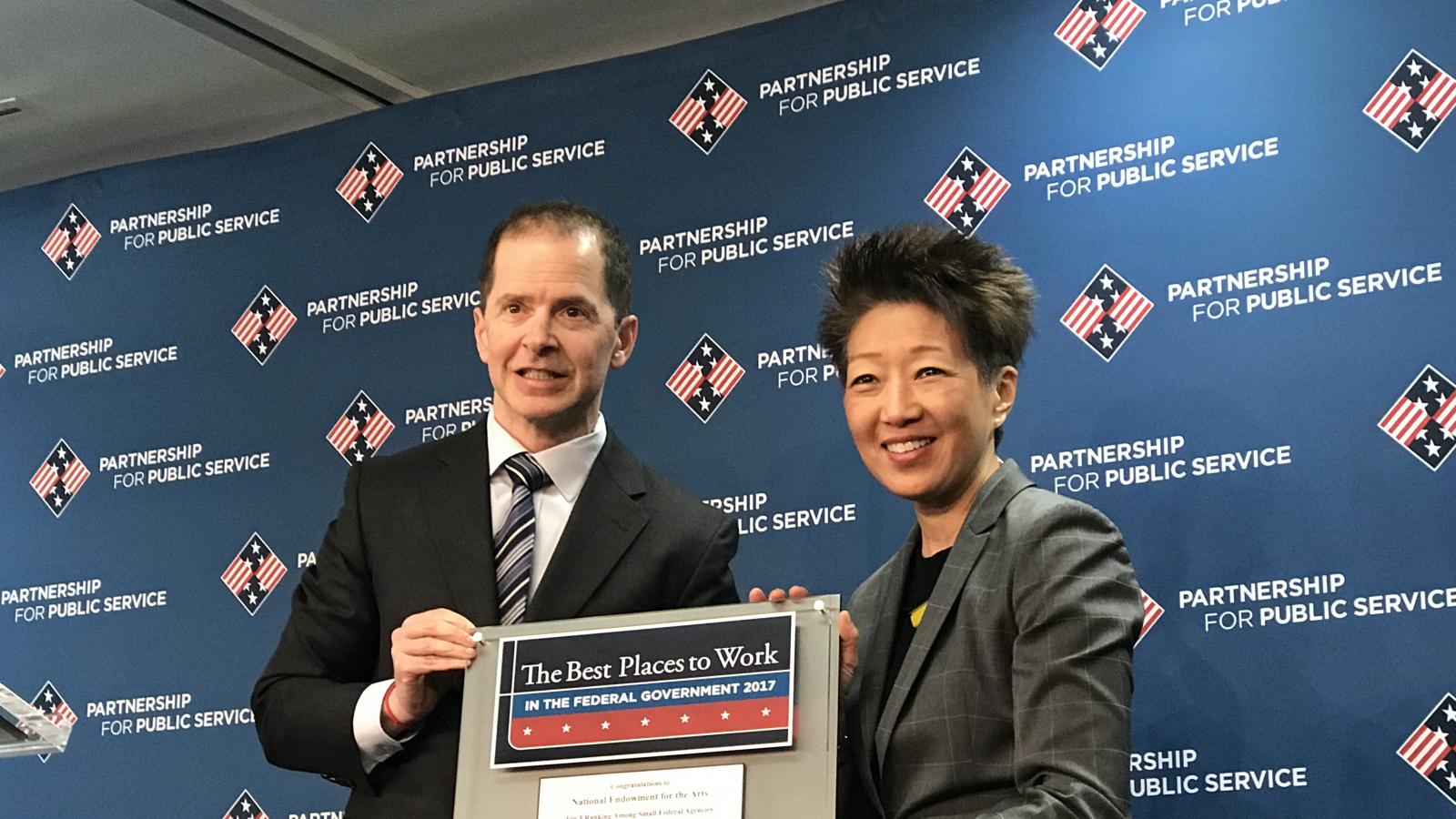 Washington, DC—For the second year in a row, the National Endowment for the Arts ranked among the best small government agencies at which to work in the federal government. According to the 2017 Best Places to Work in the Federal Government survey produced by the Partnership for Public Service (PPS) and Deloitte, the NEA is tied for #3 among 28 small departments and agencies.
"Our entire staff contributes to the mission of the National Endowment for the Arts, each in his or her own way," said NEA Chairman Jane Chu. "I'm very proud of the staff, their professionalism and their integrity. Their good work is reflected in these high rankings."
The NEA's 2017 employee engagement score of 80.6 is 19 points higher than the government-wide score of 61.5. In 2017, the NEA improved in the categories of effective leadership, employee skills–match mission, innovation, and teamwork, which showed a 3.6 point improvement in the past year. Among all small agencies, the NEA is tied for first in employee skills-mission match, ranked second in innovation and teamwork, and ranked third in effective leadership. In 2016, the NEA was ranked number one among small agencies, a move up from 11th place in 2015, representing a "most improved" score increase of 16.6 percent.
The Best Places to Work rankings provide vital information to help federal agencies, The White House, and Congress assess federal employee engagement and provide a roadmap for federal leaders to improve the management of the workforce and employee performance. More details are available in the NEA report on the PPS website.
About the National Endowment for the Arts
Established by Congress in 1965, the NEA is the independent federal agency whose funding and support gives Americans the opportunity to participate in the arts, exercise their imaginations, and develop their creative capacities. Through partnerships with state arts agencies, local leaders, other federal agencies, and the philanthropic sector, the NEA supports arts learning, affirms and celebrates America's rich and diverse cultural heritage, and extends its work to promote equal access to the arts in every community across America. Visit arts.gov to learn more about NEA.
Contact
NEA Public Affairs, publicaffairs@arts.gov, 202-682-5570