Phenomenal Women: NEA Jazz Masters Dee Dee Bridgewater and Dianne Reeves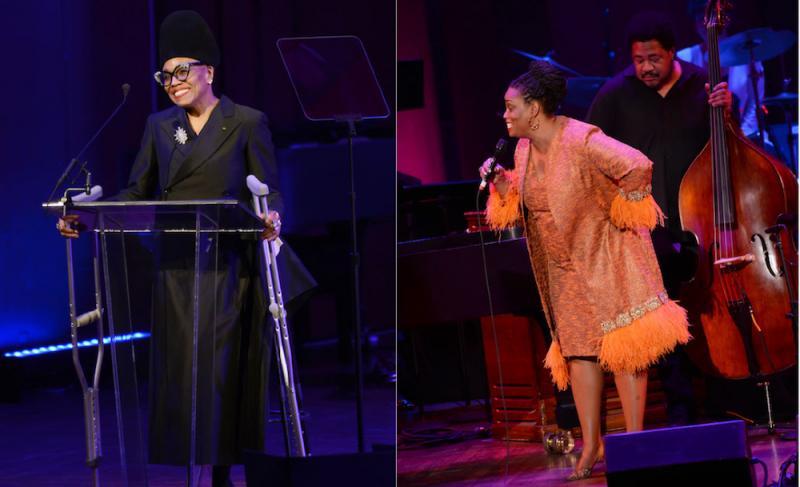 When Dee Dee Bridgewater—vocalist, producer, and broadcaster—was honored as a National Endowment for the Arts Jazz Master in 2017, it was a no-brainer to ask her longtime friend Dianne Reeves to participate in that year's NEA Jazz Masters Tribute Concert in Bridgewater's honor. The next year Reeves took the stage again, but this time as an honoree for her work as a vocalist. For #ThrowbackThursday, we have a trio of videos on offer including interviews with Bridgewater and Reeves and an archive of Reeves' performance at the 2017 celebration.
As we celebrate Women's History Month this March, the National Endowment for the Arts will shine the light on some phenomenal women, past and present, through the agency's blog, podcast, and social media channels. While the stats may continue to be disappointing in terms of equity, we believe that as we work to address those disparities it's also important to celebrate the impact women have made and continue to make in the arts. From Phillis Wheatley, an enslaved woman who was also one of the best-known poets in pre-19th century America to dancer choreographer Martha Graham, whose work lives on not only through her dancers but through the company's venture into mixing dance with technology, we're celebrating women who, to borrow from Maya Angelou's famous poem "Phenomenal Woman" have fire in their eyes and joy in their feet.