Creativity and Persistence Audiobook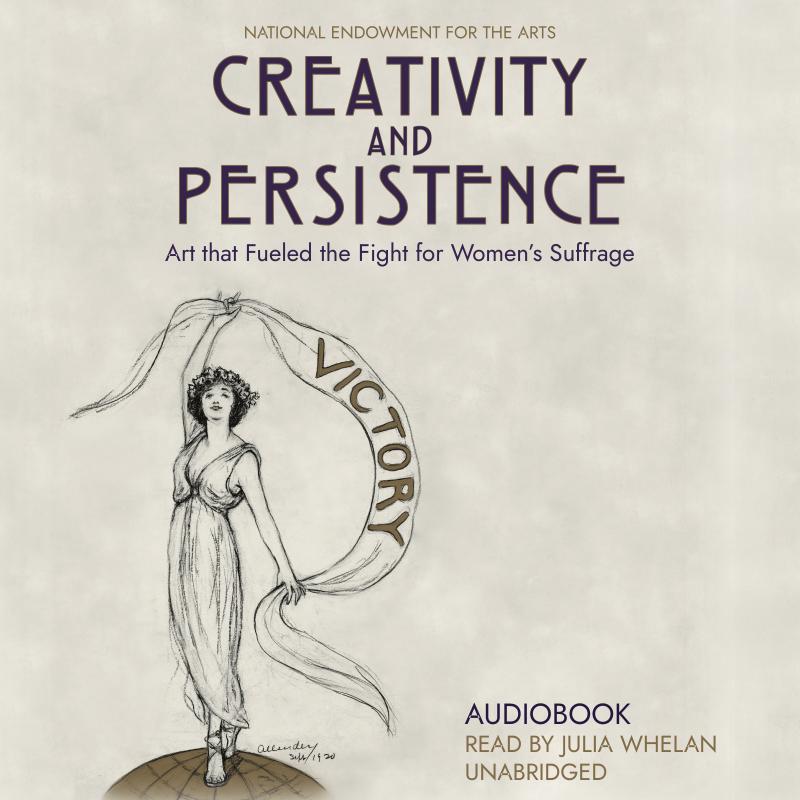 The National Endowment for the Arts published Creativity and Persistence: Art that Fueled the Fight for Women's Suffrage as part of the centennial celebration of passage of the 19th amendment. The book commemorates how the arts were used to change the image of women in America and illustrate the importance of their full participation in society and politics. Throughout the long and arduous path, the depiction of women and the different perspectives of their roles in society and politics were displayed through literature, poetry, fashion, sculpture, illustrations, posters and, near the end of the battle to secure passage of the defining amendment, sharply acidic and intentionally divisive cartoons. ( PDF | EPUB )
An audiobook, read by Julia Whelan, was also produced.
Formats
Audiobook | iTunes | mp3 audio files
Instructions
Audiobook
To play on your desktop:
Download file to your computer (PC: right-click, MAC: command-click)
Import into iTunes
Go to the Library, click on Audiobooks
When you click to play,  a "Chapters" menu will appear to the right of the Window menu. You can select individudal chapters there.
You may be able to play the audiobook directly with medai players such as VLC and WIndows Media Player.
To play in your iPhone or iPad:
Connect your iPhone to computer with a USB cable.
Click on iPhone icon at iTunes window and then in the below menu choose Audiobooks.
Click on Sync Audiobooks and then choose the audiobook you downloaded just now.
Tap on Apply button in the bottom right to start transferring audiobooks.
In newer versions of iOS the audiobook will now appear in iBooks.
mp3 Files
Download zip file to your computer (PC: right-click, MAC: command-click)
Unzip file, open folder to see the 21 files.
Play individual files with any media player or import into iTunes and play there.
About the Reader
Julia Whelan is an actor, writer, and narrator of more than 400 audiobooks. Recently named one of Audiofile Magazine's Golden Voices, she has won numerous other awards, including the 2019 Best Female Narrator Audie for Tara Westover's Educated and a SOVAS for the performance of her own novel, My Oxford Year, which was published by HarperCollins in 2018. She is also a Grammy-nominated audiobook director as well as a certified tea sommelier.