RESEARCH AWARDS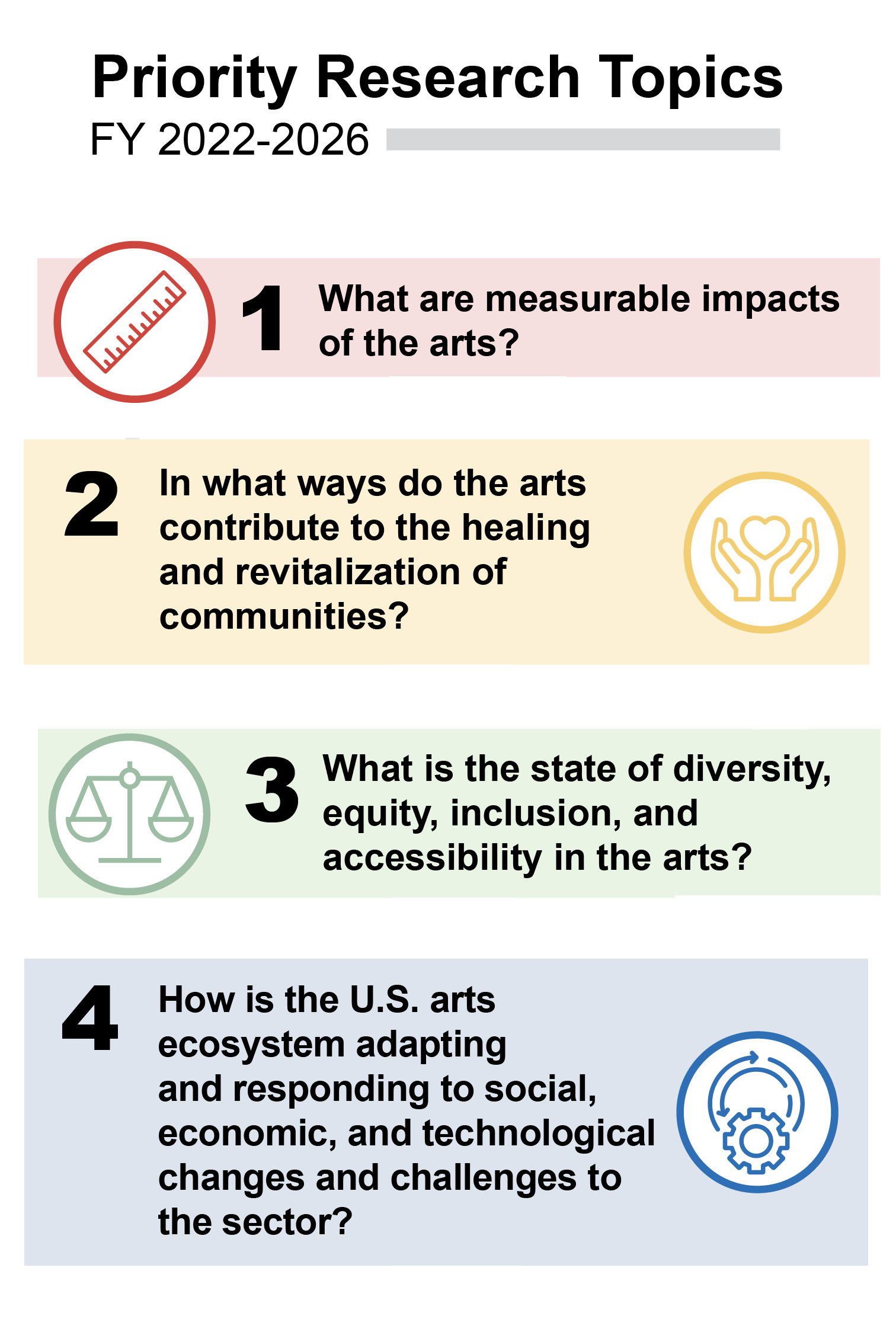 View full infographic
The National Endowment for the Arts invites applicants to engage with the agency's five-year research agenda through two funding opportunities for research projects:
Research Grants in the Arts funds research studies that investigate the value and/or impact of the arts, either as individual components of the U.S. arts ecology or as they interact with each other and/or with other domains of American life. Matching/cost share grants of $20,000 to $100,000 will be awarded.

NEA Research Labs funds transdisciplinary research teams grounded in the social and behavioral sciences, yielding empirical insights about the arts for the benefit of arts and non-arts sectors alike. Matching/cost share grants of $100,000 to $150,000 will be awarded.
Application Calendar for the FY 2024 Cycle*
Part 1 - Submit to Grants.gov

March 27, 2023 at 11:59 p.m., Eastern Time

Prepare application material so that it's ready to upload when the Applicant Portal opens

Part 2 - Submit to Applicant Portal

March 30-April 6, 2023 at 11:59 p.m., Eastern Time

Earliest Announcement of Grant Award or Rejection

November 2023

Earliest Start Date for Proposed Project

January 1, 2024
*We plan to use these same guidelines for up to three years, to coincide with the NEA's FY 2022-2026 Research Agenda. As such, we expect these instructions to be used also for the FY 2025 and FY 2026 competitions, which will have Grants.gov deadlines in late March 2024 and late March 2025, respectively. Deadlines for FYs 2025 and 2026, respectively, will be posted in January 2024 and January 2025. Please monitor our website for updates.