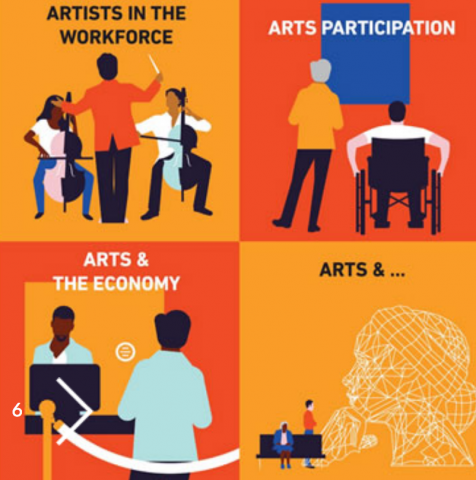 The National Endowment for the Arts invites applicants to engage with the agency's five-year research agenda through two funding opportunities for research projects:
Research Grants in the Arts funds research studies that investigate the value and/or impact of the arts, either as individual components of the U.S. arts ecology or as they interact with each other and/or with other domains of American life. Matching/cost share grants of $10,000 to $100,000 will be awarded.
NEA Research Labs funds transdisciplinary research teams grounded in the social and behavioral sciences, yielding empirical insights about the arts for the benefit of arts and non-arts sectors alike. Topic areas of interest include the intersections of the arts and 1) entrepreneurship and innovation; 2) creativity, cognition, and learning; and 3) health and social/emotional well-being. Matching/cost share cooperative agreements of up to $150,000 will be awarded.
Research Grants in the Arts offers grants, and NEA Research Labs offers cooperative agreements. The difference between grants and cooperative agreements is the Arts Endowment's involvement. The Arts Endowment is substantially involved with cooperative agreements. Therefore, the Arts Endowment will be substantially involved in the direction and accomplishments of NEA Research Labs. In addition, the Research Grants in the Arts program offers funding for specific research studies, whereas the NEA Research Labs offers funding for longer-term research agendas, which may include multiple research studies and activities that build and inform the field throughout the life of an NEA Research Lab.
Deadlines:
IMPORTANT: Finalize your Grants.gov/SAM registrations and submit early to Grants.gov to allow time to resolve any issues you might encounter during the submission process.

SAM.gov: No later than March 8, 2021

Grants.gov: No later than March 19, 2021

Part 1 - Submit to Grants.gov

March 29, 2021

Prepare application material so that it's ready to upload when the Applicant Portal opens

Part 2 - Submit to Applicant Portal

April 1-8, 2021

Earliest Announcement of Award or Rejection

November 2021

Earliest Start Date for Proposed Project

Research Grants in the Arts: January 1, 2022

NEA Research Labs: March 1, 2022