A partnership of the National Endowment for the Arts, the Poetry Foundation, and the state arts agencies, Poetry Out Loud is a national arts education program that encourages the study of great poetry by offering free educational materials and a dynamic recitation competition for high school students across the country. This program helps students master public speaking skills, build self-confidence, and learn about literary history and contemporary life. Since the program began in 2005, more than 4.3 million students and 76,000 teachers from 19,000 schools across the country have participated in Poetry Out Loud. Visit poetryoutloud.org for more information. If you are interested in participating in the official program, please contact your state arts agency.
2023 Poetry Out Loud National Finals
Congratulations to Sreepadaarchana Munjuluri, a junior at Columbus North High School in Indiana, the 2023 Poetry Out Loud National Champion! Edward Wilson Jr., a senior at Jackson Preparatory School in Mississippi, was the runner-up and Madison Harris, a freshman at Indian Creek School in Crownsville, Maryland, received third place. Read more about this event in the NEA's newsroom.
Watch video interviews with the 2023 National Finalists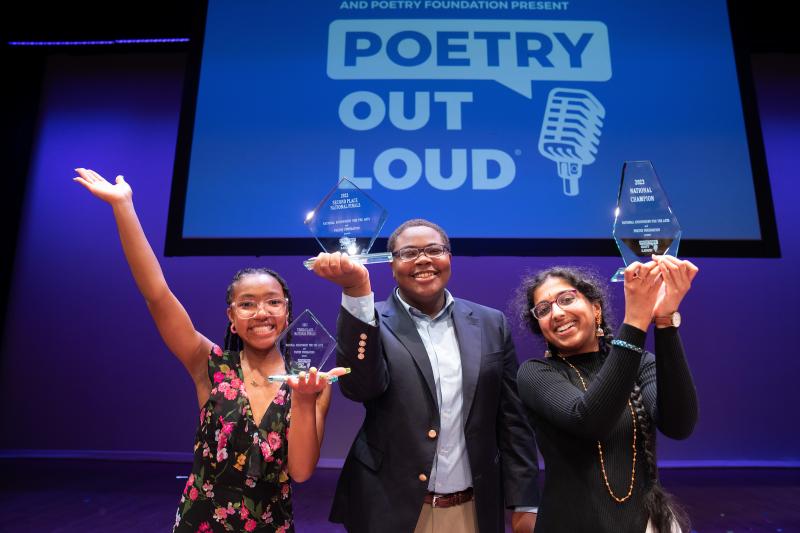 Semifinals & Finals Program | Finals Program (names in recitation order)
2023 Poetry Ourselves
The state champions competing at the 2023 Poetry Out Loud National Finals also had the opportunity to showcase their creativity through an optional competition, Poetry Ourselves. The students could submit an original work of poetry in one of two categories: either a written poem or a video of a spoken poem, both of which were judged by poet Mahogany L. Browne. The winner in the written category is Natasha B. Connolly from Rhode Island. The winner in the spoken category is Stella Wright from Minnesota. The runner-up in the written category is Irene Jiayi Zhong from Hawai'i. The runner-up in the spoken category is Catherine Wooten from South Carolina. 
Study on Impact of Poetry Out Loud
Line by Line: Transforming Student Lives and Learning with the Art of Poetry presents findings from an evaluation of Poetry Out Loud that involves data collection from ten sample schools assessing the program's impact on  poetry appreciation and engagement, social and emotional development, and academic performance. A fact sheet summarizing the results is also available.