Creative Forces: NEA Military Healing Arts Network is an initiative of the National Endowment for the Arts in partnership with the U.S. Departments of Defense and Veterans Affairs and the state and local arts agencies that seeks to improve the health, wellness, and quality of life for military and veteran populations exposed to trauma, as well as their families and caregivers.
The program places creative arts therapies at the core of patient-centered care at clinical sites throughout the country, plus a telehealth program, and increases access to community arts activities to promote health, wellness and quality of life for military service members, veterans, and their families and caregivers. Administrative support for Creative Forces is provided by Americans for the Arts.
CREATIVE FORCES NETWORK
We are building a national network of care and support for trauma-exposed active duty service members, veterans, and their families and caregivers, in medical treatment or transitioning back home to their bases and communities.
The program has three components:
CLINICAL—Creative Forces is placing creative arts therapies at the core of patient-centered care at military medical facilities, including telehealth delivery of care for patients in rural and remote areas. In clinical settings, creative arts therapists provide art, music, and dance/movement therapies, as well as therapeutic writing instruction, for military patients and veterans.
COMMUNITY—Creative Forces provides community-based arts opportunities for military and veteran populations and their families around clinical site locations, as well as via virtual arts engagement. These networks extend support for current and former creative arts therapies' patients and their families as they transition from treatment in a clinical setting to arts programming in their community.
CAPACITY—Creative Forces invests in capacity-building efforts, including the development of toolkits, training materials, and other resources to support best practices in serving the target populations. In addition, Creative Forces is investing in research on the impacts and benefits—physical, social, and emotional—of these innovative treatment methods. Visit Creative Forces' National Resource Center to learn more and to read all research associated with Creative Forces.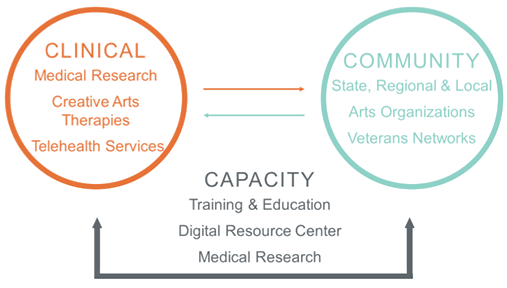 THE NEED
There is a growing need in our country to address TBI and PTSD. Research shows that in the United States an estimated 2.8 million people sustain a TBI annually and eight million have PTSD. More than 500,000 men and women of our armed services are living with TBI or PTSD including 10-20 percent of all service members deployed in Iraq and Afghanistan. TBI and PTSD are known to contribute to depression, and to the estimated 20 suicides committed by veterans each day.
We have seen how creative arts therapies have helped service members deal with trauma as part of an integrated care model. And when they return home, these interventions make a difference in people's lives that medicine alone could not achieve.
PROGRAM HISTORY
Since 2012, this military healing arts partnership has supported creative arts therapies for service members with traumatic brain injury and associated psychological health issues at two military medical facilities in the Washington, DC, area—the National Intrepid Center of Excellence (NICoE) at Walter Reed Bethesda in Maryland, and the Fort Belvoir Community Hospital in Virginia. Congress has encouraged the National Endowment for the Arts' continued efforts with Creative Forces and annual funding increases have allowed the NEA to expand the reach and impact of this national initiative.