Strengthening communities with arts at the core.
Creative placemaking integrates arts, culture, and design activities into efforts that strengthen communities. Creative placemaking requires partnership across sectors, deeply engages the community, involves artists, designers and culture bearers, and helps to advance local economic, physical, and/or social change, ultimately laying the groundwork for systems change. This definition is intentionally open and broad because creative placemaking draws on all artistic disciplines, and can be deployed as a strategy to address a wide range of community issues or challenges from public health to safety, economic development to housing.
Arts, culture, and design can help to strengthen communities by:
Bringing new attention to or elevate key community assets and issues, voices of residents, local history, or cultural infrastructure.
Injecting new or additional energy, resources, activity, people, or enthusiasm into a place, community issue, or local economy.
Envisioning new possibilities for a community or place - a new future, a new way of overcoming a challenge, or approaching problem-solving.
Connecting communities, people, places, and economic opportunity via physical spaces or new relationships.
Grantmaking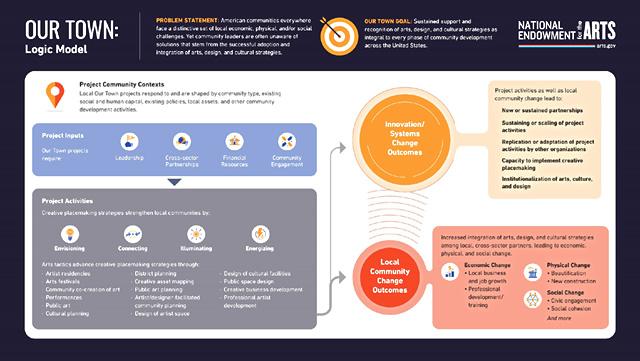 Our Town is the National Endowment for the Arts' creative placemaking grant program with an annual deadline of August. Since 2011, the agency has funded over 700 projects in all 50 states, DC, Puerto Rico, Virgin Islands, and Northern Mariana Islands. Our Town supports local partnership projects that have social, economic or physical impacts. The ultimate goal of Our Town is to sustain support and recognition of arts, design, and cultural strategies as integral to every phase of community development across the United States. To view past awards, go to Recent Grants search.
To learn more about the program: Our Town: A Framework for Understanding and Measuring the National Endowment for the Arts' Creative Placemaking Grants Program.
Technical Assistance
Since 2016, the National Endowment for the Arts has supported the Creative Placemaking Technical Assistance Program, in partnership with Local Initiatives Support Corporation (LISC). The program is designed to help participants implement successful creative placemaking projects that lay the groundwork for longer-term systems change. Grantees and their partners are invited to opt into the program to receive tailored advice from experienced creative placemaking practitioners on a range of topics from embedding equity in their project to documenting and communicating success. Visit LISC's website for tools, videos, and other resources to the general public on a range of creative placemaking topics.
Knowledge Building
From 2015 to 2019, the Our Town program invested in knowledge building grants. Grants were available to arts service or design service organizations, community development membership organizations, and/or other national or regional membership, policy, or university-based organizations. These projects required a partnership to facilitate knowledge sharing and/or exchange on creative placemaking. Projects resulted in a wide range of resources for the field, including publications, trainings, convenings, capacity building resources, and pilot programming to introduce creative placemaking non-arts sector leaders. To learn more, check out the project descriptions of knowledge building grants.
Past Publications and Resources