The Arts Endowment's arts education program is focused on pre-K to 12th-grade students, the educators and civic leaders who support them, and the schools and communities that serve them. The agency's funding is focused on providing dance, music, theater, visual arts, literary arts and media arts education for all students and closing the opportunity gap for students who have the least arts education access. The Arts Endowment implements an ambitious strategy that combines grantmaking with national and state leadership as well as data and research initiatives to ensure every student is engaged through an excellent arts education.
As families and educators ready children to go back to school, the National Endowment for the Arts recognizes the important role of arts education in educating, engaging, and empowering youth. The NEA also understands that families and schools are dealing with uncertainties and the residual disruption from the previous year. Arts education can help to address these challenges by supporting the social and emotional learning needs of students, helping them to succeed both in and out of school. For more information on the benefits of arts education, check out our Back to School page.
Grantmaking
Around 75 percent of arts education grants directly engage underserved populations:
Direct Learning grants increase student knowledge and skills in the arts, helping them reach their full potential.
Professional Development grants build the capacity of urban and rural classroom teachers and teaching artists to effectively teach and measure student learning in the arts.
Collective Impact grants transform schools and communities by providing access and engagement in the arts for all students through collective, systemic approaches. Collective Impact projects create lasting systems change tailored to community needs, fundamentally altering the ways in which the components and structures of a system behave and interact over time. Collective Impact grantees.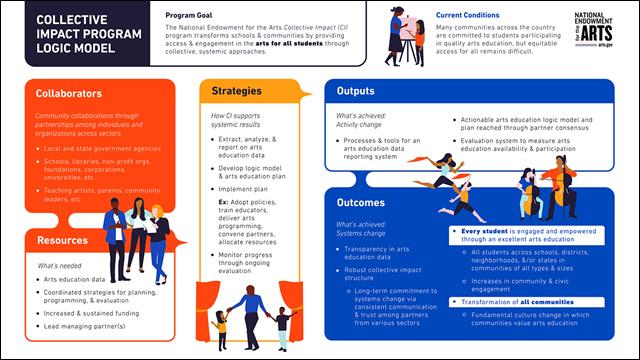 Logic Model for Collective Impact: JPG | PDF
Initiatives
The nation's hub for arts and education leaders, building their leadership capacity to support students, educators, and learning environments through research, reporting, counseling, and convening.
To promote more and better information in young people's access to, and participation in, arts education, the State Data Infrastructure Project for Arts Education provides a suite of groundbreaking tools and resources and case studies to help stakeholders extract, analyze, and report on data about arts education.
Arts Education Data Toolkit Webinar (3/24/21)
The annual Professional Development Institute for state arts agency arts education managers provides meaningful leadership development and technical assistance for this field. 
An annual leadership grant supports professional development for state education agency directors of arts education, which consists of those persons at state education agencies whose responsibility is education in the arts.