Introducing 2011 POL Champ Youssef Biaz
Washington, DC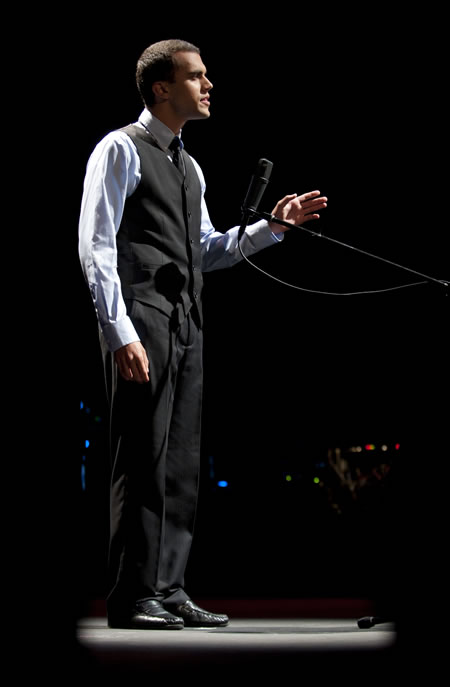 Photo of Youssef Biaz by James Kegley
Last Friday, U Street's historic Lincoln Theater erupted in hoots and hollers when 16-year-old Youssef Biaz was announced the winner of the 2011 Poetry Out Loud competition. A senior at Auburn High School, Biaz has clinched Alabama's Poetry Out Loud state championship for two consecutive years, advancing both times to the National Finals. Last week, his pitch-perfect delivery of "Filling Station" by Elizabeth Bishop, "Dover Beach" by Matthew Arnold, and "Those Winter Sundays" by Robert Hayden nabbed him top honors, landing him $20,000 in scholarship money. After his big win, we chatted with the disarmingly articulate Biaz about poetry, the influence of teachers, and what's next on his plate.
NEA: So what does it feel like to be the 2011 Poetry Out Loud national champion?
YOUSSEF BIAZ: There's only one word to accurately summarize the way I feel about winning: surreal. I don't think it's really quite hit me yet, and I can't imagine what my reaction will be when I finally realize what exactly happened Friday night. But I can say that I'm very excited and I feel very honored to be granted such a prestigious and amazing award.
NEA: You also made it to the National Finals in 2010. Did you approach this year's competition differently than last year's?
BIAZ: I can't say I had a purposefully different approach this year, but there was one huge difference: I didn't have "Mrs. Krikorian." "Mrs. Krikorian" was a poem written by Sharon Olds that I recited last year and that got me started on Poetry Out Loud. I fell in love with the poem and connected deeply to it, which I felt added to my performance. This year though, there was no poem that I immediately connected with, that I held deeply close to my heart immediately, or that was my absolute favorite from the start. But after memorizing the three poems that I did choose, I definitely came to love each in a way that I didn't feel I could going into this year's Poetry Out Loud competition. And I actually think that overall, even without "Mrs. Krikorian," my poem choice this year was stronger and was a better approach to the competition.
NEA: What did you do to prepare for the competition?
BIAZ: Rehearsal was key. My English teacher was a great help along the way and he and I worked together to perfect my performances and get them ready for the national competition. I also worked with an acting coach for a one-hour session and he gave me some quick pointers and a fresh set of eyes to criticize my performance, which was a great help as well. I didn't perform much for my family, though, because I like them to be surprised and see a fresh performance. One way we approached rehearsal differently this year was how frequently we rehearsed. We actually rehearsed less frequently this year than last year, partly out of necessity, but the result was very good. Last year, we rehearsed so much that the poems became mechanized and lost a sense of spontaneity and freshness. But this year, choosing our rehearsals carefully and not overdoing them allowed the poems to have a freshness and seem more spontaneous, which is what we were going for.
NEA: Why did you pick the three poems that you recited? Which one carried the most meaning for you?
BIAZ: As I said earlier, I didn't pick favorites this year. My initial goals this year were to find poems that were varied in tone and meaning and [that] would also be considerable challenges for me to communicate and perform. My English teacher, Mr. Davis Thompson, was a great help in this process: he went through the entire anthology and highlighted many, many poems that he felt fit my voice and my personality. I read each of them and made my decisions from there. Though this makes it seem like my poems were primarily practical choices, as I rehearsed and discussed these poems more and more with Mr. Thompson, I began to have a deeper and deeper appreciation for the poems and they began to speak to me personally. I really enjoyed performing and communicating them this year.
NEA: Has being involved with Poetry Out Loud changed your perspective on poetry? Has it changed you in general?
BIAZ: It has absolutely changed my perspective on poetry, though I would say it was a combination of both Mr. Thompson's influence and Poetry Out Loud. This is actually what I wrote to my teacher recently in a response to poetry: "Over the past few years, my idea of what poetry is has changed drastically. Long ago, it used to seem to me a sentimental subset of literature. Then it turned into prose with random, unnecessary line breaks. But in the past two years, my idea of poetry has become a way of expressing 'something impossible for prose' to express, an awe-inspiring and compelling medium of art unlike any other. And since this is my last poetry response, I have to take this last moment to thank you for that."
As for changing me in general, I would say it gave me confirmation of a lot of things in my life. My passion has always been film and filmmaking, and Poetry Out Loud has, I think, solidified my love for communicating an emotion and message to an audience. It's shown me that this is what I want to do for the rest of my life, only through another medium.
NEA: You're involved in theater, track, and you also dance. Did you find any cross-over between these activities and Poetry Out Loud?
BIAZ: Ultimately, it's all performance. Theater, dance, and Poetry Out Loud are definitely all related. They're each a performing art that I truly love; the magic in each is in communicating to an audience and evoking an emotion in them. Track is a little different. The overlap that I find there is that track/cross country is a sport that I found I could only succeed in after much dedication, practice, and focus. And I think Poetry Out Loud is exactly the same.
NEA: As a senior, what does next year hold for you?
BIAZ: Next year I'll be attending the University of Southern California and majoring in Film Production. I'm very excited!
NEA: Any advice for next year's competitors?
BIAZ: My advice for anyone wanting to compete is to go for it! I'd recommend much practice and rehearsal and choosing poems that fit your personality, who you are, and what you want to say best. I'd also insist that spontaneity is key, and that trying to make the poems seem as natural and fresh as possible is a very important part of the performance. Other than that, I think it's a wonderful experience no matter how you want to approach it and I'd encourage anyone to do it!