Arthel "Doc" Watson
Appalachian Guitar Player/Singer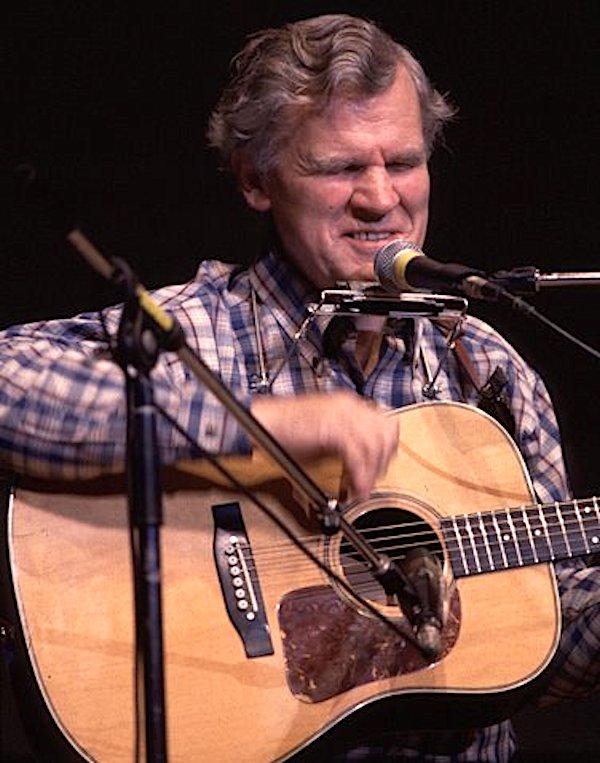 Bio
Arthel "Doc" Watson was born March 3, 1923, in Stoney Fork in western North Carolina, the sixth of nine children born to Annie and General (his given name) Dixon Watson. Watson contracted glaucoma when he was an infant, causing him to lose his sight by the age of two.
He entered the Raleigh School for the Blind at the age of 10 and stayed for four years. His musical education began at home with a new harmonica in his stocking every Christmas and, one day, a homemade banjo. "My dad picked that banjo up and said, 'Here, son, I want you to learn to play it real well.... You get where you can play that thing pretty, it might help you get through the world.'"
Watson's musical education continued in the home through a battery-powered radio and a small windup record player with a stack of 78 rpm records his father had purchased from a neighbor. These included recordings of Gid Tanner and the Skillet Lickers, the Carolina Tar Heels, and the Carter Family. While at the Raleigh School for the Blind, he heard a classmate playing a guitar and learned a few chords himself. When he returned home that summer, he was eager to play the guitar. His brother, Linny, had borrowed a cousin's guitar on which Watson practiced.
"Daddy heard me messing with it one morning," Watson remembered, "and said, 'Son, if you can learn a tune on that by the time I get back from work this evening, we'll go find you a guitar of some kind.'" By the time his father returned home, he was picking the chords to "When the Roses Bloom in Dixieland," and, as promised, they went and got his first guitar, a $12 Stella. In time, Watson was able to get a Sears Silvertone guitar with money he earned cutting wood. Around 1940, he bought a Martin D-28 from Richard Green, who owned a little music store in Boone, North Carolina, and let him have a year to pay it off. Pressure to make payments on his new Martin prompted Watson to sing on the streets for tips. "I played on the street nearly every Saturday, when the weather was warm, at a cab stand in Lenoir, South Carolina. Sometimes I'd make as much as $50, and I paid that guitar off in four or five months."
People who heard him on the street invited him to play amateur contests and fiddler's conventions, and he did. He won some of the contests but, as he said, "I found that people didn't want me in their shows no matter how good I was because I was a little trouble to them and I didn't have a flashy stage show."
When Watson was 18, he joined a group that sometimes played on local radio stations. Before a remote radio broadcast at a furniture store, the announcer decided that "Arthel" was too cumbersome to use on the air. A woman in the crowd suggested, "Call him 'Doc,'" and the name stuck.
In 1947 Watson married Rosa Lee Carlton, the daughter of old-time mountain fiddler Gaither Carlton. They had two children, a son, Merle, and a daughter, Nancy. To earn a living, Watson tuned pianos and played music wherever he could, for local dances and over the radio. Finally, in 1953, Jack Williams, a piano player from Tennessee, invited Watson to play lead guitar in his country swing and rockabilly band. Not long after joining Williams, he traded in his Martin for a 1953 Les Paul Standard and became an electric guitarist. Watson doubled as lead fiddler and vocalist when the band played for square dances, and traveled around playing for VFW clubs and other social organizations in eastern Tennessee and western North Carolina. He remained with Williams for eight years. During those years he continued to pick and sing old-time music on acoustic guitar with his family, and sometimes performed with Clarence "Tom" Ashley, a neighbor who had been an original member of the Carolina Tar Heels.
In 1960 Ashley told folklorist Ralph Rinzler about Watson, and asked Rinzler if Watson could join him on the recording session he was planning. Rinzler, quickly recognizing Watson's musical talents, agreed, but urged him to play acoustic guitar. The two resulting LPs, Old Time Music at Clarence Ashley's, Volumes 1 & 2, were highly acclaimed and helped to launch Watson's professional career.
In 1961 Watson made his urban debut at the Friends of Old-Time Music concert in New York, playing with Ashley, Clint Howard, and Fred Price. For the next several years, he performed at concerts and festivals. Watson's son, Merle, began playing backup guitar and in 1965 became his father's road manager and driver. Together, they toured nationally for more than 20 years, until Merle's tragic death in a tractor accident. Watson retired from active touring in 1987, playing out occasionally and hosting the annual Merlefest in Wilkesboro, North Carolina, until his death on May 29, 2012.