Bessie Jones
Georgia Sea Island Singer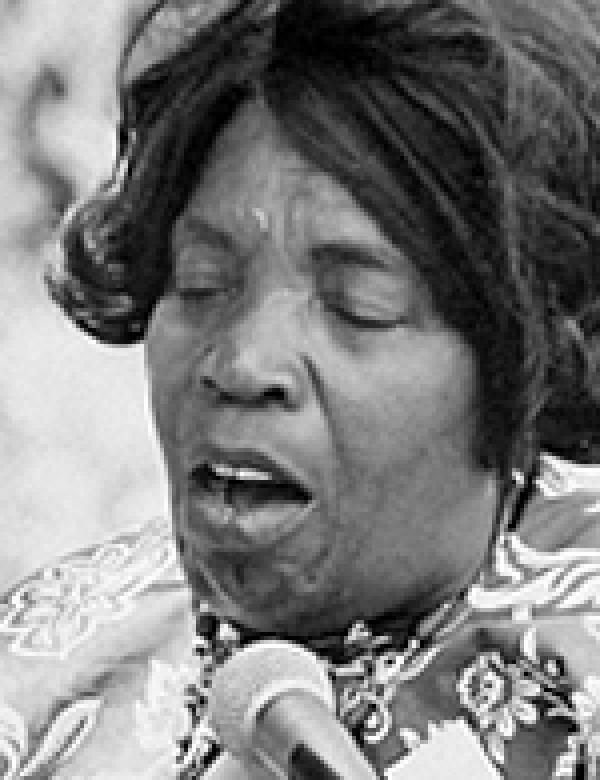 Bio
Mary Elizabeth "Bessie" Jones was born February 8, 1902, in Smithville, Georgia. When she was seven months old, her parents moved to Dawson. She grew up in a large, extended family that included her stepfather, James Sampson, and his parents, Jet and Julia Sampson. It was from the Sampsons, especially Jet, that young Bessie first learned about slavery and "the old ways." Music was as important as storytelling in her family. Her Uncle Gene sang and played guitar. All the men in her family played guitar or banjo, and they made their own banjos. Jet played the accordion and made banjos out of wood. Her mother played autoharp.
When Bessie was only nine years old, she got her first job doing childcare. That same year, her stepfather died, and the family moved to Osterfield to be closer to relatives. Bessie finished her last year of formal schooling in 1913, and the following year she met and married Cassius Davis, and soon thereafter gave birth to her first child, Rosalie. Davis lived on St. Simons Island, but had come to the mainland looking for work. Bessie began working as a farmhand, taking Rosalie to the fields with her.
After Davis's death around 1926, Bessie and her cousin decided to go to Florida to find better jobs. In Key Largo they were hired to do washing and ironing for a crew laying railroad track. After a short time there, she went to Miami and worked as a cook and maid. In 1928, she moved on to Okeechobee to farm; there, she met and married George Jones. Together, they became migrant workers and followed the crop harvests from Florida to Connecticut. During these years she also traveled to Brunswick, Georgia, and St. Simons Island, visiting both George's family and her deceased first husband's family.
By 1933, Bessie and George settled on St. Simons Island. They continued to do migrant work, but kept their home on the island. In the off-season, Bessie worked as a maid and cook, and joined Lydia Parish's Spiritual Singers Society of Coastal Georgia.
Her second child, George L., was born in 1935, followed by her third child, Joseph, in 1937.
From 1939 to 1945, Bessie also took jobs as a nurse for the children of wealthy white families who lived or vacationed on the Georgia coast. In 1945, her husband George died. Bessie continued living and working on St. Simons Island, and was active in the founding of the Harlem Church of God in Christ.
In the mid-1950s Bessie met folklorist Alan Lomax, who was conducting fieldwork in the Georgia sea islands and working to collect the music of the Spiritual Singers Society. In 1960, Bessie was "called to teach" — to pass on to others what she knew about slavery through songs and stories that she learned as a child. While participating in Lomax's film on the Spiritual Singers Society, she went to sing for a child's birthday party. She was going to start off the party by singing a lullaby, then changed her mind. "But when I got up," she recalled, "I said I was glad to do it because this is where my grandfather was brought up at, and that gave me a head to speak right there. When I said that, they stopped the beer right there, and everything, and I was getting ready to sing to the child, but wasn't nobody saying nothing. Then something told me 'You got to tell them everything in your mind.'"
That was the first time in public that Jones began to tell the stories she had heard as a child. "The Lord blessed me not to forget these things," she explained, "and keep them up among people who weren't studying it. White people know our backgrounds, but they're going to try to hold it back and keep us back as long as they possibly can." Guided by the "spirit," Jones recognized she had an opportunity to share the stories and songs about little-known aspects of the history of African Americans to others.
Over the next several years, Jones toured extensively, performing in clubs and concerts, and at festivals around the country. In 1963, she teamed up with a group of other singers to form The Georgia Sea Island Singers. This ensemble traveled together and was the subject of another film by Alan Lomax, The Georgia Sea Island Singers. At home, she continued to sing with the Spiritual Singers Society at public and private gatherings. She also participated in a prayer band that traveled during the Civil Rights Movement, marching with Martin Luther King in Beulah, Mississippi. It was during these years that Jones worked on her book Step It Down, published in 1972. In 1973 she released her first solo album, So Glad I'm Here, followed by Step It Down in 1975. Throughout the 1970s, Jones remained active singing with the Georgia Sea Island Singers and performing at inaugurations, in schools, and at festivals throughout the country.