Bob Fulcher
Folklorist and State Park Manager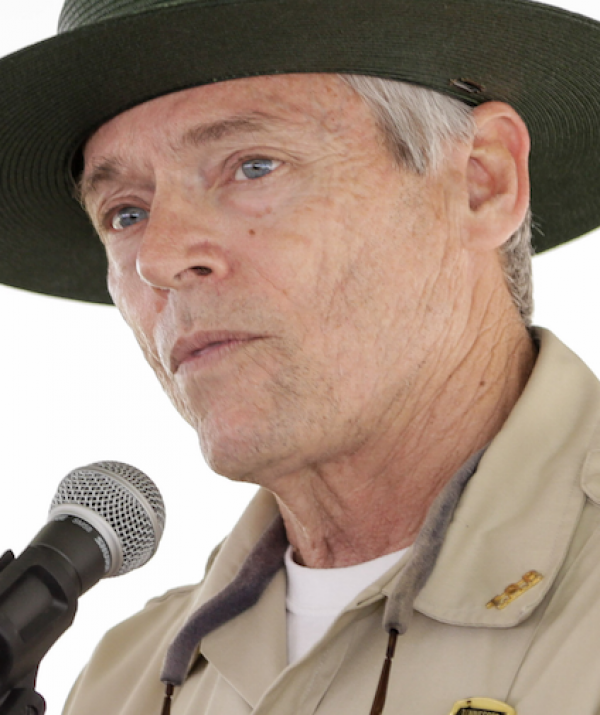 Bio
Proceeding from his post in the Tennessee State Parks, Bob Fulcher has spent four decades engaged in relentless folklife fieldwork and programming, ardently supporting traditional artists and providing inspirational mentoring to young culture workers.
Currently the park manager of the Cumberland Trail State Scenic Trail and State Park, Fulcher adheres to a mandate that park custodians must conserve and interpret the cultural world with the same focus as they do the natural one. In the 1970s, Fulcher's fieldwork on the Cumberland Plateau led to the discovery of folk artists of extraordinary quality. His research brought attention to Dee and Delta Hicks, ballad singers with a repertoire perhaps unmatched in the United States, and 1992 National Heritage Fellow Clyde Davenport, a masterful fiddler with a deep stock of traditional tunes, among dozens of others.
In 1979, Fulcher started the Tennessee State Parks Folklife Project, a groundbreaking program that initiated cultural fieldwork throughout the park system. Under Fulcher's guidance, young folklorists spent summers conducting intensive field research and planning park programming. The project's efforts led to the creation of more than a dozen annual events, as well as a prodigious body of audio and photography spanning the full range of Tennessee folklife. Today the documentation is housed at the Tennessee State Library and Archives as its preeminent cultural collection.
Throughout the 1980s and 1990s, Fulcher organized landmark folklife events, including the Tennessee Banjo Institute and the Rolley Hole Marbles Championship. In 1988, he helped lead the Cumberland Music Tour, a multistate concert series featuring Plateau musicians. In 2000, he launched the Cumberland Trail Heritage Project, again placing young folklorists in the field. Since 2001, he has interpreted regional music as host of The Cumberland Trail radio show on WDVX in East Tennessee. He formed Sandrock Recordings in 2011, a music label specializing in traditional music. He has released more than two dozen albums of field and historical recordings during his career, with various labels.
For the hundreds of tradition bearers he has reached, Fulcher has proven a devout and empathetic champion. For the folklorists he trained, he has modeled vigorous curiosity, a keen sense for identifying folk excellency, and a contagious enthusiasm for the grind and grit of cultural discovery. Numerous folklorists who worked on Tennessee State Parks folklife initiatives have gone onto influential careers at all levels of public and academic folklore.
Highly regarded for his body of work, Fulcher has presented artists for the Library of Congress, Smithsonian Institution, National Folk Festival, and South Arts. Among his many honors, he received the Botkin Prize from the American Folklore Society in 2000 and the Tennessee Governor's Folklife Heritage Award in 2017. Fulcher continues to tirelessly lead yearly folklife programming, articulating always the elegant connection in human traditions between the physical landscape and the expressive imagination.
By Bradley Hanson, director of Folklife, Tennessee Arts Commission