Bounxeung Synanonh
Laotian Khaen Player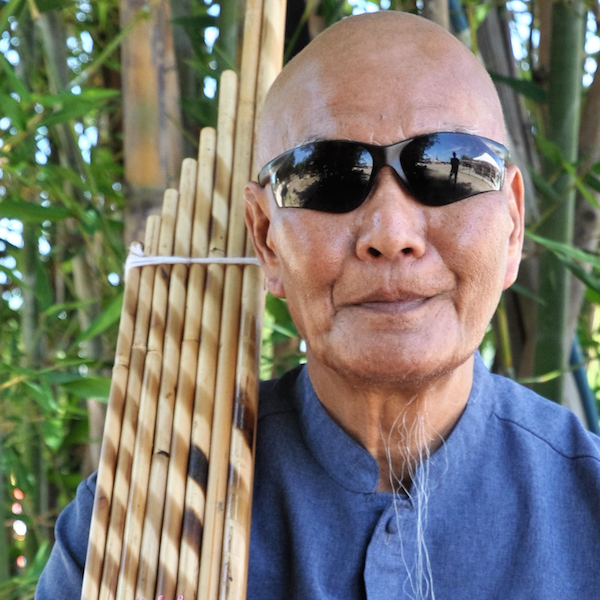 Bio
"[The khaen] keeps me connected to my culture. It gives me peace, as well as connects me to the Lao community in the U.S. It gives the Lao community great joy to celebrate our culture in a way that has been done for generations. My art brings people together in ways that transcend their differences because the khaen is a common thread in their lives."
Laotian-born Bounxeung Synanonh is a master performer on the khaen, a free-reed mouth organ made from 16 lengths of bamboo. Born in Savannakhet, Laos, in 1949, Synanonh is a member of the majority lowland ethnic group, the Lao. At the age of 15, he lost his sight and that same year he started learning the khaen from village elders, including his uncle. The musical tradition of the khaen is essentially oral and must be learned directly from other musicians. Learning by ear, Synanonh quickly became proficient and expanded his knowledge by listening to khaen players on the radio and by performing at festivals and other community gatherings. The sound of the khaen is extraordinarily complex, as the player inhales and exhales through the instrument so it produces sounds continuously, and because of its multiple pipes, it plays multiple pitches simultaneously.
When Synanonoh immigrated to the U.S. as a refugee in the early 1980s, fleeing war and the Pathet Lao re-education camps, his musical skills were quickly prized by the stateside Lao community. The khaen and its repertoire are strongly associated with and central to lowland Lao culture. The khaen tradition is generally found in Lao communities in Laos, northeast Thailand, and in the Laotian diaspora. Synanonh is especially adept in the style of Savannakhet, his home community, but he is also recognized in the Lao community for his skill in a wide range of regional styles. He has been invited to travel to all the major Lao communities in the U.S. to perform for public events like the Lao New Year's celebration, as well as for home-based ceremonies like that which is performed to initiate a new home.
The khaen has a deep solo tradition and also provides essential instrumental accompaniment for lum, a tradition of sung poetry. For many years, Synanonh was the preferred accompanist for lum singer and 1991 NEA National Heritage Fellow, Khamvong Insixiengmai. Their work together is commemorated on the album Bamboo Voices: Folk Music from Laos (1989). In 2007, Synanonh performed at the Smithsonian Folklife Festival as part of the Mekong River: Connecting Cultures program. He has also made sustained efforts to teach the next generation, taking on two apprentices in 2008.
Bio by Amy Kitchener, Alliance for California Traditional Arts