Cedric Burnside
Hill Country Blues Musician and Songwriter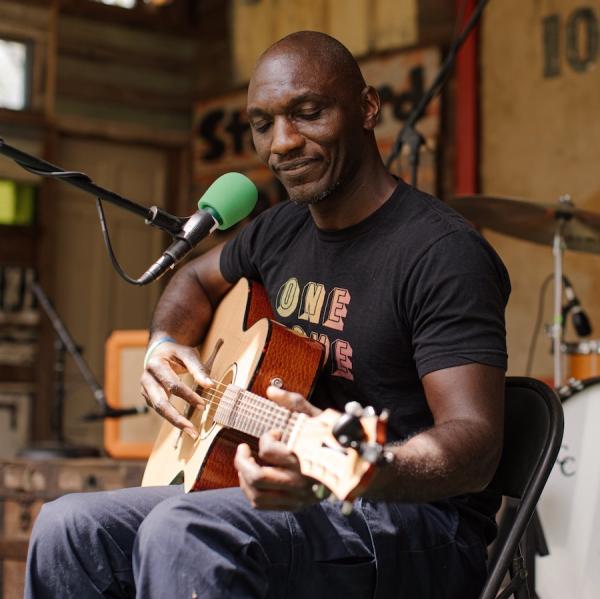 Bio
The blues is music for all epochs, and Hill Country blues guitarist, singer, and songwriter Cedric Burnside is widely heralded as an exemplar of the genre's timeless prescience about American life. Spanning three decades, Burnside's work holds the legacy and future of North Mississippi's sound stories, telling ancestral blues stories that honor the region's heritage and ensure its future. These stories, monumental and everyday, at once African and American and Southern and Mississippian, document the human condition and the Black American experience, from the genre's birthplace.
Born in Memphis in 1978 and raised in North Mississippi's Marshall and Benton Counties, Burnside's blues inheritance is multigenerational. The grandson of Hill Country blues luminary R.L. Burnside, Cedric spent his youth carefully studying his blues elder, playing alongside him at house gatherings and juke joint gigs. By age 13, he was out on the road accompanying his grandfather's band on drums and coming of age as an artist in a distinct blues tradition. Before he was an adult, Burnside had made his own place as a collaborator and innovator in the tradition, traveling around North America representing the Hill Country blues, and the sound's distinctiveness from its Delta, Texas, Piedmont, and Chicago counterparts.
As an architect of the second generation of the Hill Country blues, Burnside has spent his career tending to the legacy of the genre by expanding the next, electric generation of the North Mississippi sound. In Burnside's care, the sound leads with extended riffs that become sentences, pleas, or exclamations, rendering the guitar like its West African antecedent, the talking drum. These riffs fuse with Burnside's voice, like the convergence of hill and horizon in the distance, carrying listeners to a deep well of Mississippi history whose waters reflect the present and the future of the state and the nation.
Burnside has carried the Hill Country torch across nine individual and collaborative albums. He is a contributor on several award-winning projects with other Hill Country blues musicians, work that has earned him numerous accolades, including multiple Blues Music Awards for his work as a drummer. He earned a Grammy nomination for the 2015 album project Descendants of Hill Country and another for his solo recording, 2018's Benton County Relic. These projects are capstone statements for a lifetime of musical labor channeling the blues spirit on drums, guitar, and vocals in the North Mississippi Hill Country tradition. His 2021 album, I Be Trying, is a testament to Burnside's understanding of this tradition and what must be done to maintain it, as he returns the tradition to its interior core and opens the space for a new generation of Hill Country artists to step in.
Zandria F. Robinson, Associate Professor of African American Studies, Georgetown University