Chitresh Das
Kathak Dancer and Choreographer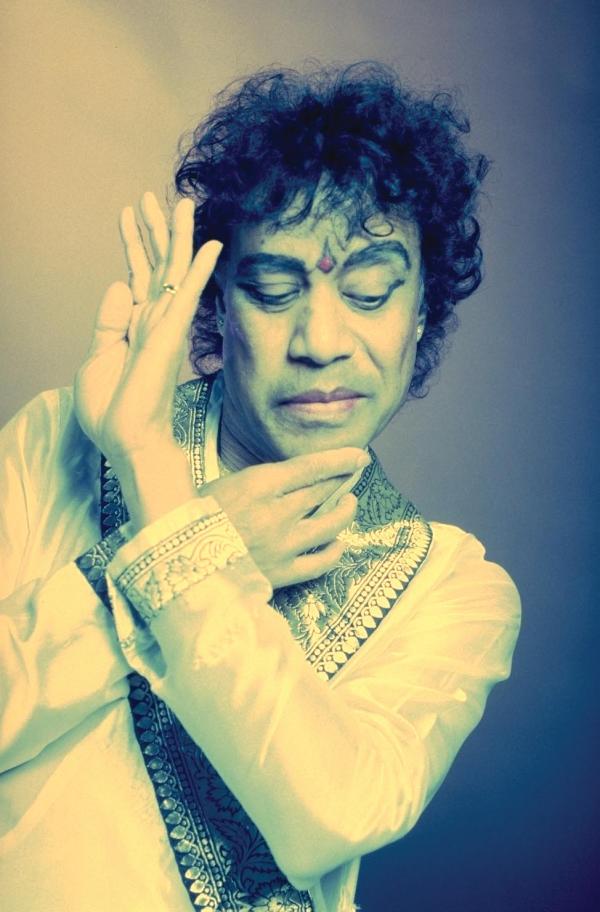 Bio
Pandit (a term used to denote a master) Chitresh Das was schooled in the North Indian dance tradition, Kathak, from the age of nine by his guru Pandit Ram Narayan Misra. He learned both the percussive and sensual elements of Kathak, including the solo tradition in which the dancer is required to go on stage without any prior rehearsal and execute improvised rhythms, compositions, and storytelling for two to three hours. When he danced for the master tabla artist Samta Prasad as a youngster, Prasad commented, "Baccha nai hai; chacha hai" (He is not a child; he is an uncle). Das's performing career in India was launched when he was invited by Ravi Shankar to dance at the first Rimpa Festival in Benares. In 1970, he received a Whitney Fellowship through the University of Maryland to teach Kathak, and the following year Ali Akbar Khan invited him to be an instructor at the Ali Akbar College of Music in California. By 1980, Das had founded his own school. For the past 38 years, he has been teaching and mentoring students and maintaining a vigorous performing schedule. Recently, Pandit Das has been involved in creating and choreographing cross-cultural touring performances including East as Center, a piece combining Indian and Indonesian master performers, and India Jazz Suites, a collaboration between Das and young tap dancing phenom Jason Samuels Smith. He recently opened a school in honor of his parents in Kolkata to teach dance in the red light and lower income districts and to build bridges with the youth of India.
Interview by Barry Bergey and Josephine Reed for the NEA
Edited by Don Ball
NEA: Let me start by asking, what was your response when you found out that you had been awarded an NEA National Heritage Fellowship?
Chitresh Das: Well, I received this phone call, and I thought, they probably they want me on a panel. But I'm not good in panels -- I don't know why they would call me. I usually don't answer business calls or anything, but finally my wife said, "No, no, no. Please listen to why they are calling. Whatever it is, just call back." So I called back, actually, and I was like "Whoa! Wow!," This is a huge deal not for me only, but for all dancers, all Indian dancers specifically. This is a great acknowledgment from the government, from the NEA, that they bestow upon you and they acknowledge you.
NEA: You work with tap dancer Jason Samuels Smith -- when was the first time you saw him and had the sense that you wanted to work with him?
Chitresh Das: The way it happened was that Duke University in North Carolina invited us. They actually called Calcutta, in India, for a Kathak dancer. And so these people in the Kathak Academy, they said, "The one you need is sitting in California." And they said, "What? Really?" "Try him. See what happens." So anyway, they invited me to go. When Jason came to the festival, he was supposed to dance with another. Jason had long Bob Marley hair, long in those days. And he came in and he was practicing in the hallway on the concrete floor. And he was there practicing and I started sounding. Whatever he was trying to do, I was trying to imitate. He turned around and he said, "Man, what are you doing with your bare feet?" And that's how it started. And then he wanted to dance with me since then.
We just dance. We don't think anything. I give him the rhythm. This is rhythm. This is the structure. We'll end up like this after a little something and then we'll just dance some. That's all. It's like two machines turned on and then we start moving.
NEA: You have also taken Jason to India to perform. How was that received there?
Chitresh Das: Well, when Jason and I dance, we have a structure, but we don't do collaborations. He dances his style; I dance my style. And then we do improvisation. Now, Jason comes from the family of hoofers, so he is improvising tremendously. We just work together.
They are making a documentary on this. The documentary is coming on PBS probably some time next year. We performed in Mumbai, Calcutta. After we finished that last year, we went to a three-island tour in Hawaii and Seattle, and now Jason asked me to dance in his tap festival in L.A. Already I did once.
Jason is like lightning in his speed and power. So he keeps me on post. We exchange tremendously. This is very, very exciting. [The promoters] don't even know how to sell it. One has to see it. One has to experience it.
NEA: Do you have any sense of how his experiences in India, for instance, might have affected his thinking?
Chitresh Das: He had no idea what India was all about. It was his first visit last year. Now he's kind of very much into the whole Indian scene. In the beginning, he would question everything. "Why are these people looking at us? I'm black and they're black. Why are they looking at us? Why can't I give this food from the restaurant to anyone I want? Why can't I do this?" "This is an old country, Jason. You can't do it this way. You cannot talk like this. Once you start dancing, then people get you." He had so many questions. Because you have to understand, Jason reads a lot. Jason is not just a dancer; he's a social activist. He wants social reform. He wants humanity to prevail in the world. He reads extensively. And I am like he's a cross between his uncle, his father, his elder brother, his enemy -- I don't consider myself his mentor, but he would listen to me.
But this much I will tell you -- wherever we performed so far, by the grace of God, people just stand around for a long time and they don't know what their experience is even. Because we don't even know what we do. We collapse on each other's arms in the end, when we did the final finale. Become one with the divine. Become one with everything. The principal of that essence is that you are one with this universe, that you become one. It sounds really spiritual. It is spiritual. And that is the experience we experience, because we don't hold back anymore.
And Jason, he is beginning to understand the spirit. See, when he comes and he performs in all these big places, he will go to the people. He will just start dancing with the street vendors, the street boys. They get a great kick out of it and they dance. So he experienced from the street to the best stages and the best performing auditoriums and audiences. So he experiences that and I take him to great pilgrimages and to big temples with me. And then when I come to America, he will take me to some areas. When we went to Virginia to the folk festival, and danced there, he said, "Man, this is the river where all the slaves came in." We have an age difference, but he's a good friend.
NEA: I wondered if you could talk a little bit about your work back in India in the red light districts. What led you to that and what has your experience been working in that situation?
Chitresh Das: You have to understand, my mother sent me to the quarter with the courtesans. (We didn't call them prostitutes -- they are like upper class courtesans.) In my childhood days, I had to go in a hand-driven rickshaw with my guruji and me to those quarters. My mother made sure that I go and study with my guruji in those kind of quarters. So I grew up watching them. I just always wanted to get one girl out of there, and I never liked it.
Two years ago, I was sitting in California, kind of flicking channels, and I see Cambodia. And I see Thailand. A documentary on five-year-old boys and girls, not only poor, [involved in prostitution]. And then I saw Calcutta and I said, "I have to do something." And that's when I came to Calcutta and I found somebody who was connected. Then all of a sudden these organizations sent ten or twelve girls the first day. And they all came here. They saw me and they were so affectionate. That surprised me. And I started talking to them kind of in their language in that area. They were kind of stunned; they did not know how to relate. I started talking to them very openly. And then I started talking to the mothers. I've seen a daughter suffering because her mother is dying of AIDS. I've seen AIDS women lying down while a little baby is born. These are the kind of things with which Mother Teresa worked so much. And I see this in front of me.
And these girls are taken out [of the prostitution quarters] now. And many of them are put in a home, which is run by a very nice organization. So they come every Sunday and they study. I also have appointed one of my guru sisters [to teach them] who was one of the last of the courtesans. She retired. The irony, very interesting: a courtesan, a guru sister of mine, now teaching the red light district children along with the children of society. So I'm trying to build bridges between the society children and the children of the red light district.
NEA: Is there a path for them out of that situation?
Chitresh Das: Oh yeah, they're out. They're out. They are living in a home. Lots of foreign money is coming, so they get an education. They go right in the schools. They learn computers, this, that, and everything.
You have to understand, lots of children are being sold on a regular basis, and there's no way we can stop that. This trafficking is going on at the same time. So we try to do whatever we can to try to get them out. You know, they live in a six-foot room [in the red light district]. The size of the bed is the room. And in monsoon the water rises next to the bed. The water rises, and it will spill, and they have filth, snakes, who knows what else? And that is the kind of a lifestyle they live. And to see that and go through that is a humbling experience.