Chuck Brown
African American musical innovator (Go Go)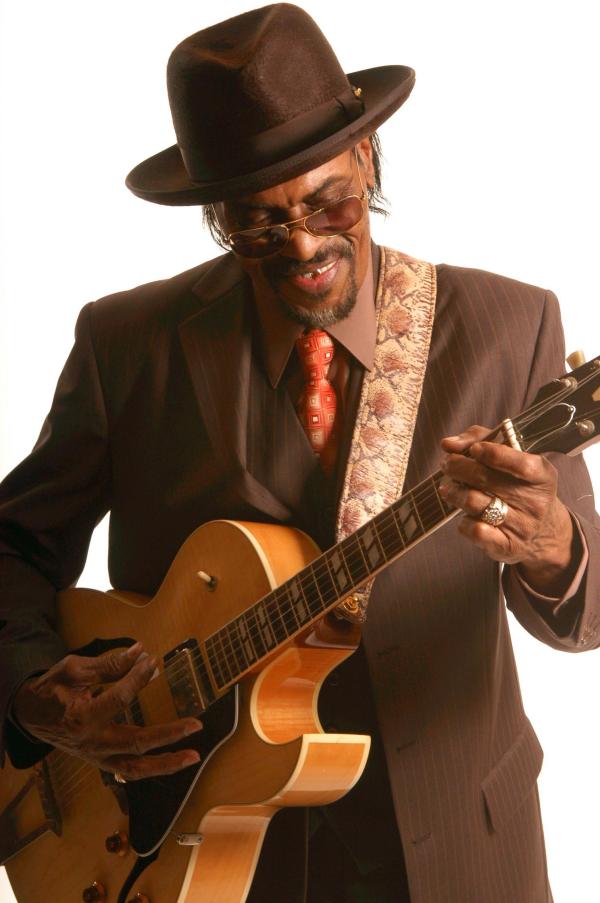 Bio
Affectionately known as the "Godfather of Go-Go," Chuck Brown pioneered a musical blend of Latin beats, African call-and-response chants, rhythm and blues, and jazz that has been identified with the District of Columbia for more than 40 years. Go-go in this case is not the popular music of the 1960s that inspired a dance and fashion craze, but rather a music and social scene deeply rooted in our nation's capital. Likening Chuck Brown to another musical pioneer, Bill Monroe, ethnomusicologist Kip Lornell says that Brown "remains among the few 20th-century American vernacular musicians who clearly developed and shaped a musical genre from its infancy to a more mature state." Brown was born in North Carolina, but his parents moved to the District of Columbia when he was seven. He grew up listening to jazz and blues and took up playing the guitar. In the early 1960s, he began performing with a Latin-inflected pop band called Los Latinos.
Brown eventually broke away to pursue his own artistic path and formed a group called the Soul Searchers. In 1971, they recorded "We the People," said by many to be the first recording with the distinctive go-go sound. Brown's 1978 album Bustin' Loose with the #1 hit single of the same name spread this regional music to a national audience. Today, this sound is heard in clubs and dance halls, as well as on the playgrounds and street corners, of the District of Columbia. The music has a large international following and Brown spends much time touring Europe and Asia. In 2000, go-go music was featured at the Smithsonian Folklife Festival, and Brown was presented with the District of Columbia's Mayor's Arts Award for his pioneering contributions to the music of the city. The 2005 opening game for the Washington Nationals baseball team fittingly featured Chuck Brown singing "Bustin' Loose" and "Take Me Out to the Ball Game" during the seventh-inning stretch.
Interview with Mary Eckstein
NEA: Congratulations! How did you feel when you found out you were receiving the award.
MR. BROWN: It was overwhelming. I was shocked when I first got the letter. I read it and read it again to try to understand a little more about it. I'm really honored. I really am. Few people are nominated for this award and I'm one of the few. It's really a great privilege. I've received a few awards over the years but nothing like this.
NEA: What were the things that attracted you to music and to playing the guitar?
MR. BROWN: When I was a kid, I used to play a little piano for the church, and I used to listen the country people that sat on the porch and played music. I've always done a little singing. I was inspired by people like B.B. King, Muddy Waters, John Lee Hooker, and Lightning Hopkins and, of course, guitarists like George Benson, Wes Montgomery, and Kenny Burrell. The more I listened to them the more I wanted to play guitar! When I was about 25, I finally got into that. The next thing you know I was out there doing gigs with different bands.
NEA: What inspired you to bring go-go to its full manifestation.
MR. BROWN: I was playing top 40 when I started out playing with other bands, the Los Latinos, the Earls, the Rhythms. The Los Latinos had a unique sound. It was on guitar, a bass player, Joe Manny the timbale player and head of the group, and Thomas Smith, the main percussionist. We didn't have a regular drum set. We had a great sound, it was top 40 with a Latin flavor.
I replaced the keyboardist when I joined Los Latinos. It's hard to replace a keyboard player with a guitar. I had to work real hard. I learned a lot from that, a lot of chords I never would have normally played, and changes, and other things.
When I put my own group together I decided to take some of those ingredients with me. Of course, you had to sound like the radio otherwise you weren't going to get many gigs. Whatever cover tunes we did had to sound as close to the original as possible. There were a lot of bands around at that time so the competition was very strong.
As time went on I decided I would try to get my own sound together. When disco came out around '71, '72, I had a tune out called "We the People" and another, ""Shaker Town Lorraine," summer time songs, you know, little partying songs. Kids getting out of school and all. And everybody related to it. But there were go-go clubs and go-go girls. They had everything but go-go bands. Then Smokey Robinson had a tune out called "Going to the Go-Go," you know. That also inspired me.
I started breaking the tunes down. We were doing 25 or 30 tunes a night so we started playing the percussion ingredients, the same Latin flavor that I had when I was with the Los Latinos. Everybody started liking that and that way we didn't have to play as many disco tunes. We slowed it down, broke the beat down to about 60 beats a minute, and everybody loved it. Then I wrote a tune called "Bustin Loose" and we played it for almost a year-and-a-half before we decided to record. It was released and the rest is history. Everybody jumped on it.
After we came up with the go-go disco faded out here in Washington, D.C. The next thing you know every band around was playing go-go. Even little groups, guys that couldn't even play, got interested in learning how to play so that they could play go-go. That was so great.
NEA: Has go-go has changed much since the 1970's?
MR. BROWN: No, ma'am. Not very much. That's what we're trying to do now, enhance it some. I'm putting on some things now with some good people with some very energetic ideas. I think we can enhance it. We'll add more music to it, put more flavor into it.
NEA: How important is go-go in the D.C. community?
MR. BROWN: Go-go is dominant in this city. People like it regardless of what comes on the radio and how many other types of music come out. D.C. is very loyal to go-go. It's has been around for a little more than 30 years now. I couldn't ask for more. New bands are coming out and though they all have the same basic sound, the feel of each is different. You can distinguish one band from the other now. It didn't used to be like that..
NEA: What advice do you have for young go-go musicians?
MR. BROWN: Well, I would advise all the young go-go musicians to please keep on doing what you're doing, keep the faith, love each other, and try to have a good vibe in your band. Do not criticize each other. Try to compliment each other as much as you can regardless of what kind of mistakes are made. There's always going to be somebody in the band who doesn't play as well, but stick with that person and show them love. We're all learning. Keep your vibe alive - that's how your band can last a long time. You can't go out to play with a bad vibe and expect the people not to feel it. They will. If you're mad with somebody in the band or you got a little upset with somebody at home, don't bring that on a gig.
Also, don't just do the grooves all night. Go-go is versatile. You can incorporate different types of music into the same go-go groove. You want to keep that music in there. You don't want to play just percussion all night even though people love it. We could play the go-go groove all night and people would dance all night, you know. But you got to keep that music in there. You don't want to be too repetitious.
NEA: What about the challenges or joys of sustaining a career? What has it been like?
MR. BROWN: I had no intentions of being a full-time musician when I first started. I have done all kinds of work. I was a bricklayer. A truck driver. I drove cabs. I worked in the fields. I worked for railroads and I drove tractor-trailers. But I would find time to play on weekends. All I was doing was enjoying myself playing music, picking up a few dollars here and there. I even played for nothing just to be playing. When I had the little four piece band I would sometimes go into a place ask the guy to let us play just for the experience and I would pay the band myself. And that gave me a lot of inspiration knowing I wasn't going to give up. I figured I was going to make it in some kind of way, but I didn't expect to get this big.
NEA: A final question. What has inspired you to continue playing through the years?
MR. BROWN: The wonderful fans here in Washington, D.C. There are no fans like the ones here in D.C. Hometown is like that, you know. That's where it all comes from, the audience, the fans. There's so much energy in the audience, you know, and that energy feeds back and you just keep going and going and going. I can't think of a better way to explain it.