Clyde Davenport
Appalachian Fiddler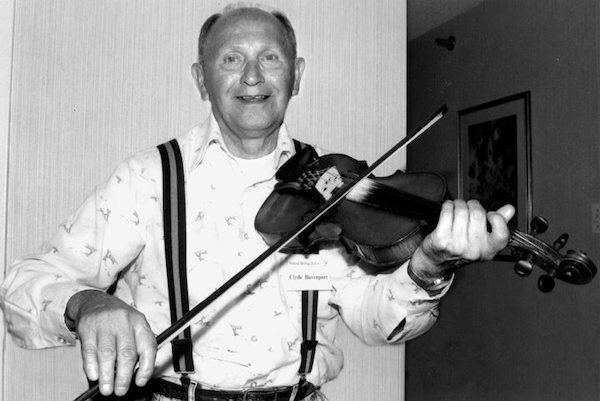 Bio
Clyde Davenport was born October 21, 1921, in Mount Pisgah, in south-central Kentucky. He was raised in the Blue Hollow of Wayne County in the Cumberland Plateau region, a western expanse of Appalachia marked by ridges and rugged terrain. When he was nine, Davenport made his own fiddle from barn boards, using hair from his family's mule for bowstrings. Within a few hours he was playing fiddle tunes that he had heard his father play. Soon he became interested in the banjo, an instrument that his father also played. At 11, he took the iron band off a small wagon wheel, trimmed out a green hickory hoop, bolted the ends together with a slat, and set it up to season. He paid a dime for a groundhog hide, attached it to the frame with carpet tacks, carved out a long hickory neck, and had his first banjo, which he taught himself to play.
In his midteens, Davenport first heard the music of the widely admired fiddle and banjo duo of Blind Dick Burnett and Leonard Rutherford, perhaps the greatest single musical influence of his life. He particularly admired Rutherford's long-bowing technique, which was typical of the region. About Burnett's playing, Davenport said, "It was just like it was greased. There wasn't a scratch or a noise of no kind. Just clear as a bell...." His attraction to Rutherford's flawless technique led him eventually to make the fiddle his instrument of choice, though he is also widely recognized for his old-time clawhammer banjo playing.
The traditional fiddle music Davenport plays is described as "lean, spare, sinewy." Those traits give his music its strength and beauty. The traditional fiddling style of this region is solo, and often the fiddle is cross-keyed. In addition to solo tunes and quick-tempo breakdowns, he plays the fluid blues in the style of Rutherford. Unlike many of his fellow old-time master fiddlers, Davenport is not a contest fiddler.
In his musical memory he kept more than 200 fiddle tunes, many of which are rare tunes learned from his father, grandfather, and fiddling neighbors of earlier generations. Davenport's father attributed much of his own repertoire to a local man named Will Phipps, who was born in 1829. Clyde's repertoire included many tunes that record local history. "Zolly's Retreat," for instance, commemorates the Confederate troops' retreat after the battle of Mill Springs (Kentucky) during the Civil War. Clyde's fiddling grandfather, Frank Davenport, was a Union soldier who fought at Mill Springs and witnessed the Confederates' defeat and retreat after their commanding officer, Brigadier General Felix K. Zollicoffer, "Zolly," was killed.
Davenport covered a lot of territory in his life. After serving in the Army, he worked in Indiana auto factories. When he returned to Kentucky, he took up farming and ran a truck stop. Intermittently throughout his adult life, Davenport made full-time work of making and repairing fiddles. His reputation as an instrument maker and repairman, as well as his playing, made him the center of the old-time music world in central Kentucky.
Through his appearances at festivals, concerts, school programs, workshops, and music camps, Davenport has enlightened thousands to the subtleties of old-time music. His belief that the music he learned from his father and neighbors is good and should be played with excellence has inspired him to share his music with anyone interested in learning. He has served as an inspiration to younger fiddlers, teaching them with unfailing good humor the musical heritage of the upland South.