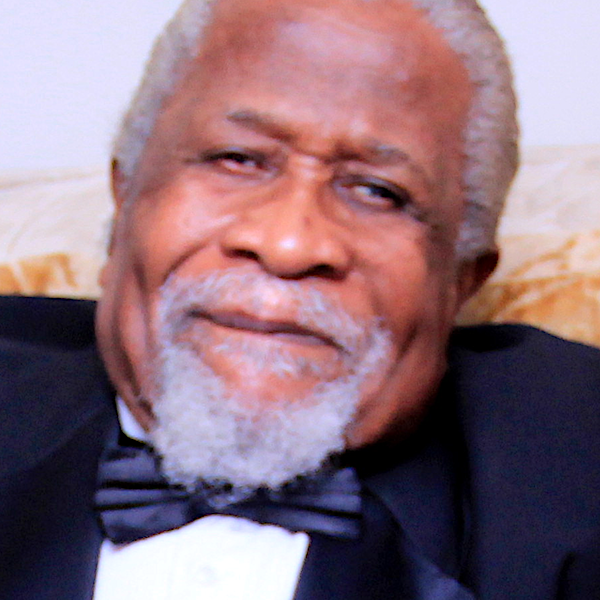 Bio
Known as the 'Blues Doctor,' Drink Small is an African-American singer, songwriter, and blues artist. As a musician and teacher, Small has preserved the heritage of his community in South Carolina and has traveled around the county and abroad to share his unique blues styling and his deep bass voice. His style is drawn from the Piedmont blues tradition but also includes gospel, rhythm and blues, boogie-woogie, and Delta and Chicago style of blues.
Born in 1933 in Bishopville, South Carolina, Small grew up in a family of singers and musicians. He was a musician from a young age, having taught himself guitar and performing at house parties and at church. After high school he played guitar with the gospel group The Spiritualaires, even performing at the legendary Apollo Theater in Harlem. During this time, Small was named best gospel guitarist by Metronome.
In 1959 Small began to record and perform the blues, starting with the single "I Love You Alberta" on Sharp Records. He has toured nationally and internationally, performing in a host of historic venues such as the Chicago Blues Fest, the King Biscuit Festival, and the New Orleans Jazz and Heritage Festival, as well as two international world fairs. In addition to performing, he has also taught at music seminars throughout South Carolina.
In 1990 Small received South Carolina's Jean Laney Harris Folk Heritage Award, the state's highest award for lifetime achievement in the traditional arts. Small was featured on the cover of Living Blues, the renowned magazine on contemporary and legendary blues artists, in 1992. He was inducted into the South Carolina Music & Entertainment Hall of Fame in 1999 and in 2013 received the Bobby "Blue" Bland Ambassador for the Blues award from the Jus' Blues Foundation. He has received the key to the city of Columbia twice. A book about Drink Small's life, Drink Small, the Life & Music of South Carolina's Blues Doctor by Gail Wilson-Giarratano, was published in 2014 and funded in part by the South Carolina Arts Commission.
During his long career, Small has given back to both his local community and the larger tradition by mentoring younger performers and sharing his knowledge with students of all ages. Small has released seven albums over the course of his career and continues to perform.
Interview with Drink Small by Josephine Reed for the NEA
July 14, 2015
Edited by Lauren Buchanan and Liz Auclair
LEARNING TO SING GOSPEL MUSIC
So what happened was, at my church, Jerusalem Stuckey Baptist, they would have quartet singing there on Wednesday nights. I was about 12 or 13 years old back then, but I wouldn't sing. One Wednesday night, some boys come by and I was singing after the program. I come to think, "Let's get us a quartet." So I got them together and I called my little group the Six Stars.
I listened to the bass singers at my church, and I sang bass in the young people's choir. Anything bass singing, I could do it. In high school, I was singing in the glee club. I'll never forget we had a glee club with 84 members in it and 74 were girls. And I had a real bass voice, and we'd sing in the auditorium—sing "Hallelujah Chorus." I could growl, man!
So Six Stars broke up, and I got with a group called the Golden Five. They were pretty good, and they used to get all the big programs. When I got out of high school,  I went down to Denmark, a South Carolina area trade school they call Denmark Tech now. All the big time groups, they would tell guys on the road that there's a guy down the road in Bishopville, South Carolina, that's got a bad bass voice and plays the guitar. So I left the Five to join the Spiritualaires—that's a Columbia group. I went to Philadelphia with that group. I had been with Ivory Ford, I had been with Anna King and James Brown—used to sing gospel in Philly. So I done been around a lot of basic groups singing with the Golden Five group. That spun off to the Spiritualaires—that's what really got me out on the road.
ON THE ROAD WITH THE SPIRITULAIRES
We almost were on the first gospel show ever played at the Apollo. When we did get there, well, we rocked it. We tore them up. So when we got there that time, they had the Swan Silvertones and the Swanee Quintet; had the Blind Boys—that's the one that Clarence Fountain sing with from Birmingham, Alabama—and the Highlights from New York. And then we rocked them to death.
Now we were at the first gospel program in Charlotte at the Coliseum there—the old Coliseum, they done torn that one down I'm with the Spiritualaires. The Soul Stirrers were there—Sam Cooke with them, the Five Blind Boys, Sister Rosetta Tharpe, the Sensational Nightingales, and I believe the Harmonizing Four. All of them had beautiful guitars—we had a little cheap guitar that cost 69 dollars. I'll never forget it; got it from Sears Roebuck. The Nightingales' Jo Jo had a big-watted Gibson and the people with the Swanee Quintet had a Les Paul Gibson. Sister Rosetta, she had a Les Paul Gibson. My little thing cost 69 dollars; it had a little treble on it. You could put the treble on, and it would tremble and sound pitiful. So the guitar sounded pitiful, and so, everybody teased me about my guitar. "Oh, let me touch your guitar!" You know how people talk. I say, I got a cheap guitar but I can play it. I can play it.
PLAYING THE BLUES
I was [playing the blues] in high school, but the way I was doing it, it wasn't the main thing. I was singing with the quartet then too. Some guitar player down there was making maybe a dollar and a half or two dollars and all the liquor you could drink, and I was making five dollars [laughs]. See, another guy was plowing a mule all day for two dollars and I was making five dollars. That wasn't too bad, you know?
ABOUT HIS NICKNAME, THE BLUES DOCTOR
That came about me saying it was because I'd hear the guy talking about slide guitar and ragtime and by me thinking so guitarically (that word's a Drinkism). I can play the bottleneck and I can slide that thing they call the metal thing. Talk about fingerpicking; I can do that. I heard Gary Davis, Brownie McGhee, used the two-finger picking ragtime. Another guy with a unique style, Chet Atkins, I looked at him. He had a finger picking style, but it wasn't a two-finger pick—he used three fingers; four. I look at that and put all those things together. I can do that.
ON BEING NAMED A NATIONAL HERITAGE FELLOW
[Sings gospel-style] I was born in 1933; I been doing so long; it's a blessing coming to me; I'm not ashamed; I'm not nervous, and I've never seen my service, ain't no shame in my game, oh yeah. Find somebody to duplicate it and I'll kiss a rattlesnake.