Eddie Bond
Appalachian old-time fiddler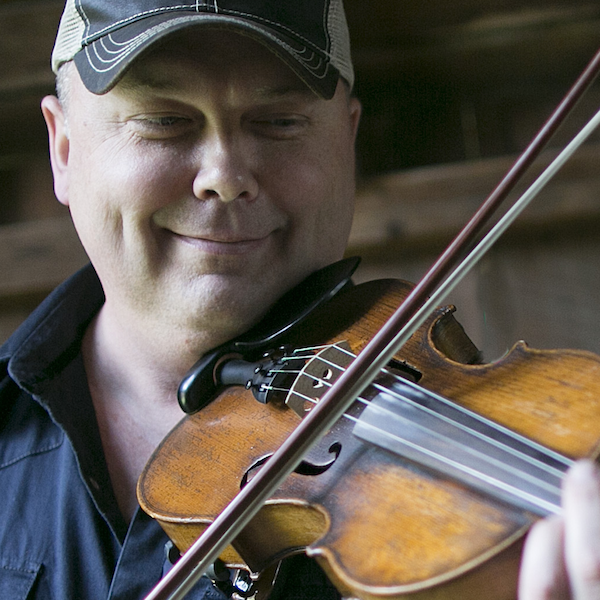 Bio
Old-time fiddling thrives in Grayson County, Virginia, which many consider the musical heart of Southwestern Virginia and Appalachian old-time music. It is from here that one of the greatest living old-time fiddlers, Eddie Bond, hails. Though he has played on stages worldwide, Bond continues to be a central figure at local music festivals and at picking parties in parking lots, country stores, or any of the other informal settings where musicians gather along what's become known as the Crooked Road Heritage Music Trail.
Bond was raised up in a family of musicians in the Grayson County mill town of Fries. A tiny town of 600 residents, Fries has a strikingly rich musical tradition, producing such musical luminaries as Henry Whitter, Ernest Stoneman, among others. Fries is six miles from Galax, home of the Old Fiddlers' Convention, the oldest and largest fiddlers' convention in the country.
Music descends in families in Grayson and Carroll Counties of Virginia. Bond was taught by a maternal grandmother who played guitar and sang music handed down for generations through the Hill family, musicians well-documented in the Library of Congress' archival field recordings. His paternal grandparents played guitar and sang; his Grandmother Bond was from the same region of North Carolina as Doc Watson and taught Bond many of the old mountain ballads he sings today. One of the most influential members of his family was his great-uncle, Leon Hill, a musician who took him to visit many of the local fiddlers from whom he learned. Family friends included master performers such as Kilby Snow and Glen Smith. Bond first learned the guitar, then the banjo, autoharp, and his signature instrument, the fiddle.
Since 2001, Bond has been the lead singer and fiddler for the New Ballards Branch Bogtrotters, among the most respected of Virginia's old-time string bands. The Bogtrotters are staples at Galax-area community dances and gatherings and frequent first-place winners at the Old Fiddlers' Convention, where Bond himself has won countless fiddle contests and twice been named Best All Around Performer—arguably the highest honor in old-time music. Bond has performed across the country and overseas, including the "Music From the Crooked Road" tours produced by the National Council for the Traditional Arts. He regularly performs at festivals from Australia to Ireland, where he trades familiar tunes with local masters.
Bond also remains deeply committed to his local community---performing locally as a solo artist and with others, and teaching a string band course at a high school in Grayson County. Much as the great old-time fiddling masters did for him, Bond never hesitates to take the time to teach, assist, and encourage the next generation of fiddlers.
By Jon Lohman, Director, Virginia Folklife Program