Elizabeth James-Perry (Wampanoag Tribe of Gay Head, Aquinnah)
Wampum & Fiber Artist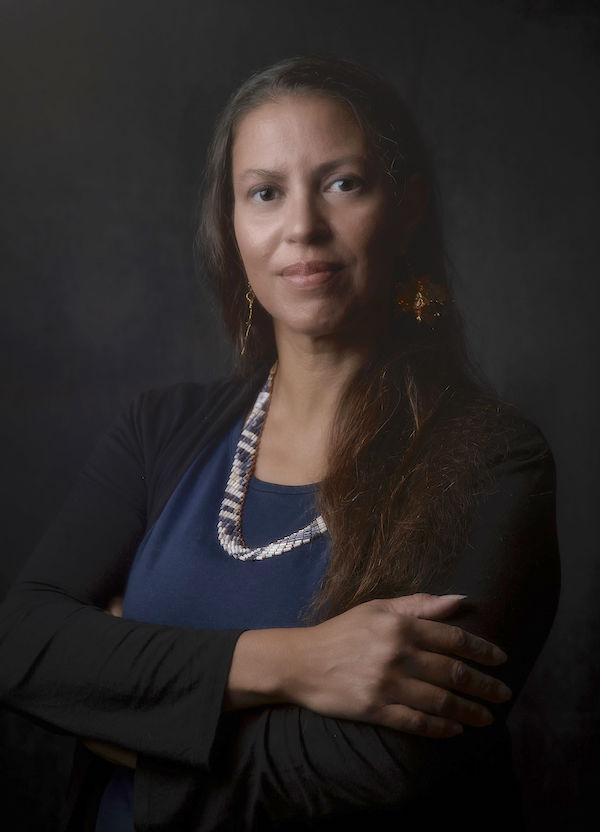 Bio
Elizabeth James-Perry's artwork is intimately tied to her Aquinnah Wampanoag tribal homeland on Martha's Vineyard/Noepe. Highly regarded within her community and beyond for her woven wampum, twined basketry, quillwork and sashes, she is considered one of the most accomplished Native artists working in New England today.
She combines careful preparation of natural materials, exquisite skill of execution, and beauty of form with historical research and family knowledge to create a body of work that is revitalizing Eastern Woodlands/Algonquian traditional arts. Examples of this work include hand-sculpted wampum beads shaped from locally harvested quahog shells, soft fiber basketry, and ancient forms of woven wampum belts, gauntlet cuffs, and round leadership medallions. In contrast to more commercially inspired, mass-produced thin wampum jewelry, James-Perry uses hand tools to make pendants—a grinding stone and deer antler to billet out three dimensional designs to preserve the curve of thick shell. She then carefully hand spins and plies plant fibers into consistent widths for stringing and weaving. Following years of careful work and gardening, she was able to successfully revive non-toxic natural dye techniques using local native plants to create a traditional palette that give her pieces a distinctive look.
James-Perry credits her mother, Scrimshaw artist Patricia James-Perry with grounding her in the understanding of what it is to be an artist and educator. She credits her cousin Dr. Helen Attaquin (1923-1993), an educator, skilled weaver, and quillworker, as her first teacher in natural fiber processing, finger weaving, and twined weaving patterns. Another strong influence was her cousin Nanepashemut Tony Pollard (1954-1995), an Eastern Woodlands performer and artist. Their knowledge and artistic discipline were crucial to the development of a Native presence at Northeastern museums, including Plimoth-Patuxet Museum.
Teaching and sharing her mentors' educational values is ever-present in James-Perry's life. She taught tribal children beginning in the 1990's in the Dartmouth Children's Museum, and for the Aquinnah Afterschool Program, demonstrated willow branch fish trap weaving at the Aquinnah Cultural Center Museum and at the Working Waterfront Festival, was an advisor for New England Foundation for the Arts' Native American Arts Program, and was later funded to mentor a Mashpee tribal member in dye work and textiles. She taught traditional arts at the Shinnecock Nation Cultural Center & Museum on Long Island, presented a twined basketry class at the Colins Center for the Arts to the Maine Indian Basketmakers Alliance and Natural Dye-work for Evergreen Colleges' Longhouse Program. She has been funded as mentor artist for Mass Cultural Council's Traditional Arts Apprenticeship Program and Connecticut Historical Society's Southern New England Apprenticeship Program. James-Perry has engaged and educated visitors in the folk craft area of the Lowell Folk Festival on multiple occasions.
Awards include ribbons in Textile & Jewelry at the Heard Museum Guild Indian Fair and Market and an Artist Fellowship in the Traditional Arts from Mass Cultural Council. Her old-style wampum alliance collars appeared in Native New England Now at the Mashantucket Pequot Museum (2013) and at thePeabody Essex Museum in the traveling exhibit Native Fashion Now (2016). More recent exhibitions include Ripples: Through a Wampanoag Lens, New Bedford Whaling Museum (2020) and Raven Reshapes Boston: A Native Corn Garden at the MFA, Museum of Fine Arts in Boston (2021). Lowell National Historical Park commissioned a white wampum choker on dyed milkweed for their permanent exhibit, One City, Many Cultures scheduled to openin Fall of 2023.
—By Maggie Holtzberg, Folk Arts & Heritage Program, Mass Cultural Council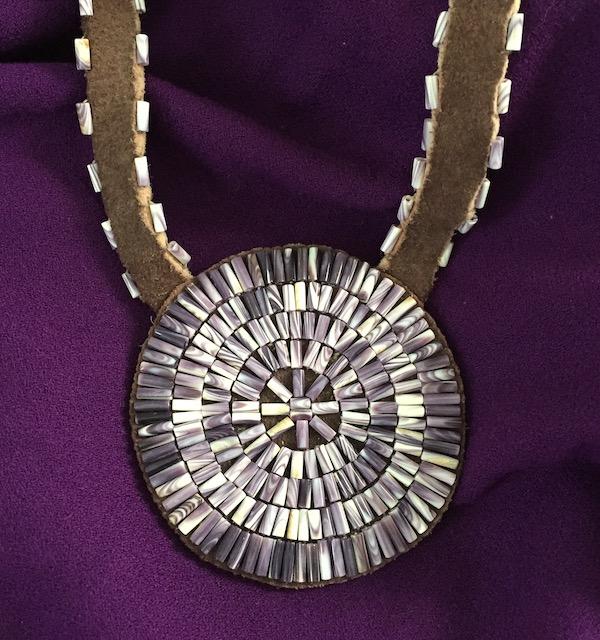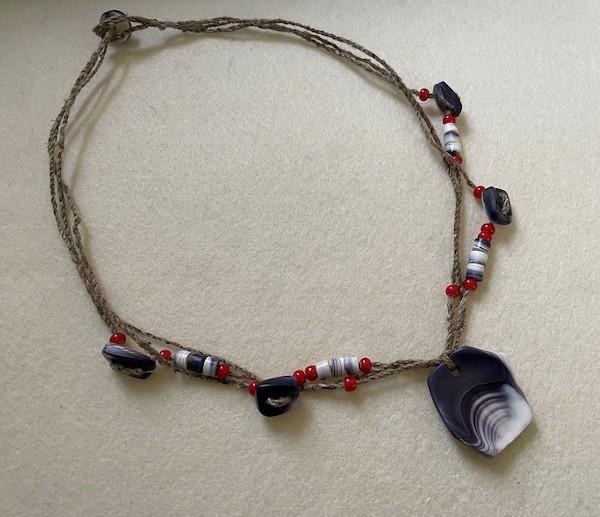 Courtesy of Mass Cultural Council