Eva Enciñias
Flamenco Artist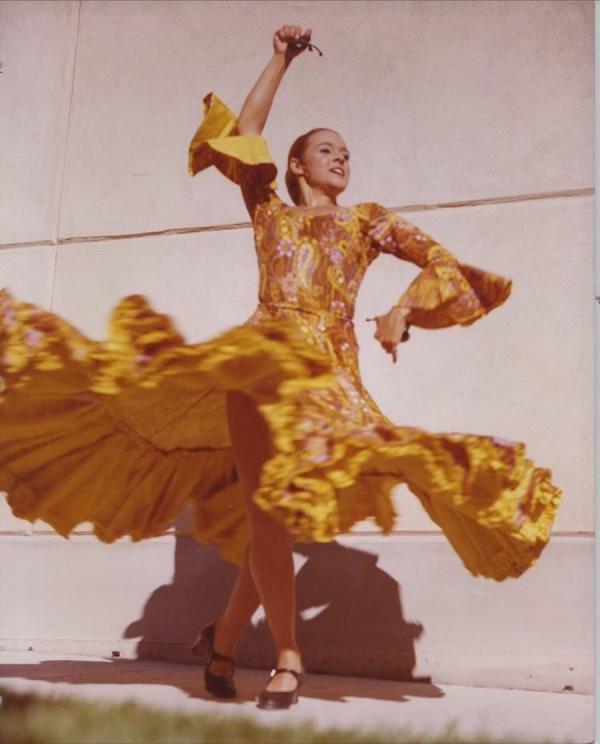 Bio
As a key figure in enriching the New Mexican cultural landscape, Eva Enciñias has devoted her life to building a home for flamenco in the United States and for introducing Spain (the birthplace of flamenco) and the larger world to the incredible flamenco created in New Mexico. As a dancer and instructor Enciñias' tenacity has rippled throughout generations.
The Enciñias family is one of America's "flamenco families." Enciñias' grandmother, Juanita Lopez, was a resadora, a woman who knew the repertoire of traditional alabados (sacred Spanish-language hymns). Enciñias' mother, acclaimed flamenco dancer Clarita García de Aranda, ran a one-room studio in Albuquerque, New Mexico, from which she taught dance classes since the 1950s. Enciñias was born in Albuquerque into a family that had long embraced Nuevomexicano traditions of music and dance. Constantly surrounded by the guitar and songs of flamenco, Enciñias and her siblings were taught to dance and sing from a very young age by their mother.
Enciñias continued her family's traditions as she began teaching flamenco dance lessons in her mother's studio at the age of 14, demonstrating an aptitude and enthusiasm for sharing her passion and knowledge with others. By 1973, she would go on to establish her own dance company, Ritmo Flamenco (Flamenco Rhythm), touring regionally in the Southwestern United States for 15 years. In 1976, Enciñias began teaching a flamenco class at the University of New Mexico, unknowingly embarking on a 43-year career at the university. Enciñias spearheaded the development of both undergraduate and graduate degrees with concentrations in flamenco, the only accredited dance program in the world to boast such specializations.
Enciñias founded the National Institute of Flamenco in 1982, creating varied flamenco programs, including Festival Flamenco Alburquerque, a world-class flamenco festival that has been awarded distinction from Spain as one of the premier flamenco festivals in the world; the Conservatory of Flamenco Arts, a flamenco dance school that has an internationally recognized music and dance curriculum; four performance companies; and two performance venues.
Throughout her career, Enciñias has touched thousands of lives through her generous sharing of flamenco. Her work has been recognized with many awards, including an induction into El Orden de Isabel la Católica, an honor bestowed upon her by the King of Spain, Felipe VI. Enciñias continues to work as the founding director of the National Institute of Flamenco where she directs the programming. She continues to teach flamenco dance classes, teaching the grandchildren and great-grandchildren of the children she taught in the 1970s and 1980s. Enciñias still puts on her flamenco shoes daily, honoring and preserving this cultural heritage for today and for the future.
--Dr. Annie D'Orazio, National Institute of Flamenco, and Sarah Williams Gonzales, Dance Historian, University of New Mexico