Excelsior Band
Brass Band Musicians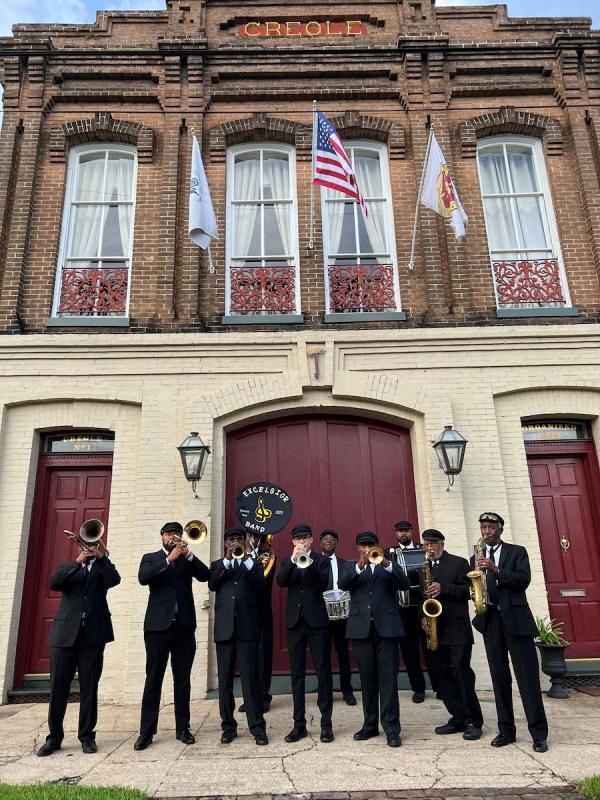 Bio
The Excelsior Band is a Black brass marching band that has, for generations, embodied the culture of the city of Mobile and its beloved Mardi Gras celebration. Originally organized as a firehouse band in 1883, Excelsior survived the crucible of Jim Crow, while assuming a central role in Mobile carnival and becoming a beloved institution across cultures in Mobile.
Excelsior leads the parades for both the Mobile Area Mardi Gras Association and the Mobile Carnival Association as Mobile's official band, bridging a racial divide between the historically Black and white Mardi Gras celebrations. They play carnival balls, parties, weddings, and jazz funerals, performing as many as 300 times a year. The current members are Theodore Arthur, Jr., saxophone; Luquen Cannon, Jr., trombone; Brad Cooper, trumpet; Aaron Covin, trumpet; Carl Cunningham, Jr., trombone; Ronnie Hunter, Jr., bass drum; Hosea London, Sr., trumpet; James Moore, saxophone; Danny Mosley, Jr., trumpet; Herbert O. Nelson III, alto saxophone; Leon Rhoden, drum; and Sean Thomas, tuba.
Since its founding on November 23, 1883, by Creole Fire Company president John Alexander Pope, only the finest veteran musicians have been invited to join Excelsior. Membership is the highest achievement among Mobile area musicians. "Nobody ever leaves," according to Hosea London, the ensemble's leader. "It's not easy to get a spot in the band," he said. "At the time I started over 30 years ago, I was probably the youngest person in the band. Guys have stayed as long as 50 years, until they have become just unable to perform with the band." London, a retired elementary school music teacher, continued, "People in Mobile like history, so they really, really like the band and they support the band." Excelsior plays Dixieland, jazz, blues, and pop with tunes such as "Margie," "Hello Dolly," "St. Louis Blues," "South Rampart Street Parade," and, of course, "When the Saints Go Marching In." The band's sound is much the same today as it was decades ago.
The Excelsior Band was recognized with the Alabama Folk Heritage Award from the Alabama State Council on the Arts in 2013. The band was a 2012 Inductee to the Gulf Coast Ethnic Heritage Jazz Festival Hall of Fame. Members of Excelsior have taught in the Alabama Folk Arts Apprenticeship program. The group has also been featured in posters, prints, postcards, paintings, and other signature works of art and memorabilia of Mobile's Mardi Gras.
Excelsior's longevity and artistry have made a long-term impact on Alabama's music, education, and heritage. The band marched in its first Mardi Gras parade in 1884 and it marched at the head of the Alabama Bicentennial celebration in 2019. Excelsior marches still!
--Joey Brackner, Former Director, Alabama Center for Traditional Culture, Alabama State Council on the Arts