Feryal Abbasi-Ghnaim
Palestinian embroiderer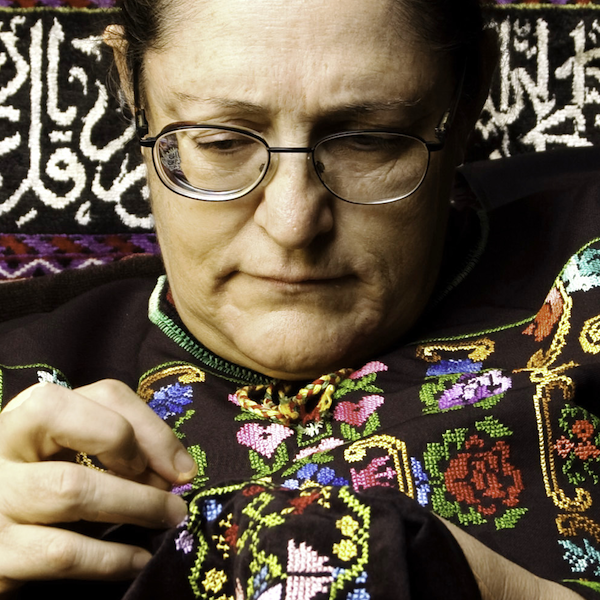 Bio
Feryal Abbasi-Ghnaim is an embroiderer whose journey as an artist started in her birthplace of Safad. Palestinian embroidery—which features intricate cross-stitched designs—is a domestic art that adorns clothing, wall hangings, and pillows. Beyond being a master of this art form, Abbasi-Ghnaim is also dedicated to teaching and mentoring younger generations, including her own daughters, passing along not only the artistic knowledge, but also the stories and history behind the patterns, colors, and designs.
Feryal Abbasi-Ghnaim learned to embroider from her mother and grandmother, who also shared the stories behind each design. In 1948, Abbasi-Ghnaim and her family fled to Syria after the war in Palestine. She attended boarding school in Ramalla and obtained a degree in art and history from Damascus University. As a teenager, Abbasi-Ghnaim started her career as a teacher for the United Nations Relief and Works Agency (UNRWA) at Jordan's Irbid Palestinian refugee camp; her passion to preserve Palestinian art and culture resulted in the implementation of her art curriculum in all UNRWA schools in the Damascus region. In 1973, her design was chosen as the logo for UNESCO's Palestinian heritage encyclopedia series.
In 1980, Abbasi-Ghnaim and her husband immigrated to Boston, Massachusetts. After having three daughters, she and her family moved to Oregon in 1989. From 1988-90, Abbasi-Ghnaim led a project with the director of the Oral History Center of Cambridge, Massachusetts. The culminating exhibit, A Passion for Life: Stories and Folk Arts of Palestinian and Jewish Women, nationally toured the works and words of eight Jewish and Palestinian traditional artists, including Abbasi-Ghnaim. In 1985, the Women's Peace Conference in Nairobi, Kenya, featured Abbasi-Ghnaim's "حمامة السلام" ("Dove of Peace") tapestry.
Since moving to Oregon, Abbasi-Ghnaim has received numerous awards as a master artist for Oregon's Traditional Arts Apprenticeship Program. In 2016, her daughter Wafa Ghnaim wrote and published Tatreez & Tea: Embroidery and Storytelling in the Palestinian Diaspora, which documents Abbasi-Ghnaim's journey into the diaspora, alongside traditional design patterns and the techniques, meanings, and origins behind the art form. She has lectured at the University of Massachusetts, the Oral History Center of Cambridge, Portland State University, and Lewis and Clark College.
Abbasi-Ghnaim's artistry, mentorship, and advocacy continue to improve the accessibility, vitality, and appreciation of traditional arts.
By Rachelle H Saltzman, Executive Director, Oregon Folklife Network