Francis P. Sinenci
Master Hawaiian Hale Builder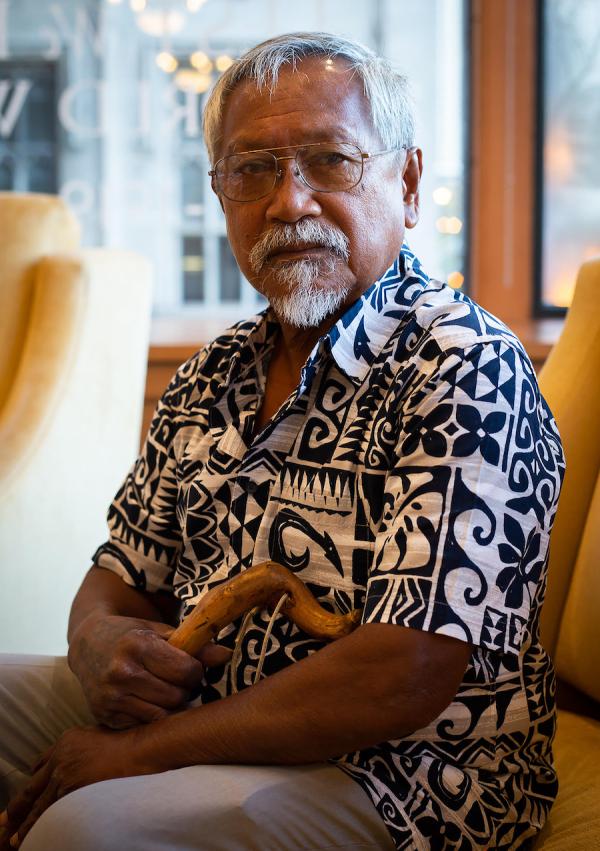 Bio
Francis P. Sinenci, affectionately known as Kumu Palani, was born and raised in the Hawaiian village of Hāna, Maui, known for its rich cultural heritage and stunning natural beauty. His childhood playgrounds were the mountains, valleys, and coasts of his island home, where he spent his days gathering food, fishing, learning from elders, or spending time with his 'ohana (family).
After graduating from high school, Sinenci wanted to experience the world beyond his rural home. He spent nearly 30 years in the military, primarily in the U.S. Air Force, where he achieved the rank of Chief Master Sergeant. In 1967, he married his beloved wife Esmenia ("Esse"), a local girl from O'ahu.
In the early 1990s, Hawai'i pulled on Sinenci's heartstrings, and he and Esse moved back. Little did he suspect this would launch his second career—revitalizing the artforms of kūkulu hale (traditional Hawaiian architecture) and uhau humu pōhaku (masonry). Traditional thatched structures, called hale (pronounced "ha-lay"), evolved over millennia of ancestral experience to be in harmony with Hawai'i's unique landscapes. There are many different types of hale, ranging from fully covered sleeping houses to open-walled, multi-purpose structures to A-frame canoe sheds.
During the era of cultural degradation that occurred after Western contact, modern buildings replaced traditional structures, and hale became a thing of the past, seen only in black-and-white photos of old Hawai'i or in movies as "grass shacks."
In 1994, Sinenci was asked to construct a hale at Helemano Elementary School. With no existing practitioners to learn from, he talked to anthropologist Rudy Mitchell, scoured archaeological records, including Dr. Russell Apple's 1971 Hawaiian Thatched House, and studied the hale preserved in Honolulu's Bishop Museum. In true Hawaiian style, he learned by doing—pairing research with inherent ancestral knowledge to reclaim this dormant art form for present and future generations.
In the mid-90s, Sinenci formed a partnership with respected cultural advocate, Coila Eade, while building Kauhale O Hāna—a traditional Hawaiian village compound. This dynamic duo later created Hōlani Hāna, a five-acre cultural park that became an important training ground for practitioners as well as a focal point for indigenous gatherings and community events. In the late 90s, Sinenci and a crew of local masons restored Pi'ilani Hale, Hawai'i's largest stone structure and a place of deep cultural and spiritual importance. 
Over the past 26 years, Kuhikuhi Pu'uone (Master Indigenous Architect) Sinenci has trained a new generation of practitioners, constructed countless hale and restored heiau in communities across Hawai'i, spearheaded the creation of the Indigenous Architecture Building Code, piloted a hale builder certification program, and founded his traditional school Hālau Hale Kuhikuhi. He remains active in his craft training the next generation and running projects throughout Hawai'i.
--Kauwila Hanchett, Executive Director, Hōlani Hāna