Georgeann Robinson
Osage Ribbonworker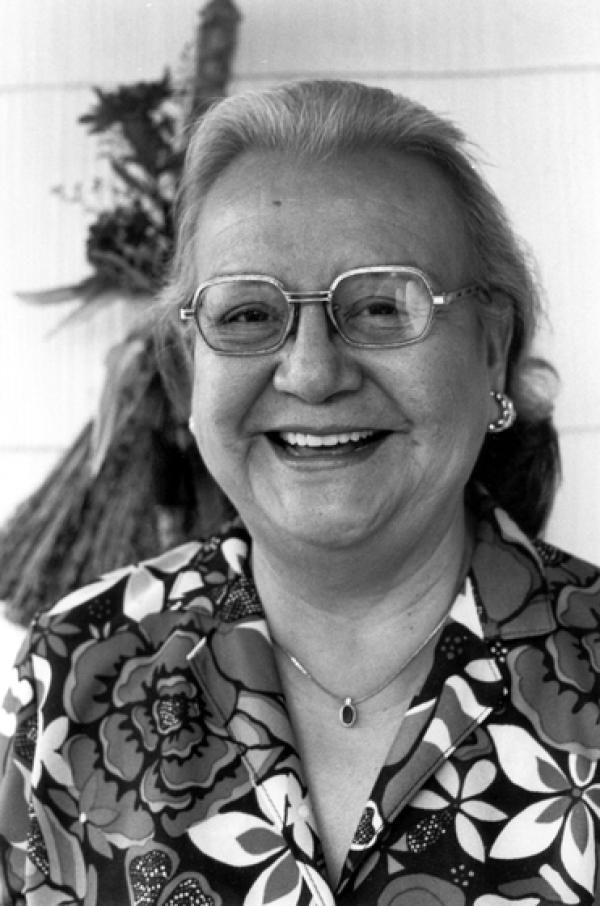 Bio
Georgeann Robinson was born in 1917 near Bartlesville, Oklahoma. She was a member of the Osage tribe and of the Deer Clan; her Indian name was "My Deer Is Running Pairs." Her parents taught her to honor her American Indian heritage but also to learn as much as possible of the larger world. Following this advice, she attended Webster College for Women in Webster Grove, Missouri, Northwestern State University in Telequah, Oklahoma, and the University of Northern Colorado in Greeley. She majored in history and physical education, and taught both subjects in Oklahoma's public schools for many years.
Robinson liked to say that she "thanked the French Revolution" for the creation of Native American ribbonwork, for it was in the wake of the French Revolution that merchants exported large stockpiles of silk ribbon to North America. During this period in France, silk ribbon and other aristocratic items had negative connotations and were rejected by the revolutionary politics of the day.
In 1958 Robinson established the Red Man Store in Bartlesville. There she and her two sisters, Genevieve Tomey and Louise Red Corn, began to produce the old design of Osage ribbonwork, a form of needlework that they had learned from tribal elders. Soon they were researching additional designs, digging into neighbors' trunks, and traveling to distant museums. In time, their trademark, "Ribbonwork a Specialty," attracted customers nationwide.
Robinson often credited the revival of interest in ribbonwork to the "hobbyists" who came to her store, placed orders for the old-style ribbonwork, and then wore their handmade garments at distant powwows, where others saw the craftsmanship. As the beauty of their ribbonwork became known across the country, interest in the traditional dress styles increased and other Osage people became involved.
By the early 1970s, Robinson's two sisters had died (Tomey in 1969 and Red Corn in 1972). Robinson continued to operate the Red Man Store by herself until 1978, when she had to close the business. During the subsequent years, she remained active as a demonstrator and teacher, participating in festivals at the Smithsonian Institution, the Buffalo Bill Historical Center in Wyoming, and the Wheelwright Museum in Santa Fe, New Mexico, where she exhibited the complete traditional attire she made for an Osage girl and boy.
For most of her life Robinson was active in the St. James Catholic Church and was a member of the City Federation of Women's Clubs, the Bartlesville Indian Women's Club, and the Parents Indian Education Committee. She presented style shows of traditional and contemporary Indian women's dresses to Girl Scout groups, civic groups, and colleges. She made a complete men's "straight dance" suit for the Southern Plains Museum in Anadarko, Oklahoma.