Hazel Dickens
Appalachian singer-songwriter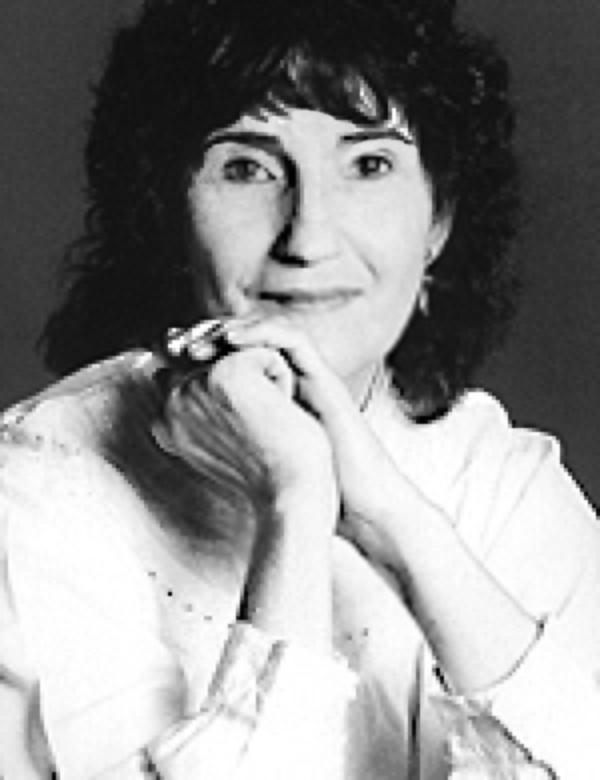 Bio
Hazel Dickens was born in Mercer City, West Virginia, in 1935 into a family of 11 children. She was raised in and around coal camps: her father hauled timber into the mines, and her brothers labored long hours as miners. Growing up, she was deeply affected by the harsh conditions in which her family lived and worked, with two members of her family dying from black lung disease.
Dickens learned to sing as a child in the unaccompanied style of the primitive Baptist church. Her father played banjo and was a Baptist preacher on weekends. Dickens quit school and moved to Baltimore as a teen, living with relatives and working in a factory. She eventually earned enough money to buy a guitar, and began to integrate elements of traditional country, bluegrass, and old-time music into her singing repertoire, performing at house parties and small clubs and bars.
In the 1960s, Dickens teamed up with another singer, Alice Gerrard, forming the duo Hazel and Alice. They recorded their first of four albums in 1965, bringing a strong feminist viewpoint to the traditional music. In the mid-1970s, Dickens pursued a solo career, where she acted as an advocate for the plight of coal miners. She performed at national conventions of the United Mine Workers Association and benefit concerts for those who struggle for fair wages and human rights. Her distinctive sound brought together the unadorned style of Baptist hymns she learned growing up with the socially conscious songwriting abilities of Woody Guthrie and the singing skills of Kitty Wells.
Her music appeared on the soundtracks to the documentary Harlan County, U.S.A. and the movies Matewan and Songcatcher (she also briefly appeared in both movies). "Even though stuff was collected years and years ago," she said, "I think a lot of people are just becoming aware of how valuable and precious this music is."
Interview with Don Ball
NEA: Congratulations on winning the award. What was your reaction when you first heard?
MS. DICKENS: Surprise, shock. There are many other people that deserve it and at first I felt a little guilty that they didn't. Ultimately, I guess I decided that I did deserve it.
My nieces back home are so proud. They wrote up this piece about my carrying on the tradition and how proud they are of me, a whole page which they framed in an antique frame. And they had a little banquet dinner for me in one of the small restaurants back home and invited all the relatives to come. It was a big surprise—they told me we were just going out to dinner. They brought me presents and flowers and presented them to me. I sat at the main table with my brother on one side and my sister on the other. It was really nice.
NEA: Who are some of the significant influences in your artistic career?
MS. DICKENS: Almost anybody like that that sang good songs and good harmony. I like some of the older and earlier women singers like Julia Maynard, Molly O'Day, Lily Mae Ledford of the Coon Creek Girls, Kitty Wells. The Carter Family, absolutely. They've been a tremendous influence—I always try to include one of their songs in my sets. And a lot of the brother duets. The Stanley Brothers, Blue Sky Boys, Louvin Brothers. I love Ira Louvin. Bill Monroe of course, he was a hero in our family.
And a lot of the old string bands. Uncle Dave Macon—he was a hero in our family—and Cousin Emmy. My father loved Cousin Emmy and Uncle Dave. He played old banjo and I think he tried to emulate what he heard from those two. He would sing songs to us kids like "Arkansas Traveler" to try to get a rise out of us.
NEA: Did he teach you guitar or did you learn that on your own?
MS. DICKENS: No, I had to learn pretty much everything on my own because people were off doing their own things. Nobody ever really sat down and showed me the way to do it. Maybe that's why I never got any better on the guitar. And I don't like to practice. I get bored practicing. When I sing and rehearse, though, I like to go at it seriously. I get a big kick out of sitting around singing with somebody, if it's good songs and it's good harmony. And it doesn't make any difference if it's old time, bluegrass, or country-western. I just like singing. I really like singing the old-time stuff and the stuff that I grew up with and heard on the radio and heard from my neighbors. I like trying to write some in that style to keep it alive. That's a thread that's run through my music, trying to keep it alive. It's really important to me.
NEA: Why do you think that this music is so valuable to the community and the general public?
MS. DICKENS: It's a touch of the past. It's part of our heritage. We don't have a lot in this in this country like that to be proud of. Even though stuff was collected years and years ago, I think a lot of people are just becoming aware of how valuable and precious this music is. I'm getting a lot more attention than I used to and I've been at this for 40 years.
NEA: Has it been that long? How did you start out?
MS. DICKENS: I started singing when I was very young, when I was still at home, a kid. Then I sang with the family - not singing out anywhere, but in church or with the family.
I came to the city when I was around 16, and began singing with friends and family. Then people said they would pay us to come and sing. I almost hated taking the money! We used to go out and sing at the drop of a hat. Somebody'd invite us over to their house and to do some music and we'd just go. We never thought of charging anybody. To get all that money for doing something you like is beyond belief, I'll tell you.
NEA: Do you think the popularity of the O Brother, Where Art Thou soundtrack has also helped in any way?
MS. DICKENS: I'm sure that it has. But I started feeling the ripples way before that. I'm sure it's helped tremendously, but I think it's getting too much credit. Look how popular Ralph Stanley was before that ever came out.
I think the interest in this music started quite awhile back. But the movie came out right at the best time it could have. They couldn't have planned it better. And there's also the movie Soundcatcher, which came out recently. I sang three verses of the song in that. I think both films will get attention because of the music in them.
NEA: Are you involved in passing on your artistic skills to younger people? Do you teach or give performances specifically for children?
MS. DICKENS: A number of the festivals where I perform set up a time for me to sit and talk about the old days or about what I do. Usually these sessions are packed, and it's a mixed crowd, which I like. A lot of the folk festivals, even the bluegrass festivals, have started to have songwriting workshops. And every year I go to the IBMA [International Bluegrass Music Association] annual gathering. I'm part of a songwriting workshop there.
I also do mentoring. I'm also going to be mentoring down at IBMA this year.
NEA: What kind of advice to you give students or young people starting out who are working in this particular type of art form, the folk music, the traditional music?
MS. DICKENS: Be yourself. The hardest thing in the world is realizing that you have to be yourself, and you've got to say what's in your heart and mind instead of trying to emulate somebody else. When I started out, I kept comparing myself to a lot of the writers that I liked. I'd tell myself that I could never write anything like them. But you don't do it overnight. You have to keep plugging away at it.
I used to write everything down in composition books. Even if I couldn't write a song out of something, I would put it down and go back to it later and look at it with a fresh look. And I'll throw things away and rewrite. I didn't used to like to rewrite, because if you come up with a good line, you didn't want to throw it away. That was the hardest. So I stopped throwing away things even if it was just a one-liner. I'd still write it down. I have composition books full of stuff l that I may never use, at least I didn't throw it away. A lot of times I'm surprised looking back with a fresh look, you'll like it maybe more than you did.
NEA: What are some of the challenges that you've encountered in sustaining the traditional music that you're playing?
MS. DICKENS: I was listening to some things I have on tape of my father recently. I didn't realize what a great old-time singer he was. He sang in the most old-timey way of anybody I knew of. Like in the Primitive Baptist Church, where they do a lot of the turning of the voice on almost every word or every note or two. I was listening to something last night because I 'd like to use it sometime to show people what it sounded like. It's really hard. It sounds so simple when you go to one of the church meetings and hear the whole congregation singing in this unaccompanied style. It sounds so plaintive. The closest might be the Menonites or Amish. It's very primitive, very plain. I was trying but found myself going off in my own way of singing. I can get very close, but it's very hard.
All this attention I've been getting is another challenge. I've gotten more press lately than I've gotten in the rest of my career. I looked up one day and said to myself, "My God, you'll be sitting up there and people will listening to you. You'd better get with it because they're hanging on your every word. You'd better be serious about this." It's not that I haven't been serious, it just scared the tar out of me to think that I I'm in that position.
NEA: What are you looking forward to during the award ceremony and concert?
MS. DICKENS: Meeting the other winners, of course. And seeing what kind of people come to the concert. I think you can find out a lot about who's interested in this when you see the audience. I always like to get a mixed audience and I hope that it is.
NEA: Oh, it should be, if it's anything like previous years. Is there any way that the NEA could be of more service to traditional music?
MS. DICKENS: Just keep on doing what you've been doing and make sure it's not bypassed no matter what challenges get in your way. You'll always have people to back you up, if you need us. I think you all have done a tremendous job of sticking to your guns in the face of all that you've had thrown on you. You've stood your ground and it's been very encouraging to people like us who have been in the trenches all these years. We felt a lot of times we were fighting the battle alone. We don't have to feel like that anymore. We've got you guys in there to help us.
We need to make sure that this music doesn't die out and that people hear the real thing and not just the revivalists. There are not alot of people left that can do the music in the old form and style. These people need to be honored brought out to the forefront. That's why I'm glad they're bringing Ralph [Stanley] out more and people like him.