The Holmes Brothers
Blues, gospel, and R&B band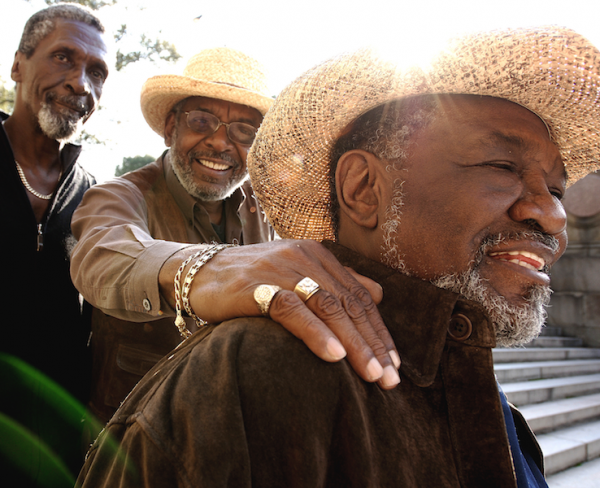 Bio
The Holmes Brothers—Wendell Holmes, Sherman Holmes, and Popsy Dixon—have created a distinct style of American music that blends blues, soul, gospel, traditional hymns, spirituals, country, rhythm and blues, and rock and roll.
Sherman and Wendell Holmes were born and raised in Christchurch, Virginia. Both sang in church and studied piano with Sherman also studying clarinet and Wendell studying trumpet and organ. In addition, both taught themselves to play the guitar. Sherman studied theory and composition at Virginia State University for two years before dropping out and moving to New York. A few years later his brother joined him there and throughout the 1960s and '70s, the brothers performed together and in a variety of bands. In the early '70s, Wendell met and performed with drummer Willie "Popsy" Dixon, who was also a native Virginian. Dixon sat in with the brothers at a blues jam session in 1980, marking the beginning of the Holmes Brothers band with Sherman on baritone vocals and bass guitar, Wendell on tenor vocals, guitar, and piano, and Popsy on falsetto vocals and drums. Dixon's contributions brought a stronger gospel influence to the Holmes's blues playing.
At first the band primarily played at Dan Lynch's, a club in New York that featured weekly jam nights and performances by blues acts. There the Holmes Brothers acted as role models and mentors to younger aspiring musicians, including Joan Osborne and members of Blues Traveler. In 1989, they released their first album for Rounder Records, followed by four more albums. In 1992, they were the first American group to sign with Peter Gabriel's Real World Records and in 1996 they recorded the soundtrack for the movie Lotto Land. Currently, they record with Alligator Records, where they have released five albums, including their 2014 album Brotherhood.
The Holmes Brothers have toured internationally and have performed with artists such as Van Morrison, Peter Gabriel, Odetta, Willie Nelson, Rosanne Cash, and Levon Helm. In 2005, they won Band of the Year from the Blues Foundation, followed by the Soul Blues Album of the Year in 2008 for State of Grace.
The Holmes Brothers' music continues to evolve, melding American roots energy with tightly-crafted vocal harmonies in what the Chicago Tribune has described as a "mystical fourth entity, inexplicable yet sublime."