Joe Thompson
African American string band musician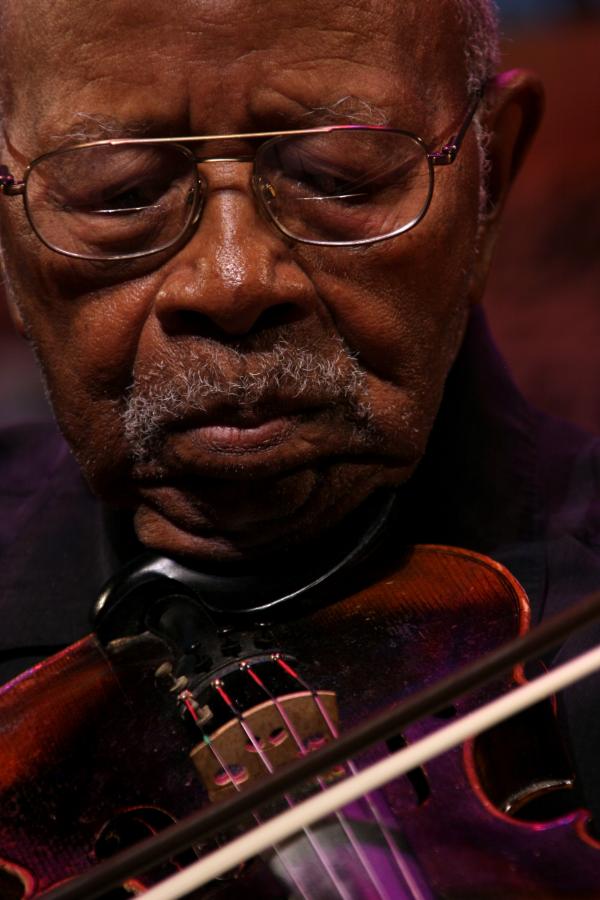 Bio
Joe Thompson played fiddle music in his home community in the Piedmont region of North Carolina for more than 80 years.  The tradition, representing some of the earliest string band instrumentation on the continent, melds African and Anglo instrumentation and styles.  Joe's father, John Arch Thompson and his brother, Walter, were sought after by African-American and Anglo neighbors to provide music for local square dances.  As soon as Thompson took up the fiddle, he and his brother, Nate, and their cousin, Odell, were in demand for local house parties.  Most of the tunes they learned have today become standards for Southern fiddlers and banjo players, but some were unique to the African American repertoire. Thompson also punctuated his performance with sung verses and square dance calls, many of which are rarely heard today. He and his cousin Odell have performed at Carnegie Hall, as well as at the Festival of American Fiddle Tunes, the National Folk Festival, and the International Music Festival in Brisbane, Australia.  Their unique style was featured in Alan Lomax's American Patchwork film series.  After Odell's death in 1994, Thompson considered giving up music, but he began playing publicly again with younger musicians in the region, such as the Carolina Chocolate Drops.  In 1999, Rounder Records released Joe Thompson: Family Tradition focusing exclusively on his unique musical repertoire.
Interview with Mary Eckstein
NEA: Congratulations on your award. Tell me how you felt when you heard the news?
MR. THOMPSON: I felt so good. I have been feeling good ever since. I just keep on thinking about it.
NEA: I was wondering if you could tell me about your earliest experiences playing the fiddle and playing string band music?
MR. THOMPSON: Well, it was in the family. It was in the family so strong. All of us did it, my brothers, the cousins and all of them did it. We grew up in it. I learned how to play the music from my father. He was a great musician, as were his brothers. My older brother learned when he got big enough -- he was playing the banjo, so I took on the fiddle.
NEA: You got an early start. What are your memories of playing when you were young?
MR. THOMPSON: I really enjoyed calling sets. We used to call sets and to have a dance We'd get get eight boys and girls together to have a dance and call a set. Whenever we had a corn shucking, a big corn shucking, we would have a dance. And Christmas time, we would have a dance every night somewhere, square dance, corner single, stuff like that. All would dance through the night. It was nice. I enjoyed it. It was a good thing for the young folks in the family. I did all of that until I got grown.
NEA: Those dances, they don't take place now, do they?
MR. THOMPSON: No, ma'am. The nieces and nephews ain't taking it on like we did. It's done fell off bad in the family. I've been watching that and thinking about it.
NEA: So you're not seeing much interest in this tradition in the younger generation?
MR. THOMPSON: No. They ain't taking onto it like we did, not at all. There's so many of them way off. It's not coming on like it was when I was young, you know, like me and my brother. I've been a lot of places with that fiddle. And after I learned, the places was out there calling, and we would have to go. And we would go play music for the square dance, and we would go all around to the country. Young folks in my family is not doing it, not like I used to do it. Every time I'd go in the house, I'd be trying to get to my daddy's fiddle. They're not doing it, not at all. I'm a little bit surprised. They are going to school and trying to learn a little something, though. But learning the music, they're not up to it, yet. And it's way off from the way I come up.
NEA: I know you've been involved with mentoring the Carolina Chocolate Drops. Can you tell me a little bit about how important that is to you?
MR. THOMPSON: I was glad to come in contact with somebody that was doing it. I think they got it pretty good. They caught on so good. Everything I did, they're doing. They were here last night playing and we played last night with the Twin City. And one thing about it, they love it, though. And what I mean, they're going with it. And I call it making a living with it.
NEA: What do you think makes a good fiddle player?
MR. THOMPSON: He's got to want to do it. And he's got to be around it. See, when I was trying to play, me and my brother, we'd play about every night at home. And the daddy's all stayed up and we read music. My uncle's son was doing the same thing. We all did it. All the Thompson's did it.
NEA: Now, can you tell me what has kept you playing music through the years, for so long, through the decades?
MR. THOMPSON: I don't know. I told my wife the other night, sometimes I'll be tired and I want to stay at home. Somebody's always coming to play. And I told her, I think I'm going pick up and I'm going to claim old age on them. I have a good excuse to back off. I done got old, and now I need to rest a little bit, I reckon. That's the way I see it.
NEA: But something has kept you playing. Is it the love of the music for you?
MR. THOMPSON: Yes, ma'am. It's the love of music. That is right. I've been able to play the music and help so many people that wanted to play the music. Somehow or another, I got a hold of that pretty good, I think. Because I go every which way with it. And I go so many places, get so many calls. I certainly have traveled a lot. But I enjoyed it. I enjoyed pretty good myself. Yes, ma'am.