Joseph Wilson
Folklorist, advocate and presenter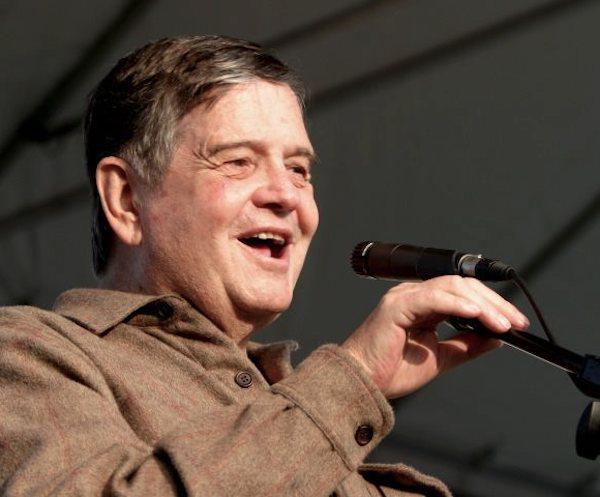 Bio
While he has been a country record producer, a door-to-door salesman, a civil rights reporter, and a Madison Avenue consultant, Joe Wilson is most well-known for his work since 1976 as the Executive Director of the National Council for the Traditional Arts, the oldest organization in the nation devoted to the presentation of folk arts. From this position, he has had a profound influence on folk and traditional arts programming in this country. His mark can be also be seen in the shaping of national institutions such as the American Folklife Center at the Library of Congress, the National Park Service, the Arts America program of the United States Information Agency (now in the Department of State), the National Endowment for the Arts and the National Endowment for the Humanities. While it may sound as though his contribution has been merely in the arena of cultural policy, his more significant accomplishments can be measured by the many ways in which he has put his passion and commitment to traditional artists into practice.He has organized or given programming direction to nearly 40 folk festivals, including the National Folk Festival that is produced annually by his organization. He has organized 21 national tours by musicians, dancers, and storytellers. He has produced seven international tours and 53 sound recordings. In addition, he has co-written with Lee Udall the book Folk Festivals: A Handbook for Organization and Management. His resume wryly closes with the statement, "Joe Wilson was reared in the Blue Ridge Mountains at Trade, Tennessee's easternmost and oldest community. He has no graduate degrees and is not listed in the Who's Who of anywhere." In spite of that, his work and his inspiring commitment to folk artists is quietly visible everywhere.
Joe Wilson: Taking Him Back Home Again
by Terry Liu, National Endowment for the Arts
Joe Wilson's family and cultural background growing up in the Blue Ridge Mountain area of Tennessee had a significant influence on his life. His earliest memories are accompanied by the sound of family and community-based music. His mother knew and sang an old repertory of ballads. A woman who took care of Joe and his older brother while his parents worked in the fields told them fantastic stories of a resourceful young mountain boy named Jack well before folklorist Richard Chase collected and compiled "The Jack Tales." Joe's Uncle Alf played guitar and harmonica and others on his mother's side played fiddle and banjo. His father sang gospel music and played harmonica. Joe mostly played guitar and started a "string band" with high school friends. His Great Aunt Sally played fretless banjo and sang ballads. She had a radio show in the 1930s and was well known as "Carolina Sally" in the Bristol, Tennessee area. Joe remembers his Great Aunt Sally playing banjo for him on the back porch. People worked hard in the fields everyday, and enjoyed making music in each other's homes on Saturday nights, at church dinners, fundraisers and other community gatherings.
Music was all around. Joe remembers Tom "Clarence" Ashley (1895-1967) like a member of his family. In the 1920s and 30s Ashely, a banjo player and singer, was famous in the region for his performances with medicine shows and on recordings. Ashley was in his mid-60s when he was "rediscovered" by folklorists and enjoyed a second career touring and recording in the 1960s. He brought along a neighbor and friend, Arthel "Doc" Watson, yet unknown to most of the rest of the country. The folk music revival of 1960s and 70s and the recent soundtrack of "O Brother Where Art Thou?" introduced the world outside to the rich musical heritage of the region, but Tom Ashley, Doc Watson, Roy Acuff, and Ralph Stanley are the kind of musicians that make up a significant part of Joe Wilson's own cultural heritage.
The marriage of the European violin and the African banjo happened hundreds of years ago in the Tidewaters of Virginia, and resulting forms of music were adopted and transformed in distinct styles by generations of both white musicians in the mountain region between shared by Virginia, Tennessee, and North Carolina. Although there were few African-Americans where Joe grew up, there were instances where he encountered them and heard the powerful sound of blues. Also unforgettable were observations of the injustice they faced, such as when itinerant thrashers passed over the field of an African-American farmer leaving his crops in the field to spoil. It went against the sense of justice and morality Joe learned from his mother. Joe left home at the age of 18 to look for work, and found his way as far north as New York City, but despite the money he was able to make in various jobs, he drifted back to the south. His sense of morality and justice led him to the civil rights struggle in Alabama where he gave to the cause his gift of journalism and photography. He stayed in Alabama for three years witnessing the beginnings of integration and social change, and reporting in civil rights publications.
In the mid-1960s he went north to find work again. His expressive writing and communications skills were noticed by a Madison Avenue firm who employed him and eventually made him Vice-President. But after a while, Joe left that line of work, purchased new field recording equipment, and went back to document the true passion of his life, traditional music. He met Ken Irwin, Marian Levy, and Bill Nowlin, three college students who were starting a new record label to document the folk music revival they called Rounder (now celebrating its 30th anniversary), and others managing both big and small recording companies. The National Council for the Traditional Arts (NCTA), which had been recording and presenting traditional music in the United States since 1933, hired Joe in 1976 and for the last quarter century under his leadership the NCTA has helped bring traditional arts into the mainstream of American consciousness through concert tours, festivals, and recordings. NCTA's Irish music tour of the "Greenfields of America" in the 1980s helped sparked the modern fascination in authentic, traditional Irish music performed by excellent Irish-Americans and boosted the careers of Mick Moloney, Seamus Egan, Eileen Ivers, Robbie O'Connell, and Jimmy Keane. In the 1980s NCTA helped bring national attention to refugee Cambodian classical court musicians and dancers who had survived the Khmer Rouge. The tour "Raices Musicales" introduced the nation to the richness of regional music and dance of Mexico and music of the Hispanic Southwest. The NCTA's National Folk Festival helped launch successful annual folk festivals in Lowell, Massachusetts, Johnston, Pennsylvania, and East Lansing, Michigan. Next summer NCTA will travel to Bangor, Maine to produce the 64th annual National Folk Festival. Collaborations with the National Park Service (NPS) have resulted in well-attended traditional arts concerts in El Paso, Texas, Lowell, Massachusetts, and each year on the Fourth of July in Washington, DC.
The National Council for the Traditional Arts has produced summer concerts with the National Park Service in the Blue Ridge Mountains, and has to developed plans for the Blue Ridge Music Center on a site just north of the state borders of Virginia and North Carolina Ð the region where Joe Wilson was born and raised. The first concert in the new amphitheater will take place on October 6, 2001 and will feature, among other regional artists, Ralph Stanley. Eventually the Blue Ridge Music Center will tell the important history of the music and people of the region through films, exhibits, a listening library, publications, recordings as well concerts by both local and legendary performers.
In a way, Joe Wilson's work is taking him back home again.