Kenny Baker
Bluegrass Fiddler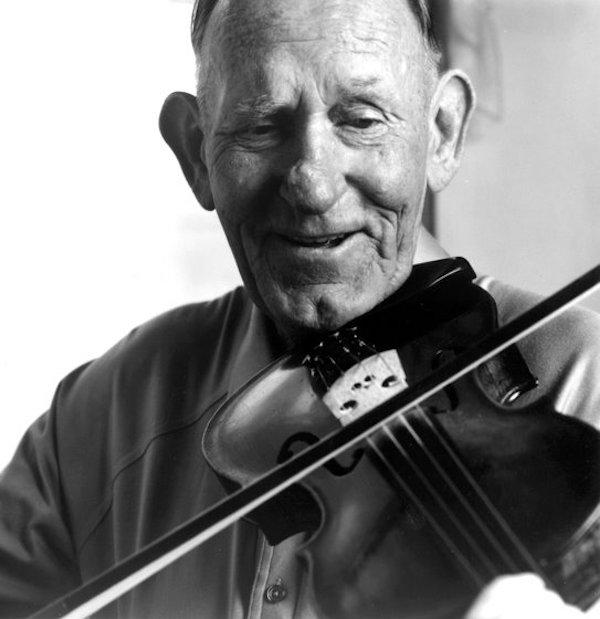 Bio
Kenny Baker was born June 26, 1926, in the small coal-mining town of Burdine, Kentucky. He came from a long line of fiddlers. "My daddy played, my great-grandfather played," he said. "My grandmother played. I had an aunt that played, and I heard all the old-time fiddle numbers ... they burned me out with it, really. I had in mind I didn't want to play fiddle!" Initially, he didn't; instead, he started playing the guitar at about age seven. As a youth, he was in demand to play at local dances. "In the country where I lived, they'd have these gatherings at people's houses, and when the dance came to our house, why they'd get me up ... to play the guitar with the fiddle and old drop-thumb banjo...."
Baker became interested in the fiddle while serving in the Navy during World War II. In New Guinea, he first heard the recordings of the Western swing of Bob Wills and the jazz fiddle of Stephane Grappelli and realized that "there was stuff happening on the fiddle that I'd never known about. That's when I started liking fiddle." A short time later he was prodded into performing for his fellow sailors. "We were having a beach party ... with this USO troupe," he said, "and they were asking if anyone wanted to play. Some of the boys on my ship knew I had a guitar, so they went up and talked to somebody, and the first I knew, I was up there playing."
Then, in Okinawa, Baker was pressed into service to play fiddle for a square dance. "It was a fine fiddle, although of course it was set up for a violinist, and I had to jack the bridge down a bit," Baker recalled. "I played the only two numbers I knew, 'Rubber Dolly' and 'Ragtime Annie.' I played three, maybe four hours, at the longest, switched from one number to the other. So I just started from that...."
When he returned home, Baker took up Western swing fiddling, emulating Wills's style. A decade later, in 1957, he joined Bill Monroe's band. "I first met Bill at WNOX [a radio station in Knoxville, Tennessee, which played a major role in traditional country and bluegrass music in the 1940s and '50s]. ...Back in those days," Baker said, "Bill would come over there and do a show on the 'Mid-Day-Merry-Go-Round' on WNOX and maybe be there for a week.... [About five years later], I went with Monroe. The first show I played with him was in Bluefield, West Virginia." Baker stayed with Monroe and his group off and on until 1984. Monroe, revered as "the father of bluegrass music," was fond of introducing his colleague as "the greatest fiddler in bluegrass."
Baker's recordings contain many great old fiddle tunes and more than 80 of his own compositions. The mastery of dynamic control, phrasing, and accuracy in his "long bow" technique is envied and imitated by other fiddlers. In the fall of 1984, Baker teamed up with Josh Graves, the great Dobro guitar player. "When I left Bill [Monroe] I really didn't have any idea of what I was planning to do, honestly.... So, when Josh booked three or four days ... we started from that, and we've continued to be together ever since."