Koko Taylor
Blues musician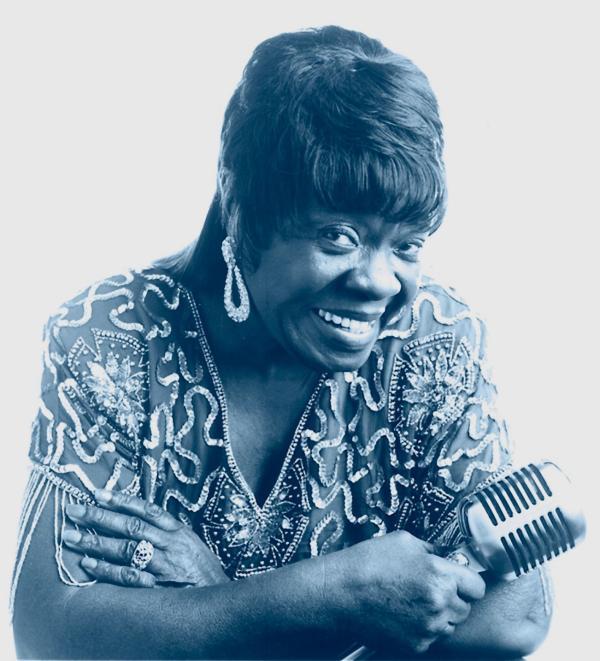 Bio
Often called the "Queen of the Blues," Koko Taylor (nee Cora Walton) was born 75 years ago in a sharecropper's cabin at the edge of a cotton plantation in southwestern Tennessee. Even though her father encouraged her to perform only gospel music, Koko and her siblings would sneak out and play the blues on homemade instruments, including a guitar made with baling wire and a fife fashioned from a corncob. When she was eighteen, Koko (given that name as a child due to her love of chocolate) moved with her soon-to-be husband Robert "Pop" Taylor to Chicago. It was not long before she was sitting in with legendary blues musicians in Chicago's lively club scene. In 1962 Willie Dixon recognized her talent and procured for her a Chess recording contract. She recorded the million selling hit "Wang Dang Doodle" in 1965.
Her vocal power and stage presence, drawing on such forbears as Bessie Smith, Sippie Wallace, and Alberta Hunter, has carried her through four decades of recording and live performance. She has received 19 W.C. Handy Awards, more than any other female blues artist, and six of her last seven Alligator albums have been nominated for Grammy Awards. In 1993 Chicago Mayor Richard A. Daley honored Taylor with a "Legend of the Year Award" and declared "Koko Taylor Day" throughout Chicago. The Blues Foundation bestowed a Lifetime Achievement Award on her in 1999.
Interview with Mary Eckstein
NEA: Congratulations on your award. How did you feel when you heard the news?
MS. TAYLOR: I was so excited and so honored. I still am. I can hardly express the feeling. It's such a good feeling to receive something like this -- it's the biggest honor I've ever received.
NEA: You've had such a successful career, and are even referred to as the Queen of the Blues. Could you talk about the challenges or difficulties of sustaining your music and making a career out of it?
MS. TAYLOR: You know, it started off rough but it ain't like somebody told me I had to go out there and sing the blues. I did it because I wanted to. There have been times that it was very hard to continue and times it wasn't quite as hard. Nowadays it's not the easiest job but it's a job that I really enjoy. And I have so much love for my fans. I try to give back to them what they give me. I love my fans because they all seem like they love me. I get up there and put my whole heart, my whole mind, into what I'm doing. You only get out what you put in. If you don't put nothing in you don't get nothing out. I make sure that I put something in for my fans to listen to and enjoy. I want them to have a good time when I'm up there performing.
NEA: What got you interested in the blues?
MS. TAYLOR: I was born and raised with the blues. That's all me and my sisters and brothers did when I was growing up. We sung and listened to the blues. We were raised on a cotton farm and our daddy said to us, "You children all got to work in this field but I don't want no violent singing." He didn't want us to sing nothing but gospel. He just wanted us to sing gospel in church and that was it. So when he went to buy gin or to the store to get his snuff or whatever, we would sing and listen to the blues.
When I was young we lived in what we called a shotgun house, one way in and one way out. You'd come out the same way you went in. One day my oldest brother made a guitar with some hay baling wire wrapped around some nails on the back of our house. My younger brother made a harmonica out of a corncob. I was the singer but I didn't need no microphone -- I didn't even know what a microphone was. I just used my voice. We'd get behind that house and we'd sing the blues. Oh, Lord, you talk about having fun! We'd get back there and we'd sing until we saw our daddy coming home.
I already had the voice to sing. I got that from god. He gave me that. I had it then and I still got it now. What people hear is nothing rehearsed or nothing I learned. It's what I got from God. It's just a natural gift to sing the blues.
NEA: You said you often listened to the blues. What were you listening to?
The radio. During those years, B.B. King was a DJ over in Westminster, Arkansas. He had a 30- minute show that came on every day and he wouldn't play nothing but the blues. And that's where we learned more about the blues. He played Muddy Waters and Sonny Boy Williamson and all them folks.
NEA: How old were you when you moved to Chicago?
MS. TAYLOR: I was 21 when I came to Chicago. I grew up a lot during that year and I learned a lot. I already knew a lot about singing and everything, and I was kind of educated on what I knew to sing. After I got to Chicago I met Willie Dixon -- he had a big influence on my career. He discovered me and took me down to Chess Records for Leonard Chess to listen to my voice. And Chess told him "You get her ready right away, work with her right away for recording." The first song Willie got together for me was "What Kind of Man is This." And then he wrote "Wang Dang Doodle" for me. As old as it is, I get more requests for "Wang Dang Doodle" than I do for anything else. I don't care what I sing, the people want to hear "Wang Dang Doodle." My show cannot be completed until I sing that!
NEA: Do you think that blues music has changed over time?
MS. TAYLOR: Well, it has to a certain extent. A lot of people that used to sing the blues now want to jazz it up, make it pretty. They want to change lyrics from real hard-core blues to something fancy, but that don't really work. It's either blues or it ain't. It's either real blues or it ain't the blues. When I sing the blues I sing the blues. I don't care how far down it goes. I feel just like I sing and I go way down in the core to pull out a real blues song when I'm on stage. I don't do no show without singing the real blues.
NEA: Has your audience changed over time or has it stayed pretty much the same?
MS. TAYLOR: I'm drawing bigger audiences. Ten years ago I got just a few people. Now when I go somewhere to sing I've got a huge audience -- 500 to 1,000 people and sometimes more. I was in California this past weekend at the Monterey Blues Festival and when I walked out on the stage, my god, there were so many people there. Everybody stood up and people were hollering "I love you, Koko. We're so glad you're back." You know, I had a very bad sick spell and was in the hospital for three months. They knew that and they were so proud and thankful I was back and they was letting me know that. And believe me, I let them know that I really appreciated it.
NEA: What do you tell young people you're working with about singing the blues?
MS. TAYLOR: I tell them if you want to sing the blues you have to put your whole heart into what you're doing and you have to stick to it. You can't sing the blues today and tomorrow sing rock and pop or jazz or something else. You have to stick to one root -- that's what makes you really great. You can't beat around the bush and you can't sugar coat it. If somebody calls on you to sing, don't go trying to sing something that you don't sing or something you don't like just because somebody wants you to be different. You have to be you. I don't care where you're at or what you're doing before, be you. Be yourself. I can't be you and you can't be me. We have to be our ownself.