The Legendary Ingramettes
Gospel Artists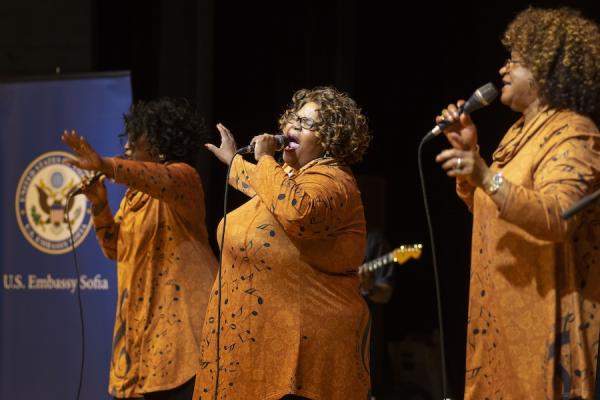 Bio
Richmond, Virginia, has long been celebrated as a "Gospel town" for its legacy of vibrant Black gospel groups and choirs.  Among the city's generations of countless groups, the Legendary Ingramettes have become widely considered the city's "First Family of Gospel," uplifting audiences for over six decades while becoming beloved cultural icons in the community. Music is one of many forms of ministry they have practiced, and the one they are most famous for. The storied group was originally formed by evangelist "Mama" Maggie Ingram, a single mother who steadfastly taught her five small children to accompany her as her "Ingramettes."
Born Maggie Lee Dixon on July 4, 1930, on Mulholland's Plantation in Coffee County, Georgia, she grew up working the cotton and tobacco fields with her parents. She developed a great love for the church and gospel music, teaching herself to sing and play the piano at the age of four.  While still a teenager, she met and married a young field hand and itinerant preacher, Thomas Ingram, and together they had five children. Thomas eventually moved the family to Miami, where Maggie developed as a performer and joined the popular local group called the Six Trumpets.
Thomas left the family in 1961, leaving Maggie Ingram alone to raise the children. In a desperate effort to keep her family together, Ingram followed a calling to move the family to Richmond, Virginia, a harrowing journey in the pre-civil rights South. Upon their arrival, the family was taken in by the local Church of God In Christ. The local social service agency found Ingram employment as a housekeeper in the home of Oliver W. Hill Sr., the prominent civil rights attorney who had represented the Virginia plaintiffs in the landmark Brown v. Board of Education case.
It was in Richmond that the Ingramettes took flight, soon sharing the stage with the likes of Shirley Caesar, Clara Ward, and many others. Ingram composed numerous local hits before signing with the storied gospel label Nashboro Records. All the while, the Ingramettes refused many offers to join secular groups, including most famously James Brown. 
Ingram developed Alzheimer's in her later years, and gracefully passed the leadership of the group into the capable hands of her oldest daughter, Almeta Ingram-Miller, before Ingram's passing in 2015. A scintillating singer in her own right, Ingram-Miller is now backed by her niece Cheryl Maroney-Yancey, sister-in-law Carrie Jackson, Maggie's goddaughter Valerie Stewart, and a rock-solid rhythm section. Together, the Ingramettes continue to bring the spirit of a Sunday morning service to the stage, enthralling audiences at such prestigious venues as the Kennedy Center, National Folk Festival, and countless others across the United States. Recently, the group toured Serbia and Bulgaria with the U.S. State Department and released Take a Look in the Book, their first recording since Ingram's passing. In 2020, Almeta, Cheryl, and Carrie were presented with honorary doctorates (D.S.M.) from Higher Learning Bible Institute International Seminary, just as Ingram had received from Virginia Triumphant College and Seminary in 2011, a remarkable achievement for a woman with only a third-grade education.  
-- Jon Lohman, Center for Cultural Vibrancy