Leonardo "Flaco" Jiménez
Tejano Accordion Player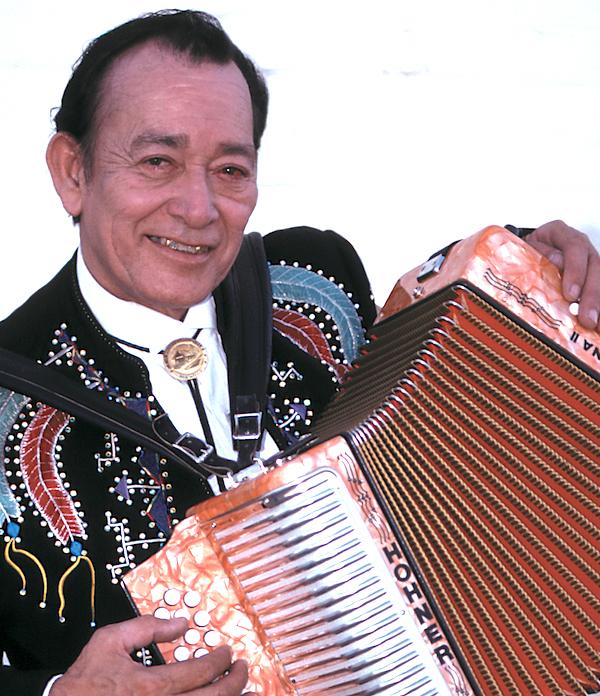 Bio
"What B.B. King is to the blues, or George Jones is to traditional country, Grammy-winning accordionist Flaco Jimenez is to the world of Tex-Mex conjunto," says music critic Ramino Burr in The Billboard Guide to Tejano and Mexican Music. Born into a family of conjunto musicians, Leonardo "Flaco" Jiménez has led the way in expanding conjunto music from his community in San Antonio, Texas, to new audiences both in the United States and worldwide.
Born in 1939, Jiménez is the son of conjunto pioneer Santiago Jiménez, Sr. By age seven he was already performing with his father, even earning a nickname that had in the past attached to his father, "Flaco," or "Skinny."
Conjunto dates back to the 19th century and is a uniquely Texas tradition. It has a distinctive style, featuring influences from the German, Polish, and Czech immigrants who settled in the predominantly Mexican region of the Texan Rio Grande valley and brought with them popular forms of dance music such as the polka, waltz, schottische, mazurka, and redowa. Tied to this style of music is the diatonic button accordion, which was adopted by tejanos, or Texans of Mexican descent.
Jiménez apprenticed on the accordion with various San Antonio musicians, including Toby Torres, Joey López, and Los Caminantes, and built his reputation by performing in San Antonio saloons and dance halls. In the 1960s, Jiménez began playing with Douglas Sahm, the founding member of the Sir Douglas Quintet, and went on to New York to perform with Bob Dylan and Dr. John. He continued to introduce new audiences to conjunto music, performing with Peter Rowan and touring internationally with Ry Cooder and David Lindsey, receiving international acclaim for his contributions to Cooder's landmark album Chicken Skin Music.
He later joined Sahm again in the 1990s to form the group Texas Tornados with Freddy Fender and Augie Meyers, recording six albums and winning a Grammy. He also recorded with the "Mexican super group" Los Super Seven that included Fender, Joe Ely, Ruben Ramos, Rick Trevino, and Cesar Rosas and David Hildalgo of Los Lobos, netting another Grammy. In total, Jiménez has received five Grammy awards, including three awards for his solo work. In 1999, he received a Lifetime Achievement Award from Billboard Latin Magazine and has been inducted into the National Hispanic Hall of Fame and the International Latin Music Hall of Fame in New York City.
Over the years, Jiménez has expanded conjunto music to include influences from country and western, rock, and jazz music. In an interview for American Roots on PBS, Flaco explained, "I started making conjunto more progressive because of the versatility that I believe in… I think it's good to change it a little."
Interview by Josephine Reed for the NEA
October 4, 2012
Edited by Liz Auclair
NEA: I want to begin with something really basic. Can you define what tejano music is?
Flaco Jiménez: Well, tejano music is a modern thing. Actually conjunto music, or Tex-Mex music, was the base of this kind of sound, which [derived from] the polka, the waltz, that came from Europe. The accordion and that "oompah" sound from the Czechoslovakians, the Polish, the Germans. The immigrants settled around the Texas area, [in] New Braunfels -- it's about 30 miles from San Antonio, Texas. At the turn of the century, my granddad, Patricio Jiménez, was interested in listening to what they did, as far as accordion playing is concerned. So he managed to go there -- to their performances, their dances in New Braunfels. He managed to grab an accordion and copy or try to copy their sound -- the polka, the dancing "oompah" music. He learned how to imitate how those "oompah" music players played.
He never got to record because at that time there were no facilities for him. He used to just play in house dances and anniversaries or whatever, just in the barrio -- there was no airplay for him, no recording. And then my dad started copying my granddad. So my dad was self-taught, like myself; I was self-taught. And then my dad at that time, 1935 or 1936, he had an offer [from an] recording company, Decca Records.
NEA: So tejano is sort of folk music of Eastern Europe, of Germany, Czechoslovakia, married to a very Mexican sound.
Jiménez: Yes, because it was pioneered in Texas, [by] my dad and my grandpa.
NEA: Now, is conjunto music different from tejano music?
Jiménez: Yes. I think that tejano music came after the real thing. They didn't care about adding accordion to the tejano scene; they just used synthesizers and other instruments. But still they were based on conjunto music, or as we call it nowadays, Tex-Mex. And they got the same sound, the same ideas of the real roots of our playing. Nowadays they realize that something's missing [in] tejano, so they added an accordion again. Now they realize that the accordion was the main feature of tejano music, not the horns or synthesizers.
NEA: What is it about the accordion?
Jiménez: I would say that it's a real happy sound. You can make it happy, you can make it cry. It depends on the individual who plays the accordion. But the accordion itself, if you know how to do it, you can make it talk, cry, or whatever sentimental things you want to do. I've met a lot of accordion players abroad -- not conjunto players or Tex-Mex players -- in Europe, England, Holland, Germany. I've been listening what they do, and it's similar to what we do on the Tex-Mex scene.
NEA: What's your earliest memory of music?
Jiménez: I was about six or seven years old. I used to hear my dad play at home; I was just observing what he played, because he played for our family when he was not doing a dance or a gig. I was always there observing what he played. And I was like, "Oh man, I wish I could do what you do, Dad." And then all of the sudden I just picked up the accordion one day and started playing, or trying to play, or trying to learn, because I knew more or less how my dad played, but actually I was self-taught.
NEA: He didn't teach you.
Jiménez: No, he didn't teach me. He had students -- he used to teach young kids from the barrio and I was always there. I was just observing his teachings. So when the student went home, I grabbed the accordion and I started playing what he was teaching the other kid. So I said, "Daddy, I know the tune now." So he said, "Okay, let me hear that." So I played the tune. And he says, "So I don't have to teach you."
NEA: What music were you listening to at that point?
Jiménez: When I was 12 years old, I used to tune into different stations on my radio and all of the sudden I heard sounds like country [music]. There was a station in San Antonio, and the program on the station was Cowboy Jamboree on KONO, many moons ago. It was Hank Williams and those old recordings of Jimmie Rodgers, and even Tex Ritter. So I started liking country. And then all of the sudden I turned the radio to another station and I hear the "oompah-oompah" music on KGMB in New Braunfels. And I said, "Well, that's the way my grandpa plays and my dad plays." So I was going back and forth, turning to this station and then that station.
In the '50s, when I was a teenager, I tuned into a rock-and-roll station and I started listening to those [musicians] before Elvis. Elvis, of course, he was my idol. He is my idol up to now. There was a guy that was a rock-and-roller, Doug Sahm, [who led] the Sir Douglas Quintet. So being from San Antonio, he told me the accordion would fit on his rock-and-roll-ish/country-ish recordings that he was doing. So he called me and he said, "We're doing a recording with Atlantic Records in New York." I said, "New York? No. Me? New York? With my accordion? Playing conjunto?" And he said, "I think I've got a song for you." And there I go on a plane to New York, to Atlantic Records. The title of the album was Doug Sahm and Band. I didn't practice -- I didn't know the songs. But Doug had a little space in there for my solo. I walked into the studio and Doug introduced me to the band and there was Augie Meyers and Bob Dylan. I said, "Oh man, what am I doing here? Can I cut it?"
NEA: How old were you?
Jiménez: I was about 24. We started jamming around. It was so free, it was so relaxing. So it came out pretty good. I did several cuts on that record. Dr. John was there, and I was just shaking. I said, "Okay, well, Doug, if you want me, I'll give it a try." And from there, I received a call from [a guy in] L.A., he said, "I heard what you did with Doug Sahm and the guys," and he invited me to be a part of the record he was recording, Chicken Skin Music. [It was] Ry Cooder.
NEA: So from the very beginning, you were a crossover artist.
Jiménez: Yes. I like to cross over. My main goal was to make my accordion playing fit, or have the sentimental [elements] of different kinds of music, which is hard to do -- get on the groove of something different. It's a challenge to do that. I got into bluegrass, so I recorded Peter Rowan's "A Free Mexican Air Force," and then we went on the road. And so it's been like a zigzag [of] things that I've done.
NEA: Can we talk briefly about the Texas Tornados and their part in your career?
Jiménez: Yes. We had our own thing going, the Sir Douglas Quintet and Doug Sahm and Augie Meyers, and Freddy Fender, he had his own thing going. It was like magic that we got together in Slim's in San Francisco. We had the day off, I think, and everybody went to Slim's. So we bumped into each other there. The band was playing and they invited us for a jam session on stage. The style came out just like the spontaneous things that we did. It was not planned. We didn't even rehearse. We can hear Tex-Mex or an accordion; we can hear rock and roll with Doug, and then Freddy with his country, and then Augie Meyers with his Vox. Slim's was rocking at that moment. And there was a lady there, Paige Levy from Warner Bros. Records, and she got interested in the sound. Paige Levy got a hold of Doug Sahm and we agreed to make the first record on Warner Bros.
NEA: What a group.
Jiménez: Yes. Unfortunately Freddy's not with us anymore, nor Doug. But we're still a group, the Texas Tornados. Shawn, Doug's son, he sings like him, he acts like him, he looks like him. If you saw a picture of Shawn, who is the main leader of Texas Tornados nowadays, you would say it's Doug Sahm there. But Freddy can't be replaced. We have the Texas Tornados sound still, and the groove.
NEA: Where did you play with the Rolling Stones?
Jiménez: I was in San Francisco on a short tour, but there was a guy that knew where I was, the producer of the Rolling Stones, Don Was. So I was backstage having a breather because we [finished] the first set, and all of the sudden they gave me a little piece of paper with a number from Don Was. My manager called and he didn't know if it was true or not. It might be they're just pulling my leg. But my manager called and it was for real. So on an off-day they flew me to A&M Studio, where they were recording. I get there, and I didn't know what they were recording. I didn't know the song, I didn't know what what's going on, and [I wasn't] even nervous, because it was just like a dream or something. But then I got to the studio and, oh, those guys are great. They just said, "Take your accordion to the booth and we're going to give you a run-through, so you can get acquainted with [the song]." So they played it once. "Sweethearts Together" -- it's a real simple, laidback song. And so the second time [through], he says, "Okay, we're going to run it again, but play along with it." Which I did. I thought it was just a run-through, just to get more acquainted with it. And then I said, "Okay, I think I'm ready to record." And Jagger punches his button in the engineer's booth and he says, "We got you." They were recording me. So there was no "Take One."
NEA: Where do you think tejano music is today?
Jiménez: Tejano music right now, it's just kind of on a certain level. It doesn't go up or down. I would say they're adding too many instruments or electrical things like synthesizers, or sounds that don't fit in tejano music. They want to explore, and so it's not tejano. The singers, like Joe Lopez, they still have the feel of tejano music. There's a lot of female vocalists that are real good. There are a lot of newcomers that are doing real good.
NEA: So the younger generation is responding to tejano music.
Jiménez: Yes. Yes. It's stable. And it's the same beat or same things that Tex-Mex do. Of course the Tex-Mex is bajo sexto and accordion and bass and vocals or whatever, but it's got the same rhythms, cumbias and rancheras and whatnot. And there's a lot of guys -- Los Lobos. Cesar Rosas and David Hidalgo. We've played in the same bill many times. I really admire those guys.
NEA: Now, tell me about the National Heritage Fellowship award. What did you think when you found out you were a recipient?
Jiménez: Yes. I'm really proud and really happy about it, and I thank them for choosing me. And thanks to the music industry, my fellow musicians, and of course my fans. I really give thanks to them because they're always behind me.