Linda Goss
African-American Storyteller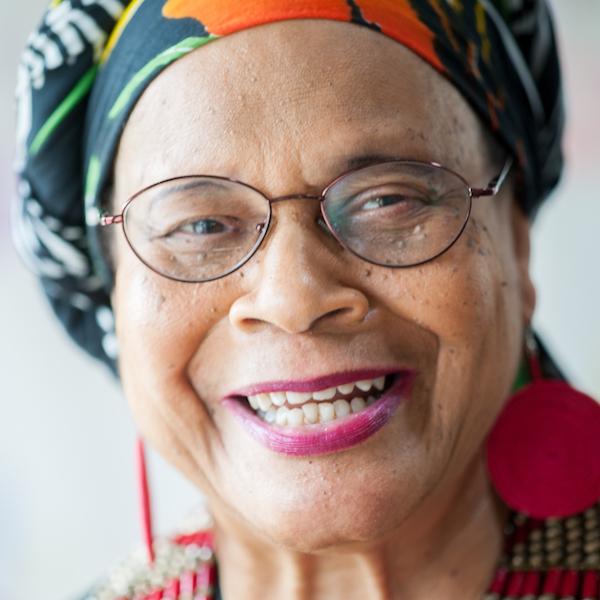 Bio
From listening to tales at the feet of her Grandaddy Murphy and on the knee of her Uncle Buster in the foothills of the Great Smoky Mountains in Alcoa, Tennessee, Linda Goss has blazed a trail in the Black Storytelling Tradition. She is called "Mama Linda" in honor of her mastery as a tradition bearer and premier contributor to the art of storytelling.
"Well, Oh Well, Oh Well. It's Storytelling Time!" is recognized as her legendary call. As a forerunner of the Black Storytelling Movement in America during the 1970s, she rang her bells and told her stories on the streets of Washington, DC and Philadelphia. As a community folklorist and activist, she believes "Black Storytelling is a combination of the oral, the written, and the rhythms of our people. It bends, it curves, not separating spirit from the art."
In 1982, Mother Mary Carter Smith (1919-2007) and Goss founded the "In the Tradition…" Annual National Black Storytelling Festival and Conference in Baltimore. The co-founders understood the need to institute an organizational structure to perpetuate African diasporic storytelling and began the Association for Black Storytellers in 1984 in Philadelphia, which developed into the National Association of Black Storytellers (NABS). The annual festival continues today and has taken place in communities across the United States.
Goss is the author of seven books, including co-editing Talk That Talk: An Anthology of African-American Storytelling with Marian E. Barnes and with an introduction by Henry Louis Gates, Jr. Significant works appear in other anthologies, and she has two albums of storytelling with Smithsonian Folkways.
Next generation storytellers across the country continue to benefit from Goss's mentorship and oral history projects. She has been awarded master/apprenticeship fellowships with the Pennsylvania Council on the Arts and twice received the Maryland Traditions Apprenticeship Award. She also developed How We Got Over, a project of the Peale Center for Baltimore History and Architecture funded by Maryland Traditions to conduct interviews with Baltimore storytellers about their school experiences.
Goss is a folkloric figure on a Philadelphia mural entitled The Traveling Story Teller and was named Philadelphia's Official Storyteller in 1984. She has received numerous awards, including National Storytelling Network's Lifetime Achievement Award, the Leeway Transformation Award, the Kathryn Morgan Award for Folk Arts & Social Justice from Philadelphia Folklore Project, and the Legacy of Excellence from the Alcoa City Schools Foundation. In 2006, she received a Parsons Fund Award from, and delivered the Botkin Lecture for, the American Folklife Center. In 2019, the American Folklore Society is hosting a forum entitled, "Black Storytelling and Cultural Preservation: The Legacy of Mama Linda Goss."
Currently, Mama Linda Goss is the storyteller ambassador for the National Great Blacks in Wax Museum in Baltimore and the storyteller-in-residence at the Peale Center.
By Karen "Queen Nur" Abdul-Malik