Los Lobos
Mexican American Band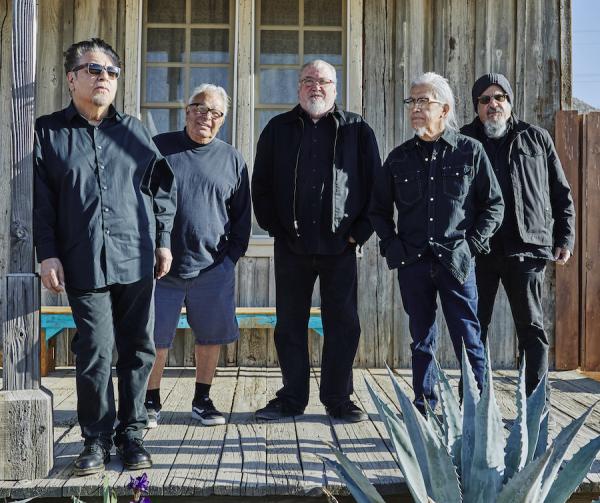 Bio
Los Lobos has defined the East Los Angeles sonic landscape for nearly a half century. Following the musical trajectory of giants such as Ritchie Valens and Lalo Guerrero, who melded traditional Mexican music with other popular forms, Los Lobos has carried the torch of Chicano music into the present and has amassed a body of work that will be cherished, studied, and emulated for many years to come.
Formed in 1973 by guitarist/accordionist David Hidalgo and percussionist and lyricist Louie Perez, their joint eclectic musical interests led them to recruit two other students from Garfield High School in East Los Angeles. Guitarist Cesar Rosas and bassist Conrad Lozano joined and they decided to call themselves Los Lobos del Este. As young, music-loving Chicanos from the barrio, they were a product of their surroundings. African-American influences such as the blues, rock n roll, jazz, and doo–wop were a natural complement to the deep and soulful Mexican and Latin American sounds they had grown up with, such as the bolero, rancheras, music Norteña, son jarocho, son huasteco, and cumbias. Los Lobos utilized these multicultural influences to give birth to their unique sound. From back yard family parties, weddings, and Mexican restaurants, Los Lobos was quickly in demand amid the pre- and post- Chicano civil rights movement. In 1978, they recorded and released their first album Los Lobos del Este De Los Angeles (Just Another Band From East LA), which led them to more popularity and to connect them to the versatility and angst of the city's punk rock music scene. Their association with the LA roots band, the Blasters, led to the addition of multi-instrumentalist Steve Berlin, who left the Blasters to join them, further expanding their sound.
The wildly successful soundtrack of La Bamba (1985) catapulted Los Lobos into international stardom, earning them industry recognition and a Grammy Award. Los Lobos responded to this success by releasing the traditionalist La Pistola y El Corazon (1988).  The band's accomplishments do not overshadow their ongoing commitment to mentoring and elevating up-and-coming bands that have benefited from their trailblazing, such as Making Movies, Ozomatli, Chicano Batman, La Santa Cecilia, and Quetzal.
A "musician's band," Los Lobos' lyricism and unique poetic prose, mostly manifested by lyricist Louie Perez, expresses the environment and consciousness of the barrio in relation to the world around it. Their delivery in English, Spanish, or Spanglish espouses the important ideas of humanity, pro-immigration, depression, love of self, community, and deep Mexican/Chicano culture and heritage. Each of their albums takes the sound of Chicano rock music into another stratosphere.
Los Lobos has earned numerous awards, including three Grammy Awards; induction into the Austin City Limits Hall of Fame; and countless congressional and community recognition. The pride of their community, they are deep-thinking vatos with the diverse sound of America coursing through their veins.
By Martha Gonzalez, Artivista, Associate Professor, Scripps College