Los Matachines de la Santa Cruz de la Ladrillera
Traditional Religious Dancers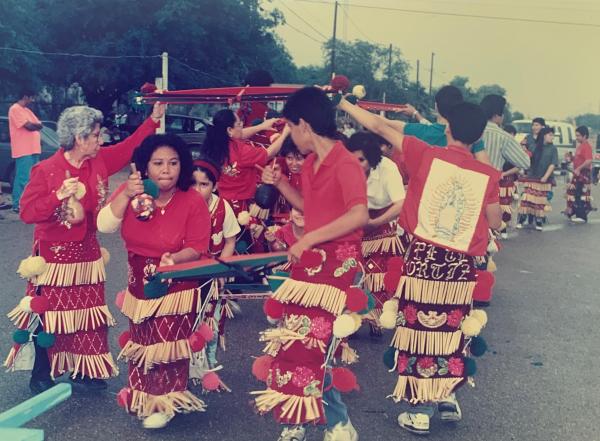 Bio
Los Matachines de la Santa Cruz are a ritual dance troupe whose origin can be traced back to a festival on the feast day of the Holy Cross during the Colonial period in Real de Catorce, a mining town in Central Mexico. In the late 19th century, several miners and their families relocated to work in the coal mines on the northern banks of the Rio Grande in a small town called Dolores, Texas. When the coal mines closed in the late 1930s, many of the families moved to Laredo and settled near the brick factory that gave the barrio its name, La Ladrillera; they brought with them the fiesta and the group became Los Matachines de la Santa Cruz de la Ladrillera. They have continuously honored the Holy Cross on May 3rd and the Virgen de Guadalupe on December 12th with a blend of Indigenous and European cultural expressions.
The matachines event involves multiple art forms—dancing, music, foodways, and traditional dress design and embroidery. As part of the celebration, the matachines dance in procession along the barrio streets to the nearby Holy Redeemer Catholic Church and back to the small shrine, where the Holy Cross is housed. Typically, the celebration lasts from three to five days depending on when the feast of the Holy Cross falls. At any one time during the fiesta, up to 50 dancers participate in the strenuous and physically taxing event. They line up in two rows and perform a repertoire of approximately 12 different sones, or dance tunes. Many vow to dance in memory of someone who has passed away or who is ill. For many it is a lifelong commitment.
The sones have descriptive names—"La encrucijada," "La Cruz," or "La Malinche y el Viejo." The music includes drum, accordion, and occasionally guitar. At one time, a violin was included. Women are involved in food preparation—most often brisket or chicken mole, although it varies. They also embroider the red vest and nagüilla—a skirt made of two flaps with reed cane strung with jingle bells that function as noisemakers during the dance. Dancers carry a sonaja (a rattle) and a stylized bow and arrow usually made by the men.
The group received an apprenticeship grant from Texas Folklife Resources in the 1980s. In addition, they have participated in the Smithsonian American Folklife Festival, the Texas Folklife Festival in San Antonio, and in numerous local events and private ceremonies.
The current members of the group are the descendants of the original mining families who founded Los Matachines more than 100 years ago—Ortiz, Liendo, Castillo, Martínez, and others. They continue to teach the younger generations and engage with the general public, explaining the traditions' origins and sharing their story and their faith belief in the Holy Cross.
By Norma E. Cantú, Murchison Professor in the Humanities, Trinity University, San Antonio, Texas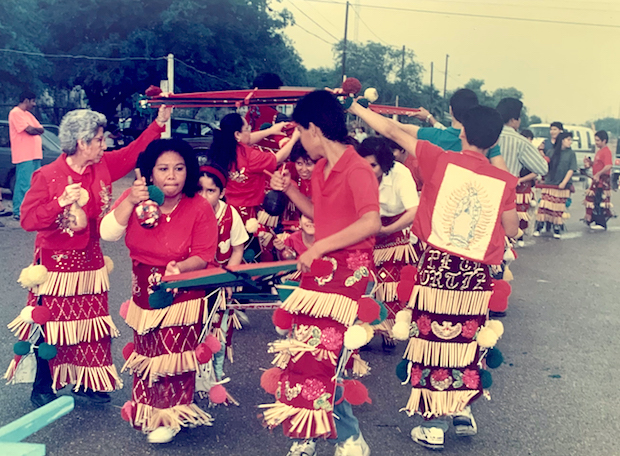 Los Matachines de la Santa Cruz de la Ladrillera dancing at the 1991 Fiesta de la Santa Cruz. Photo courtesy of Norma E. Cantú