Louis Bashell
Slovenian Accordionist/ Polka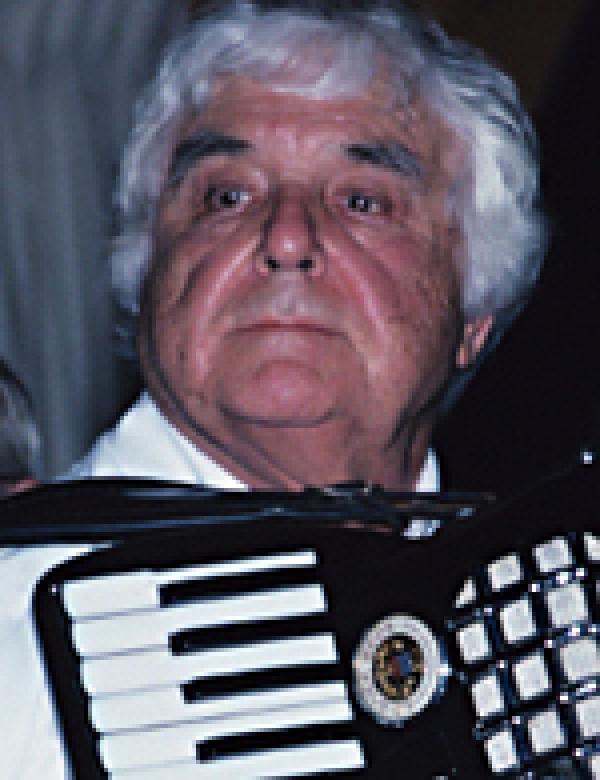 Bio
Louis Bashell was born July 1, 1914, in Milwaukee, Wisconsin, to a family that had recently emigrated from Slovenia, then a part of the Austro-Hungarian empire. Bashell's father had learned to make good wine and beer in his homeland and was a master of the diatonic button accordion. Both skills served him well when he opened his own corner tavern in the Walker's Point neighborhood, where he had settled with his family.
By age seven, Bashell was playing the button accordion himself, learning the basics of the instrument from his father. He remembered sitting on a table with his father's accordion and playing Slovenian folk tunes for the people in the tavern. "But the button box was old-fashioned," he said. "My dad bought me a chromatic accordion when I was 11 or 12. I took lessons for about a year from Tony Martinsek. And when I went to house parties with my dad, I would sit down by the accordion man and watch him for hours a night instead of playing with other children. I'd just listen and watch, thinking how someday I was going to do that."
In the 1930s, Bashell formed a trio. He played accordion and hired a drummer and a saxophone player who doubled on clarinet and violin. He attended Boys Tech High School, where his course of study qualified him as a plumber, but demand for his distinctive music exceeded all expectations. In the late 1940s, he organized a five-piece band, and his recording for the local Pfau label of a Slovenian folk song, "Zidana Marela," or "Silk Umbrella," was an immediate success. "It sold out as fast as they could make the records," he recalled. "Then RCA Victor came along and hired us to make records for them, and we were on the RCA label for almost eight years." However, when RCA music industry representatives pressed to take his group on extensive nationwide tours, Bashell balked. He was a devoted family man with a wife and children. He didn't want to be away from home that much and didn't like the interference from the company on questions of repertoire and style.
For more than 50 years, Bashell and band played in his father's tavern, and when his father died, his mother kept it going for another "10 or so" years. "We played polkas and waltzes, " he said, "and a lot of Slovenian music that my father played. My father's music was strictly ethnic from Yugoslavia ... but for me to stay in the business, I had to learn all the new stuff that was coming out:country and western, Latin American, and even a couple of rock numbers. We play all kinds of music. The banjo doubles guitar and the guitar doubles tuba. We have bass and drums. But I try to hang onto the Slovenian heritage because a lot of things are slipping away."
Over the years, Bashell played mostly in Wisconsin, preferring to perform in neighborhood clubs, taverns, and VFW halls, as well as at private parties, weddings, anniversaries, and other community-based events. Though he didn't like traveling too far away from home, he did periodically tour the so-called "polka belt," running north to Buffalo, New York, east to Newark, New Jersey (not crossing the Hudson River), south to the Pennsylvania line, and then west – roughly north of the Indiana turnpike — through Michigan, Wisconsin, Iowa, the Dakotas, and Nebraska.
Dozens of younger musicians who have either worked with or followed Bashell's band have gone on to form groups of their own. They readily and warmly acknowledge their debt to Bashell, who has always stressed clarity, traditionalism, and simplicity. His directive was to "play it straight and play it right," forgoing empty virtuosity and espousing solid musicianship.