Luis Tapia
Sculptor, Hispano Woodcarving Tradition
Bio
For five decades, Luis Tapia has helped to revitalize and transform the art of the santero (saint-maker), a centuries-old Hispanic tradition practiced in New Mexico and southern Colorado. Rooted in European devotional sculpture, and metamorphosed in New Spain, the art of the santero thrives today due to artists such as Tapia who passionately embrace the tradition and increase its vitality within the Hispano community and beyond.
Tapia has shaped today's santero art, powerfully demonstrating that tradition is inherently malleable and dynamic. His modern-day sculptures renewed the art form by reintroducing color and crafting social critiques. By reimagining the lives of the saints—situating them as if living among us and offering their assistance with pervasive social justice issues such as homelessness, political corruption, immigration, and class inequities—Tapia's visionary work at once embodies the Hispano community's values of faith and cultural pride, and highlights the complexities of modern society.
Born in 1950 in the village of Agua Fría, New Mexico, Tapia grew up surrounded by traditional Hispano arts in his family home and neighborhood church, such as carved wood furniture, weavings, and sculpted saints. It wasn't until he was 21 that his interest in the santero tradition emerged, dovetailing with his political awakening during the Chicano movement of the 1960s and 1970s. Creating santos (saints) became Tapia's way of connecting with his culture.
Self-taught, Tapia studied historic bultos (three-dimensional saints) in museum collections, examining them closely to understand the lessons they taught. In the 1970s, he participated in Santa Fe's annual Spanish Market to connect with fellow santeros on similar learning paths. Based on his research and childhood memories of old polychromed santos, Tapia understood that time had faded the sculptures' rich colors. He recognized that the market-driven preference for unpainted santos grew from the influence of tastemakers. In what was then regarded as a radical departure, Tapia began making brightly painted bultosof "unconventional" subjects (such as Noah's Ark). In doing so, he contested narrow ideas about the history of Hispano devotional art and forged a new path for himself as a contemporary artist.
Seeing tradition as something to inspire and uplift, rather than to limit and control, Tapia simultaneously embraces tradition and pushes its limits. He has restored historic New Mexico furniture, created reredos (altarpieces) for local churches, explored local festivities or motifs such as Doña Sebastiana's carreta de muerte (death cart), and reimagined ofrendas (altars) as lowrider dashboards. His deeply humanistic works—which impart social commentary; elicit empathy for the human condition; and offer humor, satire, and pathos—have opened possibilities for younger generations of artists. Tapia's influence has been recognized through countless exhibitions and various awards, including a New Mexico Governor's Award for Excellence in the Arts in 1996.
—By Laura Addison, Curator of North American and European Collections, Museum of International Folk Art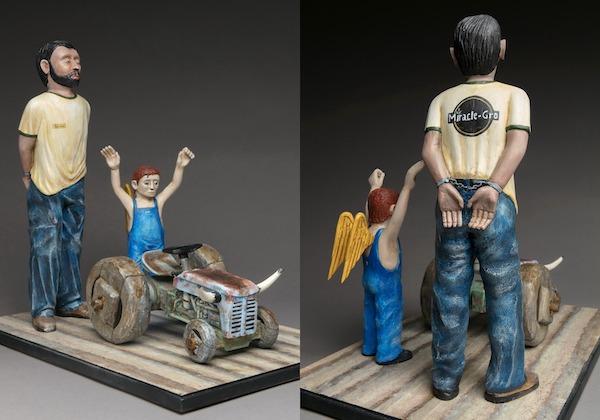 ---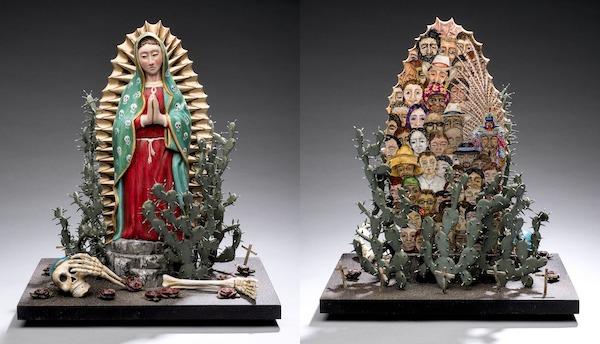 ---