Mac Wiseman
Bluegrass musician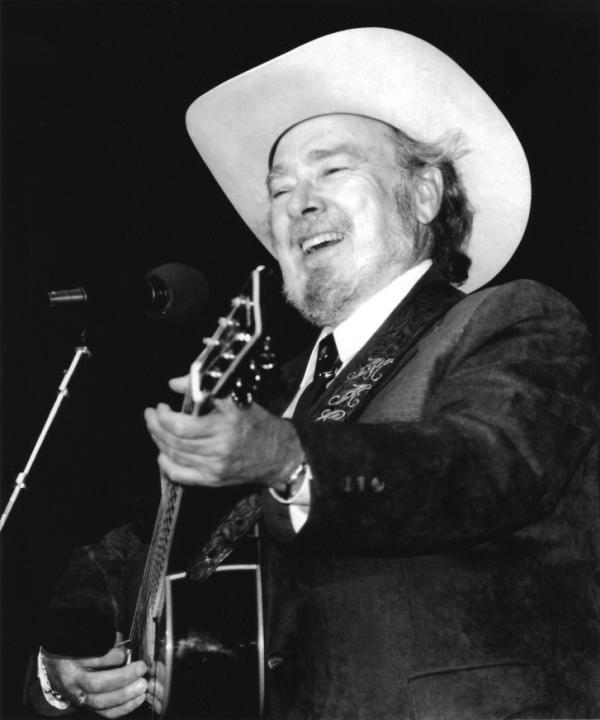 Bio
Mac Wiseman was born in Crimora, Virginia, in the Shenandoah Valley. Both of his parents sang old ballads around the house and would play recordings of early country musicians for entertainment. Wiseman began to sing in public at the age of 12, but he was stricken with polio in his youth and that curtailed his performances for a time. With the help of the National Foundation of Polio, he attended music school in Dayton, Virginia. Soon he was singing on a local radio station in Harrisonburg, and in 1946 he joined the band of Molly O'Day who taught him songs, singing style, and a love of the classic country repertoire. Wiseman became an original member of Lester Flatt's and Earl Scruggs' Foggy Mountain Boys, recording his first Mercury session with them in 1948, and in 1949 he joined Bill Monroe's Blue Grass Boys at the Grand Ole Opry. In 1951, he began his solo career, gaining fame as having the "voice with a heart," and recording such classics as "Tis Sweet to Be Remembered," "Love Letters in the Sand," "Jimmie Brown, the Newsboy," and "Shackles and Chains." Wiseman went to Hollywood in 1957 to head the country music section of Dot Records. Along with other music industry leaders, in 1958 he co-founded the Country Music Association for which he was the first Secretary Treasurer. During the 1960s he often opened for Johnny Cash at folk festivals such as Newport and Mariposa, as well as opening for Cash at venues such as the Hollywood Bowl. Still known for his soulful high tenor singing, in 2007 Mac Wiseman and songwriter John Prine released a well-received duet album entitled Standard Songs for Average People. Wiseman recorded three still unreleased numbers with Johnny Cash in what turned out to be Cash's final sessions.
Interview by Mary Eckstein for the NEA
NEA: First of all, I want to congratulate you on your award. How did you feel when you heard the news?
Mac Wiseman: I was elated really, because I was aware of the award and what a prestigious award it was. A number of my friends through the years had received it. I guess about six years ago now, Charles Wolfe from MTSU had nominated me. A number of people here in Nashville had written letters of recommendation. I hadn't heard anything, so I just thought perhaps they'd misplaced it. Not really! But I had heard that after five years they discard some of those applications and start adding others. So I was really surprised, to be honest with you, pleasantly surprised when they called me and told me about it.
NEA: Can you tell me a little bit about your earliest memories hearing the music and getting interested in it? I know you started at a pretty young age with bluegrass music.
Mac Wiseman: I was in it for many years before it was called bluegrass, and got as much air play as any of the so-called country artists back at that time. I toured with all of them, Ernest Tubb, Acuff, all the biggies. Then in the '60s it started being called bluegrass, because we needed something to let people know it was acoustical music when rock n' roll and crossover were becoming so big. The Top 40 stations had a different format, so we had to do something to distinguish our craft. Quite naturally, the term "bluegrass" came from Bill Monroe's band. He was on the Opry and very popular, and Flatts & Scrubs had worked with him and done a number of things. So he was the most prominent one at that time, hence the bluegrass connotation. You know, if he'd had the Smokey Mountains Boys, it would have been called "Smokey Mountain music" instead of bluegrass because it was just terminology more than anything. But I was disappointed, because this new term hurt my career some. Like I said, I was getting a lot of country air play and was having hits back in the '50s and on. But then it seemed like for some reason the stations wouldn't play bluegrass. It was still too hillbilly or something like that. So I lost a lot of country air play when they started putting me in the bluegrass category. But thank God for the festivals, because the last 20 years the only venues we had to work for were the festivals. So it was kind of a double-edged sword but one that panned out all right. I have no bitterness.
NEA: You grew up in a musical family and started to sing in public by age 12. You had a lot of exposure early on.
Mac Wiseman: My dad, though he didn't play any musical instrument, he liked music very much. He had the first hand-wound table model phonograph and the first radio in our community. So I was exposed to the old ballads, and the story songs were big favorites of mine. They intrigued me a lot. But back then, I didn't categorize it. Later on, I liked Bing Crosby just as much as I did Montana Slim. If it's good music, I don't care what tag it's got on it. But I didn't entertain the idea of being a part of the music business on a professional basis until after graduating from high school. All during my early years, from 12 on, I'd be in the local amateur contests. It was practically all live radio back then, the pre-disc jockey era, and I'd go on Saturdays to the local radio station and participate. People would write in and vote for you. But at that time country music wasn't the most reputable thing. It was fly-by-night, and a lot of fellas were nomads, so to speak, gypsies. They'd drift into town, play awhile, run up some debts, and disappear in the middle of the night because they didn't get any revenue from the stations. It was a barter type thing. The stations had the air time, and the singers had the talent, so they'd swap out. The radio station would sell advertising, and the talent would try to play venues and make a little money like that.
But shortly after I graduated from high school I was turned down at the local factory because of my polio disability and I didn't know which way to turn, didn't know what I wanted to do or what I was supposed to be. So I became more active playing shows and things like that for those other jobs. I went to college and majored in radio, and it kind of took off from there. I took a course in radio in general but continued to perform some on the side.  And as I say, back then music wasn't the most profitable thing to be in and for that reason I didn't set my expectations that high.
NEA: Your repertoire continues to feature a lot of what you called the story songs. What is it about those songs that holds such an appeal for you?
Mac Wiseman: I believe the reason for the longevity of these old songs is the fact that the songs are a slice of life. A lot of them came over from England and Ireland, and the more I traveled over there, the more I was confirmed in my belief. They've been modified some because some of them were pretty bawdy and they couldn't be played on radio in their original state. But I think the reason for the longevity is that I don't think people change that much. We just get a new batch. The songs that I feature are something people can identify with. Most of the songs aren't really happy songs. They tell a story, and are passed down from generation to generation and people can identify with them, the tragedies as well as the happiness.
 I'm not the biggest writer in the world, but if I write, I find myself doing things like that. But I'm quite a collector of it. I'm trying to preserve a lot of the old songs that I did in my early radio days that today's generation, the young folks, have never been exposed to because they don't get air play. And they aren't documented. There's no sheet music on them because back then it wasn't a big thing in the country field to document it. If we put out a songbook, it was just lyrics.
I've got two new CDs out now -- one of the them, "Waiting for the Boys to Come Home," features songs from the various war conflicts. The other one has kind of an amusing little title, "Old Liquor in a New Jug," and what I did was take the old story songs and did my version of them with just the guitar and a mandolin player and did them very simply. My chief aim is trying to preserve those things, because not to be morbid, but when I'm gone, a lot of those old songs go with me. Nobody knows them anymore. So that's my goal at this time. I've retired from the road and traveling after 65 years and I am spending most of my time very enjoyably picking out additional old songs and recording them.
NEA: You have been referred to as "the voice with a heart." Where did that come from?
Mac Wiseman: I had nothing to do with that. A very good disc jockey friend of mine in the Washington area, Don Owens, who tragically was killed in a car accident some 45 years ago, played a lot of my records, and they were well-received in that area. And because of the sincerity that I put into the songs, that terminology came about from him, and it's been kind of a tag ever since. I've done nothing to promote it, but I'm flattered by it, I don't mind telling you. But I think it's the sincerity with my delivery that prompted that.
NEA: How did you develop your performing style? What are the most important elements to bring to the stage?
Mac Wiseman: You learn as you go along. I paid close attention and was very much influenced by a lot of the pioneers, Bradley Kincaid and Buddy Starcher and a number of people like that. I watched what they did and their rapport on the stage. I think the biggest ingredient, if you can do it naturally, is your communication with the audience and the flow of your concert. You can't let the audience get ahead of you. Once they outguess you, hell, you can't get them back. So I do a bit of chatter to try to keep their interest and tell the odd little joke, nothing risqué, but a little bit of humor on the local folks and things like that. And I tell them stories about the songs and where I learned them. I have no idea who wrote most of these things, I just know where I learned them!
NEA: How do you feel when you're performing? What sorts of emotions do you go through?
Mac Wiseman: I'm in another world, I don't mind telling you. It's my world when I'm out there. During the day or wherever you are, you're on the phone or being interrupted and things like that, but that 45 minutes or an hour that I'm on the stage, it's my world, and my world and the audience.
NEA: Now, what advice do you have for young musicians who are just starting out?
Mac Wiseman: I'm asked that from a lot of younger people. I'm flattered that they would ask me for my opinion on it. It's difficult to advise them, especially with the shortage of air play for the old time music, So in all sincerity my advice is, "Don't quit your day job." In other words, don't try to go in the music business full-time until your day job's in the way of your progress with your music. Because if you have to depend on the music business, especially when starting out, you'll find yourself, for lack of a better term, bastardizing yourself by playing joints and clubs where people aren't listening. They come in there to have some background music while they take a drink. For that reason, I advise them to be prepared to make a lot of sacrifices and to be sure to build themselves gradually if they want any kind of staying power, because even with the big artists today, there's no longevity. God knows they make more money in a year than I made half of my career.
NEA: The shelf life sounds like it's a little shorter.
Mac Wiseman: And the reason for that is the commercialization of it. The publishing and everything is big time, big news. If your latest record doesn't sell a million, you're history.
NEA: One final question. What has kept you playing and performing and writing music through the years?
Mac Wiseman: The enjoyment I get out of thinking I'm bringing others some happiness. And that's my real reward for recording -- if those recordings can be around generations from now, what a pleasure that would be. And the people who are involved in this music. We have wonderful picking parties, just gathering up at different people's lawns and cooking some hot dogs and hamburgers and maybe having a beer and picking for hours. I still learn a lot. I am able to give back to some extent, but I still pick up things that I think are important. I've always got my eyes and ears open. I listen to everything -- I don't always use it all, but I sift it and listen to it.