Marion Coleman
African-American quilter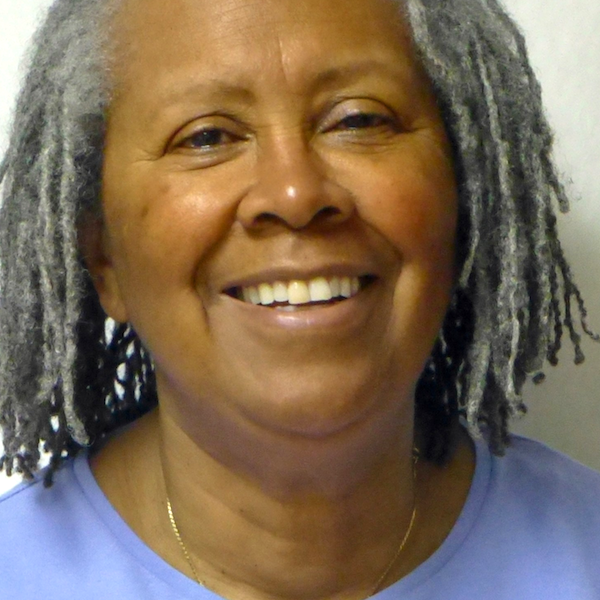 Bio
The transformative potential of using textiles to piece together stories is especially relevant today, and Marion Coleman quilts bear witness that the aesthetic is still a thriving tradition in the African-American community. Marion Coleman was born in Wichita Falls, Texas, and raised by her grandmother, who taught her how to sew, crochet, and quilt. Her maternal great grandmother and great aunts were all prolific quiltmakers. Coleman went off to college and earned an MS in counseling, but reconnected with quilting in the 1980s when she began to interact and receive inspiration from her great aunt, Corine Porter Miller, who at the time was 101 years old and still making quilts.
Coleman's early quilts were improvisational strip-pieced, a technique closely associated with African-American quilts made in the South. Although her early quilts were steeped in traditional African-American quilt techniques, Coleman's quilts stood out differently because of her unorthodox use of materials such as paint, plastic, bead, garments, paper, buttons, and recycled fabric, and the use of extensive machine stitching. As her interest in quiltmaking grew, she learned new techniques and technology—the introduction of digital technology, the ability to transfer photo imagery to fabric, and access to the internet were especially important to her. These images on fabric were soon found in her quilt compositions. The new techniques, combined with the traditional skills taught to her by her grandmother and great aunt, were utilized to create thought-provoking narratives depicting a wide range of subjects, including African-American history and culture, social justice, and women and aging.
Coleman has exhibited quilts nationally and in South Africa, Europe, Japan, Costa Rica, and the U.S. Consulate in Jerusalem, and her quilts can be found in numerous corporate, private, and museum collections. She has received grant awards from the Creative Workfund, Center for Cultural Innovation, and the Alliance for California Traditional Arts. She received the Alameda County Arts Leadership Award in 2009.
Coleman has combined her 30 years of social service experience and quiltmaking to provide community art education in schools, libraries, community organizations, and juvenile justice centers. As a teaching artist with a long standing relationship with the Alameda County Arts Commission, she taught quiltmaking for three years to incarcerated youth at Alameda County Juvenile Justice Center. She also worked with the Minerva Project, where boys and girls looked at positive traits about themselves and family members to make quilts.
In 2015, she curated an exhibit for her guild, the African American Quilt Guild of Oakland, to make quilts focusing on various aspects of community life in Oakland, California. The exhibit was displayed in various locations around the city, and reviewed in the New York Times.
By Carolyn Mazloomi, 2014 Bess Lomax Hawes National Heritage Fellow and founder of the Women of Color Quilters Network.