Michael Cleveland
Bluegrass Fiddler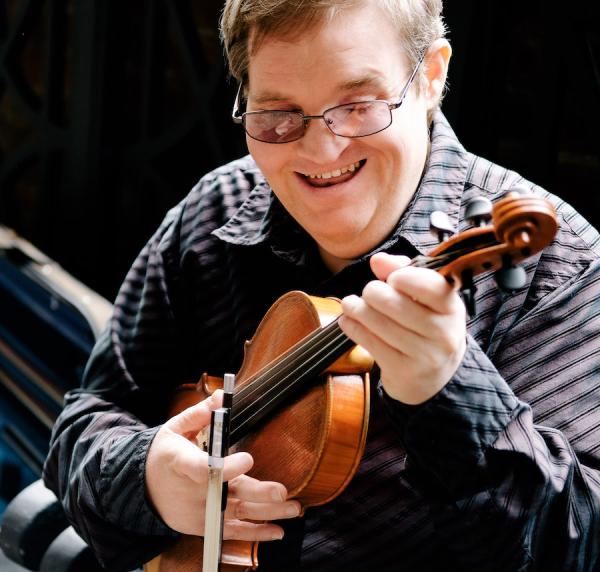 Bio
The tension between tradition and innovation is at the core of bluegrass music, and the fiddle playing of Michael Cleveland exemplifies this musical tug of war. As a boy, Cleveland heard a local fiddler play "Orange Blossom Special," which sparked a lifelong obsession with the tune that mimics that sound of a train. Cleveland's improvisational versions push the piece's descriptive tones and percussive bowing to a new level. With an encyclopedic memory for melodies, and an uncanny intuition for improvisation, Cleveland's music is both rooted in tradition and fueled by his melodic imagination.
From an early age, Cleveland heard old-time and bluegrass music at local jams and festivals near his hometown of Henryville, Indiana. His grandparents hosted regular bluegrass gatherings at the American Legion, and at age four, he began playing the fiddle. He attended the Kentucky School for the Blind in Louisville, where he learned the Suzuki method of violin. While he practiced the violin at school, he played fiddle at home. Traveling with his grandparents to area bluegrass festivals, he heard many legendary players perform at Bill Monroe's Bluegrass Festival in Bean Blossom, Indiana. At the age of nine, Cleveland got to play with Monroe—himself a recipient of the National Heritage Fellowship in the inaugural class of 1982—at the festival. When Cleveland was 12, he met music historian Dave Samuelson, who recognized the young musician's interest and talent. Samuelson curated several Braille-labeled tapes for the young musician, which served as Cleveland's essential listening guide to bluegrass music. Cleveland's repertoire and musicianship grew, and in 1993 he played the International Bluegrass Music Association (IBMA) awards show with the Bluegrass Youth All-Stars.
Cleveland began playing professionally after he graduated from high school, first with Jeff White and later with Dale Ann Bradley and Rhonda Vincent. Since he was young, however, Cleveland had dreamed of leading his own band. In 2006, he formed Flamekeeper, the seven-time recipients of the IBMA's "Instrumental Group of the Year" award. Flamekeeper includes Josh Richards, Nathan Livers, Jasiah Shrode, and Chris Douglas. In addition to touring with his band, Cleveland has performed with a legendary list of bluegrass greats. Nevertheless, he remains rooted in his local Southern Indiana community, where he continues to play with friends when he is not on tour.
Widely considered the bluegrass fiddler of his generation, Cleveland has been recognized 12 times as the IBMA's "Fiddler of the Year" and in 2018 was inducted into the National Fiddler's Hall of Fame. His recording Fiddler's Dream was nominated in 2018 for a Grammy for Best Bluegrass Album, and in 2019, he won a Grammy for his album Tall Fiddler. In 2019, Cleveland's amazing life of adversity and achievement was featured in the documentary film Flamekeeper: The Michael Cleveland Story.
--Jon Kay, Director, Traditional Arts Indiana